Back in July, and after months of anticipation, I was finally able to sit down and watch Goon. While it's been a while since I've checked out Slap Shot, and I am a fan of other hockey movies like Miracle and Mystery, Alaska, this one (for me, at least) is easily the best hockey movie of our generation, and probably second all-time behind the story of the Chiefs.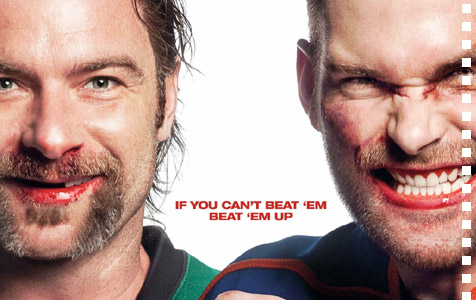 In case you don't know, Goon is the story of Doug Glatt, a misfit bouncer in a family of doctors who, while attending a local minor league hockey game, is discovered after getting involved in a fracas in the stands with a member of the visiting team. Despite his less than stellar skills as a hockey player, his fighting ability lands him a job as the team's enforcer, and he's quickly called up to play for the Halifax Highlanders. Meanwhile, aging, legendary tough guy Ross Rhea is sent to the minors after being suspended for a Marty McSorley-type incident. He also had severely concussed Glatt's new Highlanders teammate in the past, a highly skilled prospect named Xavier Laflamme. All of the above sets the table for the epic climactic showdown between the grizzled veteran and the eager newcomer.
While I won't go too far into the rest of the plot details, here are a few bits that stood out from my first viewing.
When Doug 'breaks out' during the infamous fight in the stands, it's interesting to note that what sets him off was the usage of a homophobic slur. Doug, whose brother happens to be gay, takes exception to the repeated use of a word that is known to be common on the ice, and just flat out drops the guy. In a time where the You Can Play Project is making positive waves in terms of promoting an environment where "athletes should be judged on talent, heart and work ethic, not sexual orientation" and "keeping sports venues free from homophobia", perhaps it was no coincidence that Goon addresses the issue through Doug defending his brother in this way. While it would have been easy for them to simply feed into hockey player stereotypes by scripting in that language, it was great to see Doug taking exception to it as opposed to directing it at others.
The issue of loyalty comes up a lot in this movie, particularly in regards to the relationship between the enforcer and his team. When asked by Laflamme why he helps protect guys that he doesn't even know, Doug responds by saying "they're my team, it's my job"; and during the great diner scene, he tells Rhea "if they need me to bleed, I'll bleed." Doug is flat out willing to do whatever is asked of him for the sake of his teammates. On the flip side, however, Rhea reminds him that if he steps beyond himself and begins to believe that he is a bona fide hockey player, he's done; in other words, the moment he stops fighting and tries to get cute with the puck, he's rendered himself obsolete. This highlights the dichotomy that exists wherein the enforcer displays great loyalty for the greater good of the team, but becomes a wholly replaceable part when he's no longer willing or able to fulfill his role.
At the same time, Goon highlights the fact that teams can and do rally around an effective enforcer. Prior to Doug's arrival, the Highlanders took on the struggling, dead in the water persona of their 'star' player, and it was only when Doug started kicking ass, taking names and having their backs that they began to rise up the ranks and challenge for a playoff spot. So while the enforcers themselves are interchangeable, the role itself is irreplaceable; there will always be a need for a Doug Glatt, someone who is willing to lay it all out on the line for the sake of his teammates, taking his literal lumps so that the "real" hockey players can shine.
Of course, there were some oddities in this movie that you wouldn't necessarily see in a non-fiction hockey event (such as a banner raising prior to retirement, or the waving off of a linesman even when one of the fighters has dropped to the ice a couple times), but I must say that Goon presents the look and feel of a true hockey experience, something that's rare in sports movies in general. Seann William Scott brings this perfectly understated charm to the role that makes you want to root for him, although the glimpse that we get of his story may be too fresh to feature many of the off-ice issues that seem to plague enforcers later in their careers (hence the talk of an upcoming sequel).
Overall, Goon is about as good a hockey movie as you're going to find, thanks to being co-written by good ol' Canadian boys Jay Baruchel & Evan Goldberg. If you haven't checked it out yet, do it. It's a great way to kill some time while waiting to find out when a new season will begin.