With Ron Rolston up to replace Lindy Ruff from the AHL, the Sabres' new coach explained in interviews with the press that there was no longer any room for shortcuts. Buffalo is the only team in the Northeast not in current playoff standings; this coaching change could propose a new, clean slate.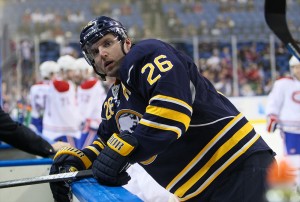 An energy boost from the players to show off for Rolston was expected against Toronto at the ACC on Thursday. Seven of the Sabre's last eight meetings with the Leafs had been one-goal match-ups.This couldn't defeat the fact the Sabres are 29th in the league on the powerplay (went 0-5), and are 26th in GAA with 3.29, the latter much because of their dismal defensive play and goaltending. Miller going into Thursday was 28-14-1 against Toronto, but so far this season is completely off his usual numbers with a 2.85 GAA and .915 save percentage.
The only game this season that Buffalo has carried a lead into the third period, was against the Leafs back in January. Thomas Vanek has been the lone light for Buffalo so far in 2013, as a shining offensive force, tied for the NHL lead in points with Sidney Crosby. Vanek was held pointless, and the Leafs scored two powerplay goals in their 3-1 victory.
Certainly was weird to pan over to the visitors side and not see Ruff standing there; he played/coached 1874 games for the Sabres in his career. Since he started behind the bench, the Leafs have gone through five coaches (Florida, through 10).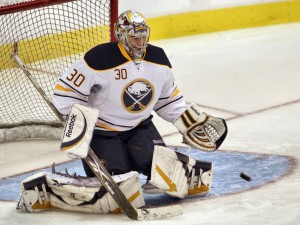 While Buffalo's young star Mikhail Grigorenko was a healthy scratch for the third game in a row, Toronto's 23-year-old James van Riemsdyk put on a show for Ron Rolston with a two-goal performance. Van Riemsdyk credits much of his play to Rolston during his time spent in the US development program.
Both teams had shares of chances (including some gaping open nets), but ultimately the Leafs fought harder and faster for the puck as Buffalo was lead-footed in comparison. Both goalies were impressive, Ben Scrivens now .931% and a 2.10 GAA, however it seems the more frustrated Miller gets, the worse he plays. In case you missed it earlier this week: Miller Flips Out
The Sabres have won four of their last 16. Buffalo now takes on hot John Tavares (who's fifth in league scoring) and the Islanders on Saturday night. Evgeni Nabokov boasts a hideous .895% and 3.11 GAA so expect Vanek and the boys to finally put up some numbers. Puck drops at 7PM at the First Niagara Centre.
I know it's easy to Boo plays from the stands but ill tell you its really inspiring when the crowd chants "Lets Go Buffalo" #Sabres #7thMan

— Steve Ott (@otterN9NE) February 19, 2013