On March 17, the Buffalo Sabres finally signed their top goaltending prospect Devon Levi to his entry-level contract. The team followed up that news with a 5-2 loss to the Philadelphia Flyers that evening, and it was a performance that continued to show the glaring defensive issues they have; defensive issues that could leave Levi wondering if he made the right choice to sign right now. Not too long after the signing was announced, general manager Kevyn Adams did state that Levi would be reporting directly to the Sabres and will not be sent to the minors right away, which means that soon enough he will start his first NHL game.
Buffalo has had some problems recently that are too glaring to overlook. They have some key players who aren't performing like they need to, a defense that is in shambles each night, and a goaltending trio that has looked shaky at best. Before Levi sees his first NHL start, they need to address these issues or his debut will likely be disappointing.
Sabres Have Too Many Players On Cold Streaks
All season long, the Sabres have had the mentality that they can outscore their problems. Their defensive issues have been outmatched (mostly) by their offensive capabilities, but recently there have been a number of key players going through some mild cold streaks. For a team that relies almost solely on their offense to win games, they cannot afford anyone getting cold as they make a playoff push. The players in question are Rasmus Dahlin, Victor Olofsson, and Tage Thompson, and their lack of consistent performance down the stretch in March is a big reason this team is struggling.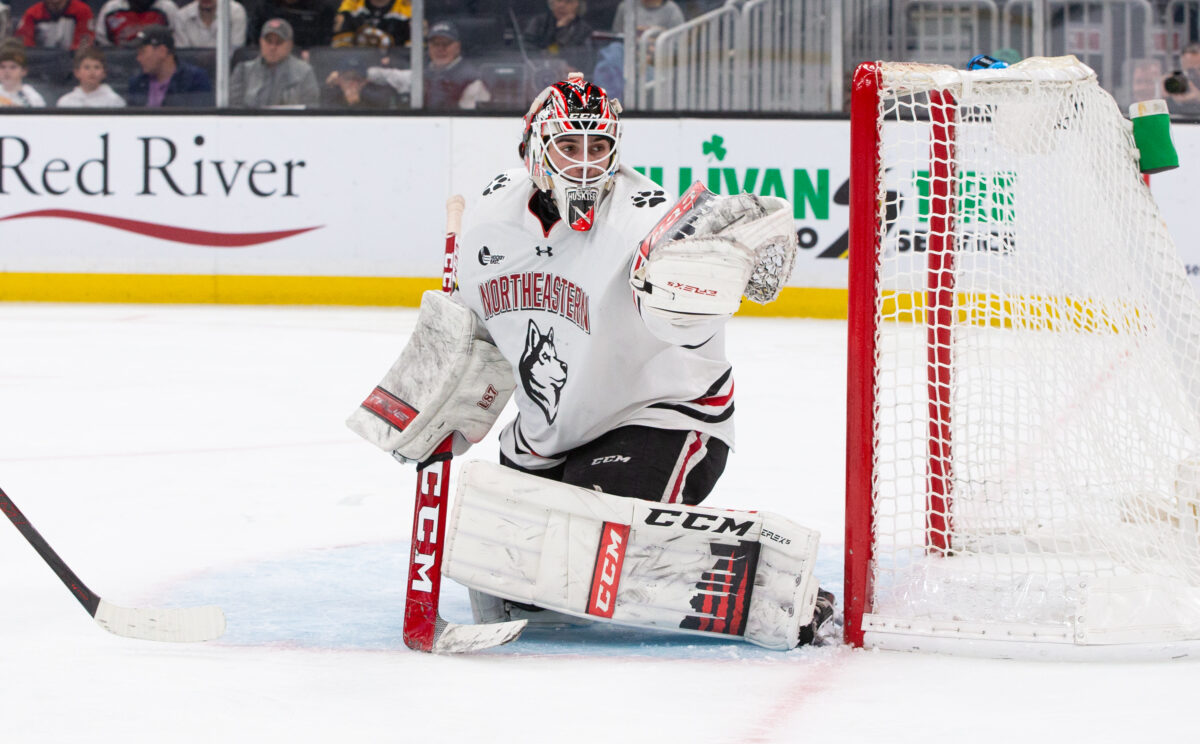 Olofsson has always been a streaky player, but recently, he has been next to useless as far as point production goes. Prior to scoring the only two goals in the loss to the Flyers, Olofsson had one goal in a span of 17 games. It appears his time spent in the press box recently got something to click again, but time will tell if that will mean consistent production from him.
Dahlin has easily been the Sabres' best overall defender all season. His point production has also been on a personal record pace, but recently, he has fallen off, and it couldn't be at a worse time. He has zero points in his last seven games and is sporting a minus-10 during that same span. This team relies on his play to get the offense going a lot of times, and with his defensive play slipping a bit too, it has just added to the disaster that is this second half of the season.
---
Latest News & Highlights
---
Tage Thompson already has set career highs in every offensive category this season by netting 42 goals and 45 assists, so he is already viewed as Buffalo's top offensive player and goal scorer. The problem recently is that he hasn't been scoring any goals. While it is hard to complain about someone who scores goals as he does, the fact of the matter is that when he doesn't put the puck in the back of the net, he can look lost out on the ice. Thompson has not scored a goal in his last seven games, which is the longest goalless stretch for him this season. He needs to find the back of the net again soon or things will just keep getting harder for the Sabres.
Levi's Goalie Competition in Buffalo Is Not Great Right Now
The Sabres' goaltending couldn't look any worse than it has been over the past couple of months. Eric Comrie recently surrendered 10 goals to the Dallas Stars and has been having one of the worst seasons of his career. Craig Anderson has done his best but has been left out to dry by his defense too often. And then there's Ukko-Pekka Luukkonen, who has not looked the same since he won Rookie of the Month honors in January for the NHL. Levi comes into a goalie situation where he might just be the best option, but that doesn't mean he deserves to be thrown to the wolves.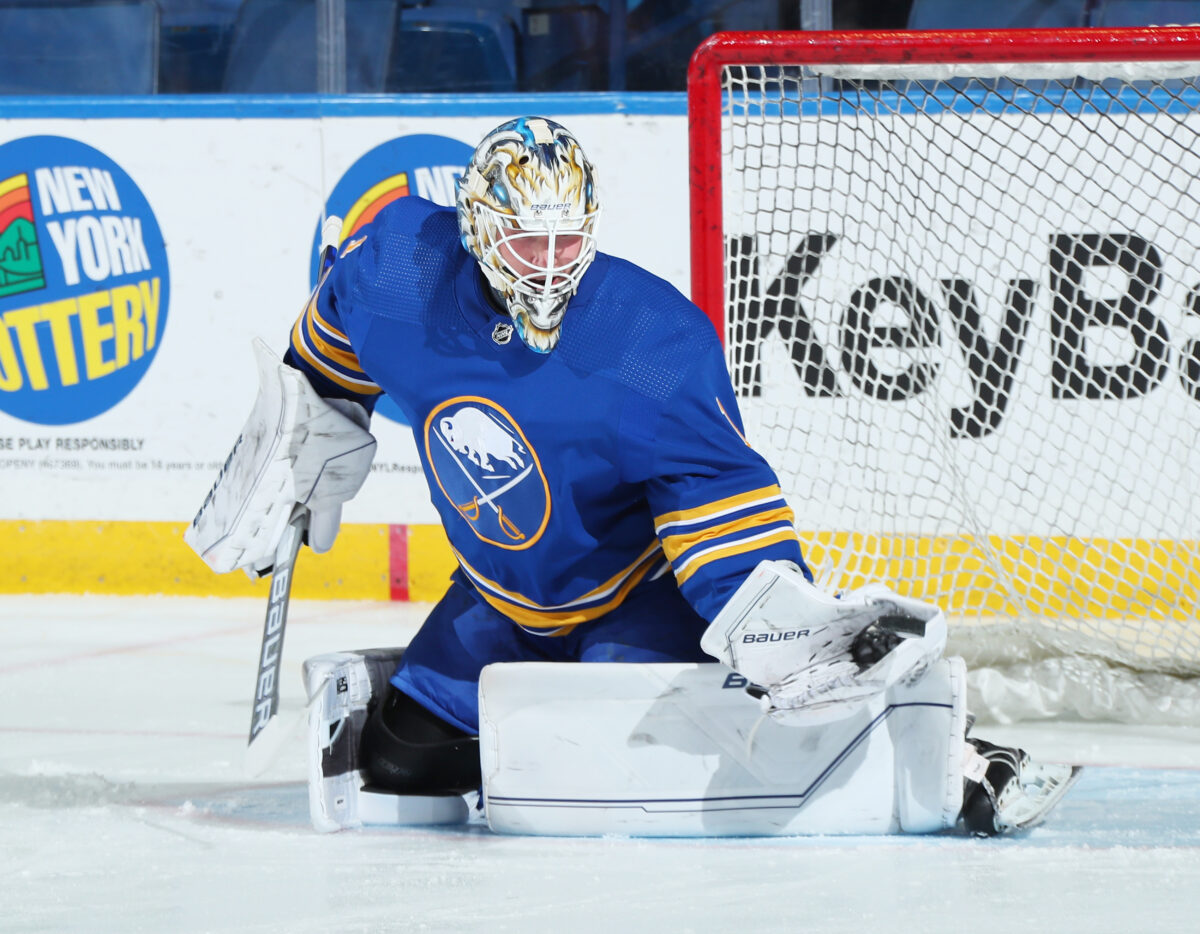 Levi has had one of the greatest college goaltending careers in history, and he very easily could have the potential to steal the Sabres' net all for himself. He posted a ridiculous 1.54 goals-against average (GAA) and a .952 save percentage (SV%) last season with Northeastern, and this year, he followed it up with a 2.24 GAA and a .933 SV% on a depleted roster. He has the skill to support the hype around him, but putting him in the Sabres' net to be left out to dry by their terrible defense will not help his development. It makes more sense for him to be eased into the role going into next season, where his place on the depth chart will really be determined.
Sabres Need to Sharpen Up
In the month of March, the Sabres have played nine games so far, and they have given up three or more goals eight times in that span. The only time they allowed less was in a 2-1 overtime loss against the New York Rangers. Their playoff hopes are slowly slipping away from them as they continue to lose ground, and it is largely in part to some questionable coaching decisions and poor defensive play. The Sabres need to fix their issues in front of their net before they turn to Levi. The speed of the NHL is much faster than college and he will need time to adjust, so before he plays a game, Buffalo needs to shore up their defensive play more than anything.
Related – Sabres Need to Use Jordan Greenway Differently
Luukkonen is now on the hot seat with Levi coming to town, so having the added pressure of another young goalie on the roster may get him to perform better. To be clear, Levi is not a savior-type player, but he is one of the best goalie prospects the Sabres have ever had. If they want him to succeed, then they need to support him in every way. He's a goaltender who is positionally sound and utilizes quick reflexes to make saves. He also reads plays better than most, so he fits the Sabres' dynamic play style. Now it is up to them to make him feel stable and comfortable in the crease as they start to truly develop their future No. 1 goaltender.
---
---