The story of the Buffalo Sabres' 2022-23 season has been one of general positivity and progression, but there have also been individual instances of complete failure that overshadow what this team is trying to accomplish. On Feb. 21, the Sabres hosted the Toronto Maple Leafs, and it was an absolute embarrassment on multiple levels. Not only did they get lit up 6-3, but the Toronto faithful were out in full force, making up a majority of the sold-out crowd. The story looked great for the Leafs as their recent trade acquisition Ryan O'Reilly scored two goals early on and eventually completed the hat-trick late in the game. Meanwhile, it was all broadcasted on national television, and the young Sabres team had no answer to the pressure once again.
This is not the first time this season that they have been embarrassed at home by a former top player, and it is not the first key game that they have blown in front of a national audience. As this team learns lessons, there are bound to be growing pains, but it is downright pathetic how badly they have played in hyped-up games where they could have gained, not only a better place in the standings but the respect of the rest of the league. Adjustments need to be made, and that does not mean a shuffling of the lines or a trade.
Sabres Continue to Fail in the Public Eye
Earlier this season, the Sabres hosted the Vegas Golden Knights, and it was a massive game that was hyped up due to Jack Eichel's second return to Buffalo. In his first game back, he was booed incessantly by the crowd and was held off the scoresheet. However, in his second game back, he silenced the crowd with a hat trick performance and a few taunts afterward. The Sabres had no adjustment to how a hot Vegas team was steamrolling them, and they had it happen again the other night against the Maple Leafs. Losing to these teams would be less of an issue if the Sabres were still rebuilding, but they aren't. They are a borderline playoff team, and they continue to fail in their efforts to win games that matter.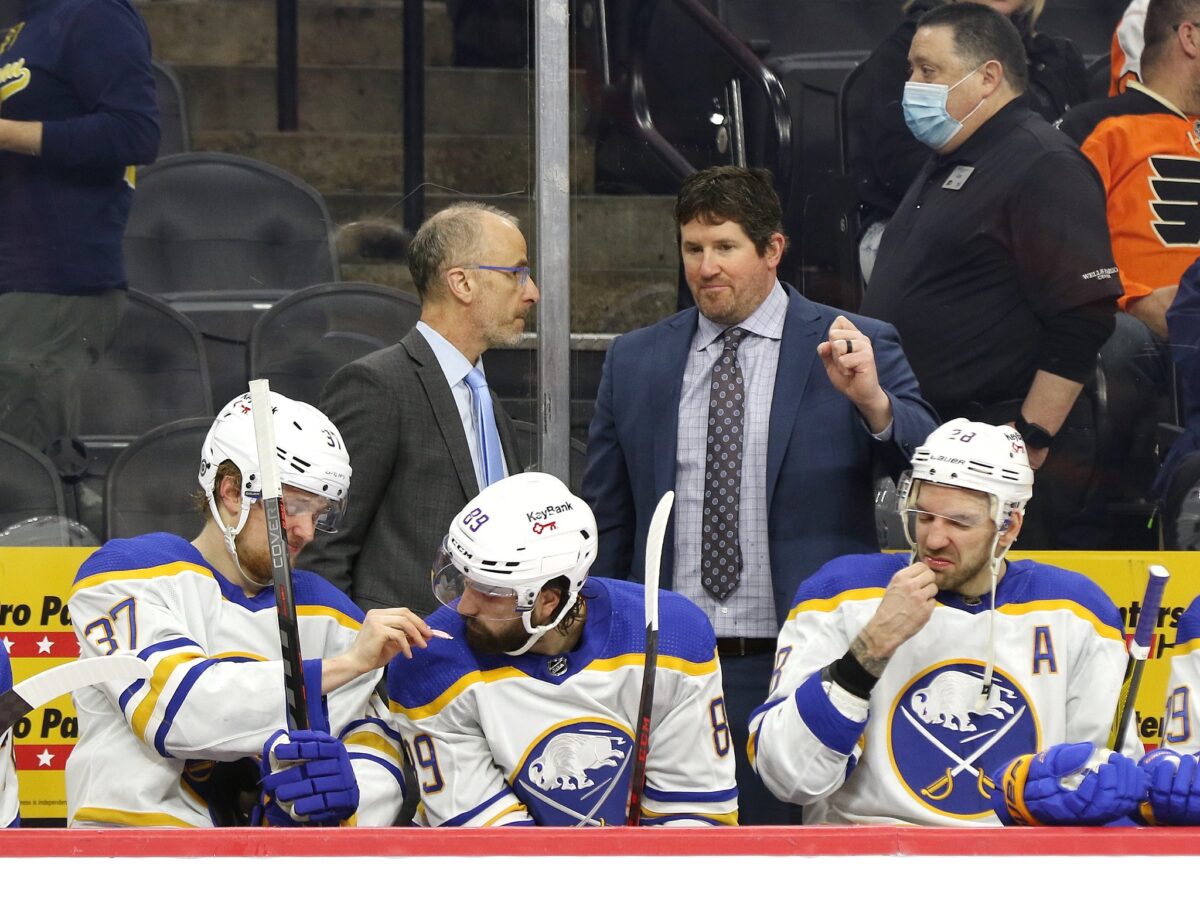 The issue with these games is not that they lose, but how they lose. If they looked like a playoff team and they fought hard each period to make the game feel respectable, then it can be chalked up to a tough loss, but they don't even look like they are trying. Gaining respect from other teams in the league comes with consistency, but this team does not have any. They can score as many goals as they like, but if those goals do not lead to winning games, they do not mean much.
Failing to rise to the occasion and compete against these top-tier teams is getting old, and complacency brings a specific famous movie scene to mind. In the historical 2004 sports film "Miracle," coach Herb Brooks scolds his team after a win by saying, "you think you can win on talent alone? Gentlemen, you don't have enough talent to win on talent alone." That exact line describes how this Sabres team is playing right now. They go out each night playing as if they can win without working hard, and it is getting old. There is no reason that this team should be playing as they can win without working, and it needs to stop now.
Sabres Need a Simple Solution
The Sabres have been outworked and outplayed in almost every game they have played this month, and it was put on full display versus the Leafs. Every hole in their game was exploited, and they had no answer. Their usual game plan is to burst through each zone with speed and score early to account for their defensive lapses that occur later, but recently teams have been shutting them down early on to disallow this momentum grab. Once they are unable to play the game how they want, they crumble and look defeated.
In the past three games, it has taken the Sabres seven minutes or more to get their first shot on goal, and even after that, they have struggled to get to 10 before the end of the first period. Their response is equally as frustrating, as they do not adjust their pace, nor their play, to account for this shutdown, but instead, they try to force things through and do the same thing until it works. It takes this team until the better part of the third period in a game to look like they care anymore, and it is just flat-out embarrassing to watch.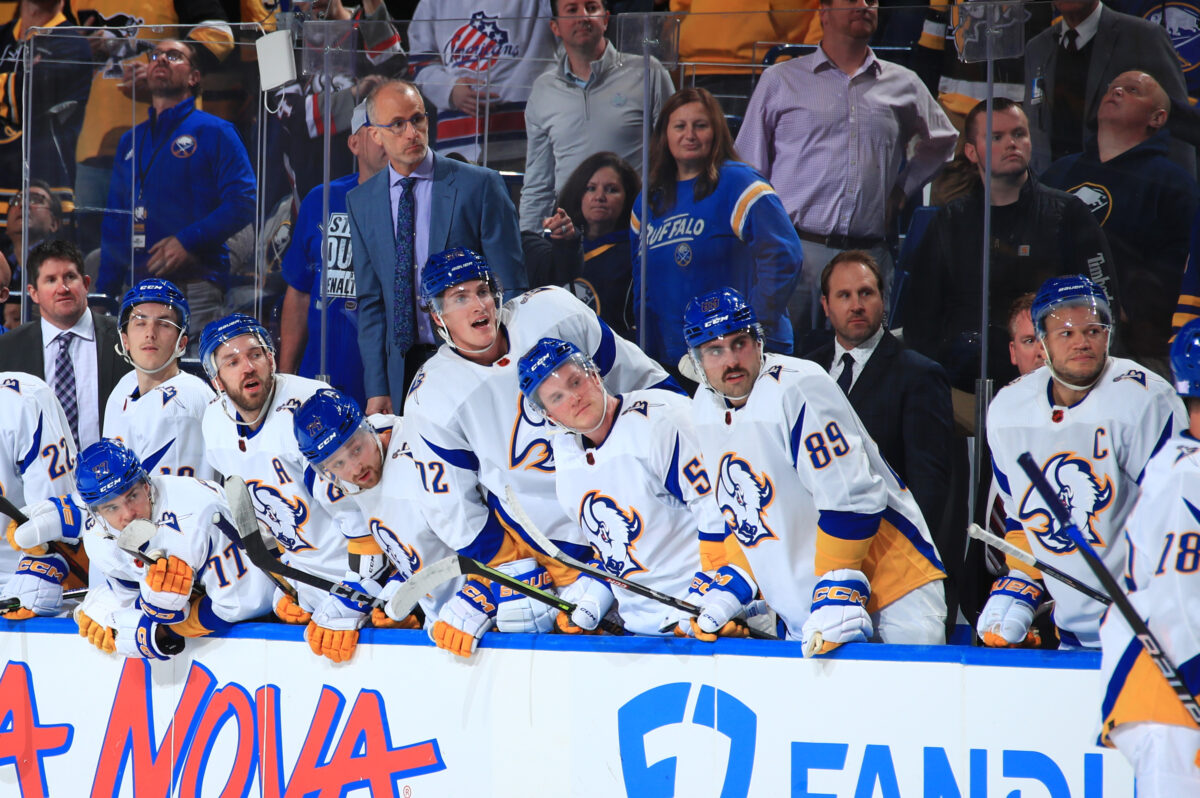 The simplest solution is to add an element or two to their game when things are going the way they initially anticipated. Physicality is severely lacking from this Sabres team, and it makes them look all the more pathetic when the goals aren't coming when they need. When they cannot break into the offensive zone, they continue to try the same three plays instead of changing according to what the defense is doing. When they give up defensive zone chances, the common issue is a lack of physical play along the boards and a lack of coverage in the slot area. Cleaning up these aspects, as well as adding in some sort of hitting mechanic to their standard pace of play, will be a good step towards adjusting.
On the fly, they need to adopt a general rule that if they are down in a game, they should be throwing their weight around to start wearing down their opponents so they can use their speed to their advantage. It's a small adjustment, but it would make a world of a difference.
Sabres Need to Do all they Can to Prevent Future Embarrassment
From the top of the organization, down to the bottom, the team needs to adjust to improve the club's reputation. Tickets being sold in droves to the Toronto faithful, so they outnumber your fanbase in your arena is ridiculous. It was an embarrassment to be a Sabres fan in those stands knowing that the national audience was seeing and hearing "Go Leafs, Go!" without any protest or opposition. This is what happens when a team loses the confidence of its fanbase over many years and has reached a breaking point.
Related – Sabres Best Trade Deadline Acquisitions
This team needs to change how they play on a regular basis to get themselves back in a groove. They have been average at best for the better part of the second half of this season, and it is just unacceptable to see with what is on the line. The playoffs are within reach, and every night they go on the ice, it feels like they are inching further away from it rather than closer. Don Granato has a lot of work to do in order to get these players to the next level, and if they don't start turning things around soon, they will lose the faith of those who have remained so fervently loyal for so long.
---
---