When the Buffalo Sabres were forced to put their season on pause for a two-week hiatus after an outbreak of COVID-19 following a weekend series with the New Jersey Devils, fans waited each day to hear which players and staff had entered the NHL's COVID protocol and who had tested positive. Among those who tested positive for the virus was head coach Ralph Krueger, a 61-year-old who was probably the last person whose name anyone wanted to see on any list.
However, Krueger made a full and speedy recovery, and a more unlikely candidate has become cause for concern among Sabres fans, teammates, and staff: 26-year-old defenseman Rasmus Ristolainen.
In a report for Finnish outlet Ilta-Sonamat, Ristolainen told reporter Sami Hoffren about his scary and severe symptoms of COVID-19 during his battle with the virus. His symptoms are enough for anyone to view as a cautionary tale of just how serious the virus can be, even for athletes in peak physical condition like Ristolainen.
Ristolainen's Battle With COVID
Until Ristolainen's frightening detailing of his experience with COVID-19, no professional athlete had publicly spoken about having symptoms this severe. And many people believed that for young athletes in peak health, the virus was not a major concern. They might experience cold and flu-like symptoms, aches and pains, or be completely asymptomatic, but they wouldn't experience the brunt of it. Ristolainen's testimony has flipped that notion on its head.
His symptoms were so bad, he said, that he had low oxygen levels for an extended amount of time, as well as serious heart problems, both symptoms of COVID-19. "When there was chest pain," Ristolainen told Ilta-Sonomat, "it felt like my heart was cracking as I walked up the stairs."
Ristolainen told Hoffren that when he had the virus, he was tired all the time. His chest pain went away, he said, so he thought he was getting better – only to see the chest pain return, this time with other symptoms. He said that some nights when he would go to sleep, he didn't know if he was going to wake up in the morning.
Ristolainen also said that the entire experience is upsetting because he is still battling some of these same symptoms, keeping him out of game action for the Sabres at a time in the season when they could desperately use him on the ice. Even more upsetting to him is that the games against the Devils were played nearly three weeks ago.
"It was a pointless infection," he said, "in the sense that the New Jersey team had infections before those games, but we were still forced to play." The NHL's handling of the Sabres' and Devils' COVID situations has seen heavy scrutiny ever since it happened.
Next Moves and Risto's Recovery
Thankfully, Ristolainen seems to be getting a little better with each passing day and exited the NHL's COVID-19 protocols this past Tuesday, skating for the first time since the team's last game on Thursday in Buffalo, although he did not play in the game that night or travel with the team on their four-game road trip.
Ristolainen has said he doesn't want to get too far ahead of himself but that if all goes well, he is aiming at a return to game action sometime next week. Others seem to think it might take longer. In any event, his focus for right now, though, remains fixated on training and gaining back some of that strength he lost over the past month.
Getting on the ice Thursday to skate around was a decision Ristolainen made on his own, and one he felt comfortable with since he believes the "worst" cardiac symptoms are behind him. It's hard to gather whether he's truly close to returning, though, because he's talked about how he still feels like he wants to sleep all the time. He said he could close his eyes to sleep, and after 12 hours of sleep, he feels like he only got five minutes.
Ristolainen is resting his body and training at the Sabres' practice arena when he feels up to it, and claims he is feeling better. Hopefully, he can continue this positive trend and get back to where he was physically before contracting the virus.
Other Sabres Who Tested Positive for COVID
In the past week, when the Sabres were gearing up to play their first games in over two weeks, we started to learn that several Sabres' players and staff tested positive, some experiencing symptoms and some not.
Krueger tested positive and battled some symptoms but eventually recovered. Taylor Hall tested positive but was asymptomatic. Curtis Lazar lost his sense of taste and smell and described fatigue, while Casey Mittelstadt was mostly asymptomatic. Brandon Montour said he had a "tough couple of weeks" without being too specific, and Jake McCabe also experiences some minor symptoms. This, of course, on top of Ristolainen's frightening bout with COVID.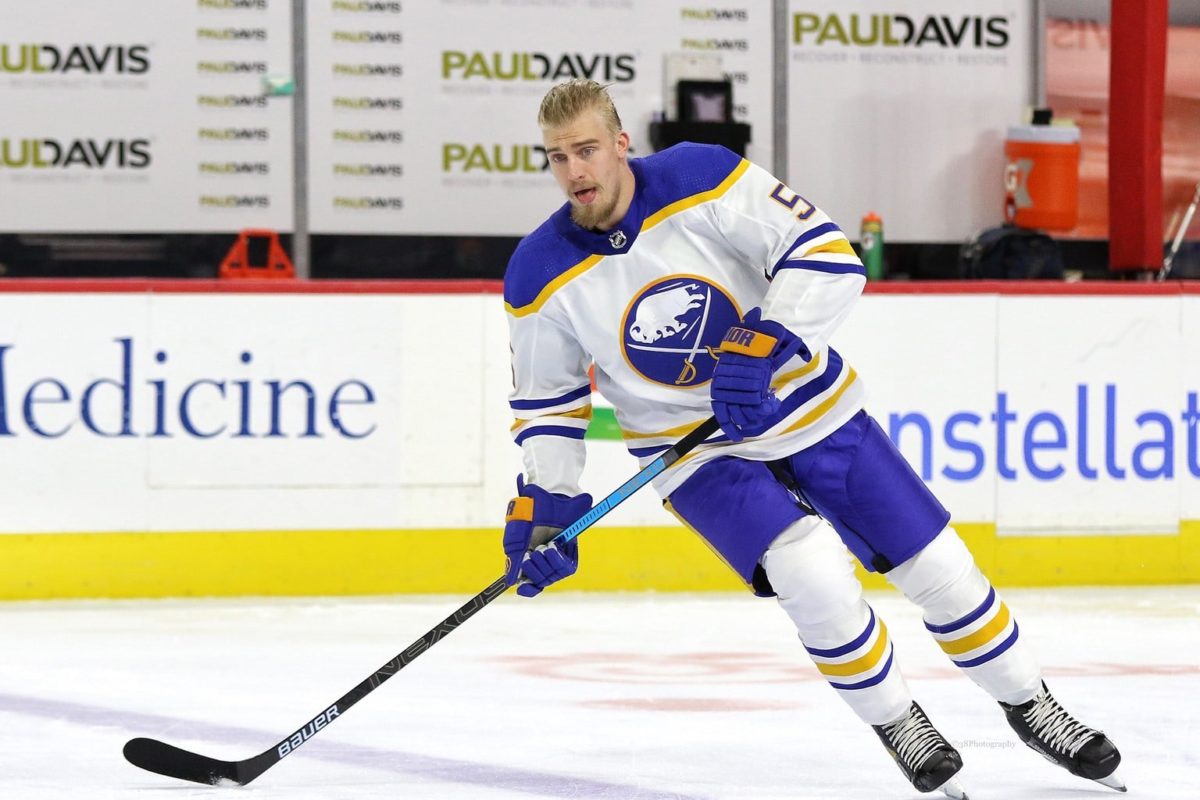 There is some confusion as to when Ristolainen is expected to come back and play for the Sabres, but what's important is that he seems to be getting better and feeling healthy again.
"I wasn't tired at all, and now I'm in this mess," Ristolainen said about the games he did play before this month. He was averaging 27 minutes of ice time in the two games leading up to this, a huge load for any defenseman. He is "extremely upset" at the timing of this because of the great start he was having to the season.
In the 10 games Ristolainen played this year, he had two goals and four assists for six points while adding 20 shots on goal and being a plus-2. Even his harshest critics were singing his praises as one of the only consistent Sabres through the season's first ten games.
Ristolainen fears he's lost his momentum, and just when he thought he was feeling good and "couldn't fail," his path ahead is now going to be challenging and difficult.
---
---