The Philadelphia Flyers have totaled 48 goals in 14 games so far this season. That amount has the team ranked 13th in the entire league in goals for (at the time of this writing). Those tallies are split among 13 players on the roster, with James van Riemsdyk, Joel Farabee, Kevin Hayes, and Travis Konecny leading the offensive assault.
Offensive depth is something that has not been a problem for Philadelphia. The club proved during the 2020 Playoffs that their bottom-six group alone could carry them into first place in the Eastern Conference as a result of the round-robin series. This concept of team depth has carried over to this season as well. It has been a good problem for the club to have, and it creates a strong work ethic among players trying to make it to the big time, to begin with, or keep the spot they've already earned.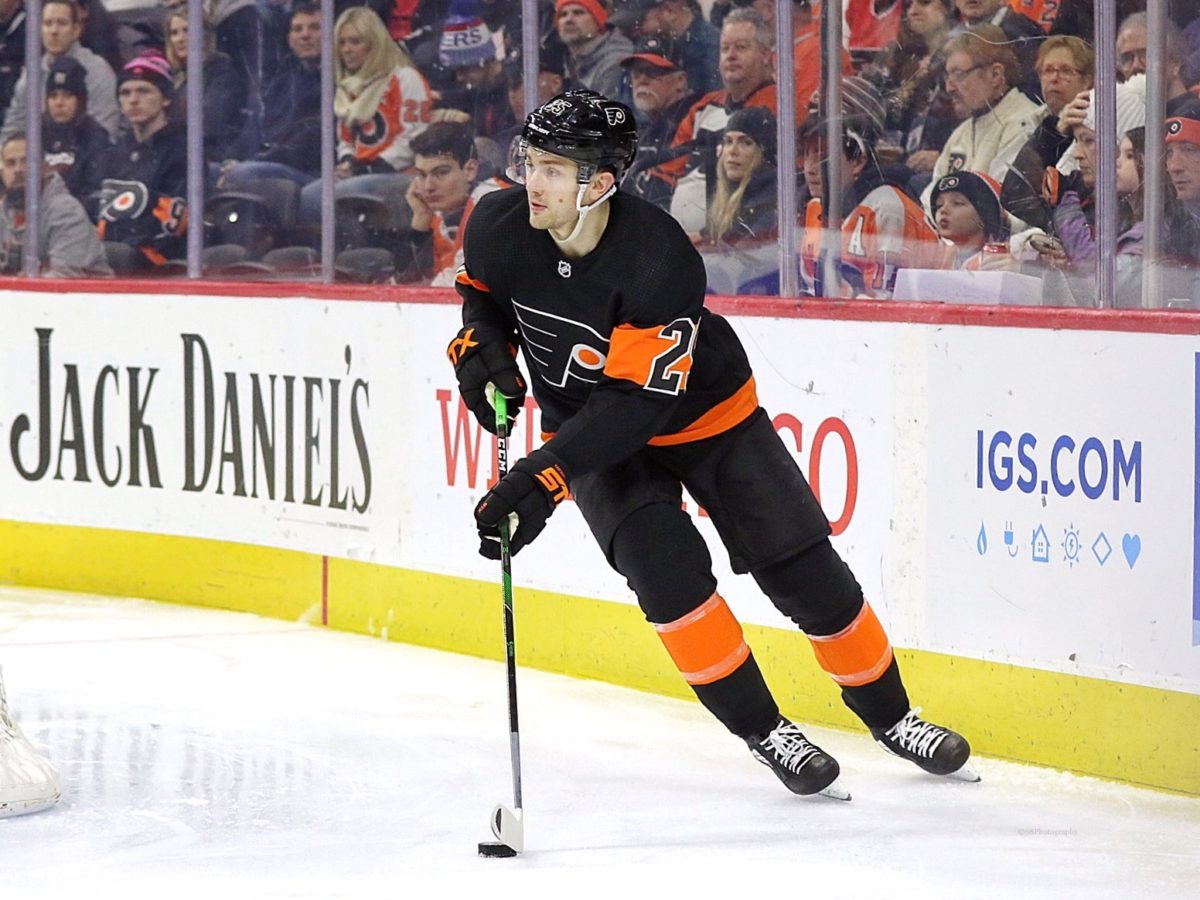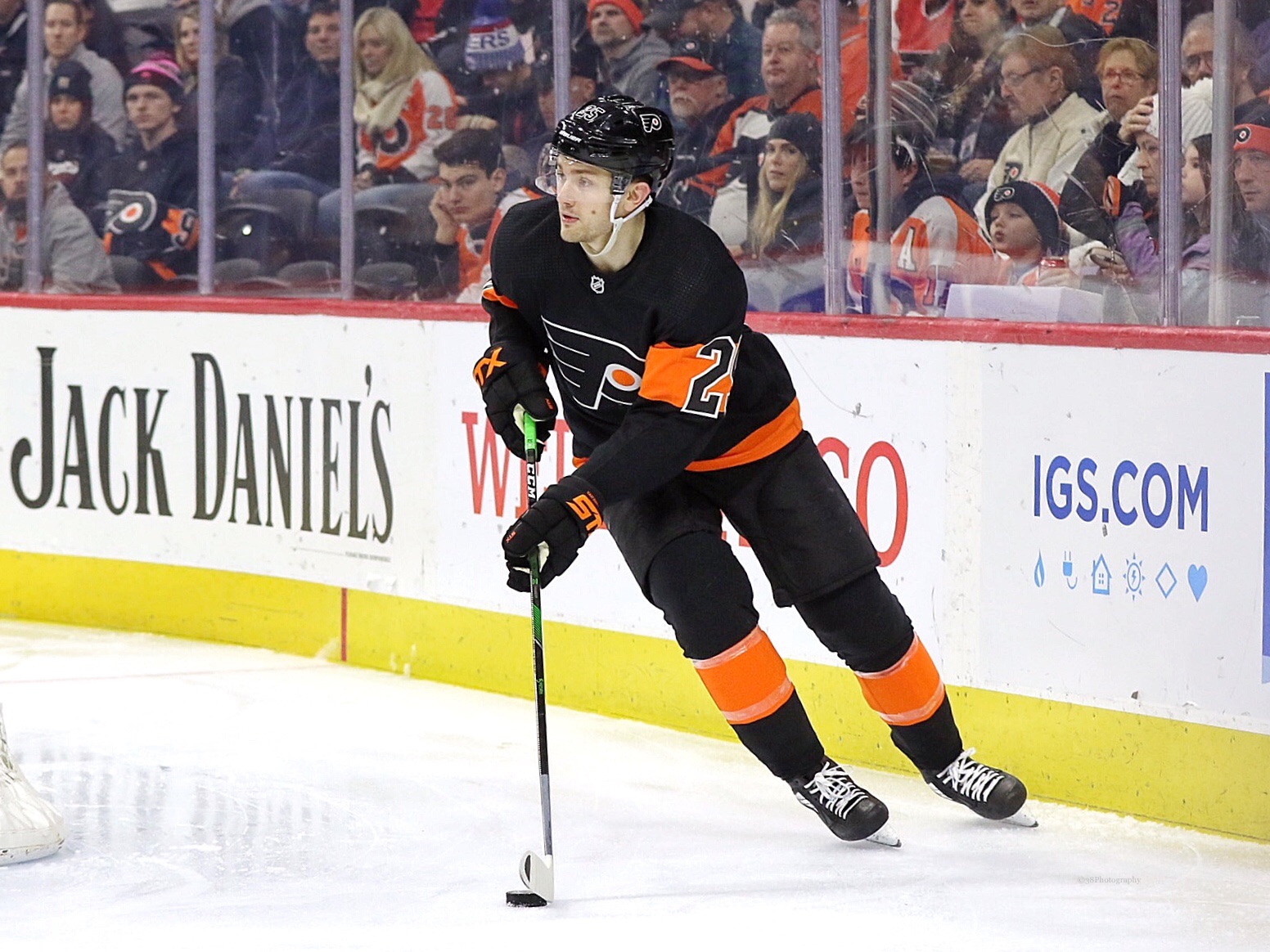 One player looking to make a name for himself and have his own breakout for the Flyers is center Connor Bunnaman. So far in 2020-21, he has played in nine games, notching an assist in a contest against the New Jersey Devils back on Jan. 28. With as much firepower as Philly has, the question presents itself as to whether he can find a way to make his mark and become a regular on this NHL squad.
Bunnaman's Beginning
Bunnaman was born in Guelph, Ont. on April 16, 1998. He developed his game and caught the eyes of the Ontario Hockey League (OHL). The Kitchener Rangers drafted him in the second round (31st overall) of the OHL's 2014 Priority Selection, and he committed to playing for the club. He gradually improved his offensive point totals over the four seasons he spent in Kitchener, and they eventually named him captain for the 2017-18 campaign. He posted the following regular-season stats while suiting up for the Rangers:
2014-15: 10 goals and 5 assists for 15 points in 67 games
2015-16: 16 goals and 22 assists for 38 points in 68 games
2016-17: 37 goals and 15 assists for 52 points in 64 points
2017-18: 27 goals and 23 assists for 50 points in 66 games
In the postseason, Bunnaman's biggest year for the Rangers was in 2017-18, when the team went on their deepest run while he was there. He produced 5 goals and 9 assists for 14 points in 19 contests. Kitchener had clinched the Holody Trophy, which is given to the Midwest Division winner, and the team made it all the way to the Western Conference Championship game. The Rangers lost that match to the Sault Ste. Marie Greyhounds. Despite not winning it all, Bunnaman showed the hockey world what he could potentially bring to the NHL level.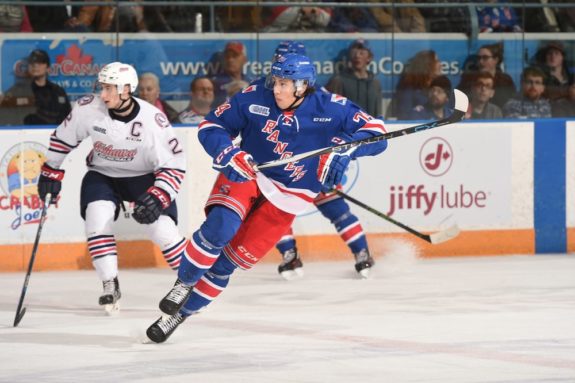 Bunnaman made the next leap by joining an NHL system. The Flyers selected him in the fourth round (109th overall) of the 2016 NHL Draft. He made his Flyers system debut with Philly's AHL affiliate, the Lehigh Valley Phantoms, for the 2018-19 season. This was a crucial next step for him, and he made good on the opportunity. In 62 regular-season matches, he accumulated 19 goals and 13 assists for 32 points.
That was good enough to rank seventh on the squad in points. Greg Carey, Chris Conner, Byron Froese (his cumulative points total, as he was also with the Laval Rocket that year), TJ Brennan, Mike Vecchione, and Philippe Myers were all of his teammates that produced more that season. Bunnaman also suited up in 29 contests for the 2019-20 campaign in the AHL, where he put up 6 goals and 3 assists for 9 points.
Bunnaman made the jump to the Flyers in the 2019-20 hockey year. He suited up for the orange and black 21 times, and tallied his first NHL goal against the Boston Bruins on Jan. 13, 2020. That game was memorable, as the goal cut the Bs' lead down to 5-4 in the second period. Eventually, Philly tied the score thanks to Travis Sanheim. The crowd went home happy that night from Wells Fargo Center after a shootout victory as a result of a Konecny goal and five missed Boston attempts. That goal remains Bunnaman's only one in the NHL so far, but it helped turn the tide for Philly that led to their win. He also has two assists in his young career as well.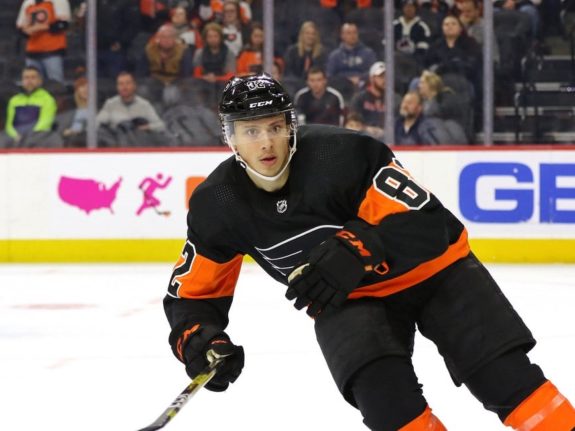 Bunnaman also has a small share of postseason experience so far. The Flyers brought him aboard when the NHL reconvened after their break due to the ongoing pandemic, and he was able to play four games in their 2020 run. It was good on Flyers' head coach Alain Vigneault to make that decision to have him be a part of that playoff. Postseason hockey is on another level as opposed to the regular season. Players can need those firsthand opportunities to know how to play and prepare for crucial games like those. Even being around the locker room during that time would provide some valuable insight for Bunnaman. It all can help take him to the next level of his development for his team.
He is just getting started with making an imprint on the game. It is now the next step to continue the transition of his play. He was able to do it when he joined the OHL in Kitchener, and accomplished it again with the Phantoms in the AHL. Making a consistent positive impact in the NHL is next.
Finding a Fit
The Flyers have a lot of talent who help carry the load for the most part. Bunnaman, at this point, is an extra forward who helps strengthen the depth the organization has. Circumstances have recently been different due to the roster being hit by the impact of COVID-19. Bunnaman has found his way into being a part of the Flyers' bottom-six group. At one point, he was on a line that also consisted of Nolan Patrick (centering the line) and David Kase. As more players start returning, though, he might get pushed out of the lineup to the taxi squad or even down with the Phantoms. Morgan Frost recently got out of COVID-19 protocol, with other reinforcements soon arriving as well.
If Bunnaman is going to be able to become a regular in the lineup for Philadelphia, he has some stellar competition he is going up against. Bottom-six players on the Flyers right now include Scott Laughton (currently in COVID-19 protocol himself), Nicolas Aube-Kubel (currently higher up on the ranks with other players out) and Michael Raffl, among others. Laughton has caught my eye so far this season with his on-ice contributions, as he has 9 points (4 goals and 5 assists) in 13 games. This includes a hat trick he posted on the last game he played in before he had to sit out (versus the Washington Capitals on Feb. 7).
Bunnaman has some work to do in order to claim a roster spot on Philly permanently. On the positive side, no matter what happens with his situation right now for this season, is that he is a young player with the potential to make an impact down the line. He is only 22 years old and has more development to overcome. Time will tell where his direction goes from here, but he could potentially become another key piece on this team in the future.
---
---
I have been a hockey fan for most of my life, and have played the game myself for more than six years. I graduated from the State University of New York at Oswego in 2018, with a bachelor's in Broadcasting & Mass Communication. Previous positions held include being a Sports Analyst for Oswego's student-run TV station, WTOP-10; News/Sports Intern for WIVB-TV Channel 4; and Sports Beat Writer Intern for Pro Player Insiders.