When the calendar turned to August, all eyes slowly started turning towards the world of hockey. As days pass, heading towards September, players will quickly start returning to Buffalo in anticipation for training camp ahead of the 2017-18 National Hockey League season.
In an offseason filled with changes from the top-down, optimism is at a fever pitch for Buffalo Sabres fans.
There are a few jobs to be won, at each position, before the final opening night roster is set.
Goaltending
Locks: Chad Johnson, Robin Lehner
On Fence: Linus Ullmark
On paper, this figures to be the easiest position to break down.
Chad Johnson will be making his return to Buffalo, following a stint with the Calgary Flames last season. He enjoyed a career-best season in 2015-16, with a 22-16-4 record with a 2.36 GAA and a .920 save percentage while filling in for an injured Robin Lehner. Johnson's return is a solid coup for this franchise.
Speaking of Lehner, Buffalo appears to have found themselves a solid candidate for the number one goaltending position. This season will be paramount in determining whether or not Jason Botterill and Phil Housley will continue with Lehner in goal – evident his new one-year deal. Coming off a year that featured a career-high 23 wins in a career-high 59 appearances, he certainly worked hard to shake off the "injury prone" label. Consistency continues to be a thorn in Lehner's side, but with an improved team should come improved statistics – the ball is in his court at this point.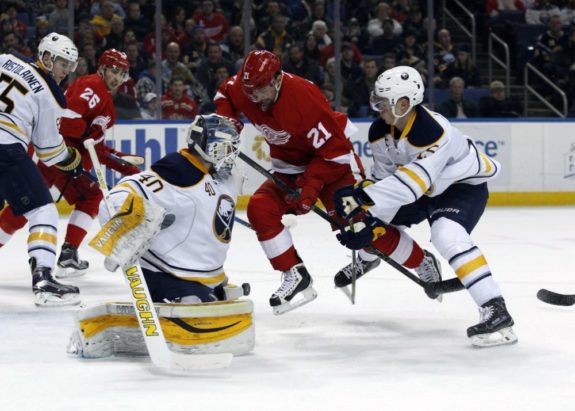 As for Linus Ullmark, the answer here is simple – Buffalo made sure the Vegas Golden Knights did not draft him. If that doesn't tell you how high the organization is on Ullmark, I'm unsure what will. Botterill preached development when walking through door in Buffalo, so Ullmark will see a lot of time in Rochester. Do not be surprised, however, if he ends up getting more than a few games with the big club.
Defensemen
Locks: Victor Antipin, Nathan Beaulieu, Zach Bogosian, Jake McCabe, Rasmus Ristolainen, Marco Scandella
On Fence: Justin Falk, Taylor Fedun, Brendan Guhle, Josh Gorges
Defense was arguably the Sabres biggest weakness heading into this offseason. As we approach camp, it is safe to say that the solutions to the overall problem are a slam dunk.
Returning to the top-six are Zach Bogosian, Jake McCabe and Rasmus Ristolainen. For better or worse, we know what they bring to the table.
Now for the new acquisitions.
Victor Antipin comes over from the KHL after what felt like an endless pursuit. Antipin's courting began when Tim Murray still led the front office charge. Following the Murray's firing, the status of Antipin was unknown. Despite the front office change, Antipin said he originally committed to signing with Buffalo and he ended up doing just that. Expected to start in the bottom pairing, his ceiling is unknown but he is expected to bring a nice boost to the depleted defensive core.
Nathan Beaulieu was one of Botterill's first acquisitions and boy, was it a nifty one. Beaulieu, a first round pick of the Montreal Canadiens in 2011, displays the talent of a first-rounder but has struggled to put it all together. He began last season with Shea Weber and ended the season being a healthy scratch for Montreal's final playoff loss. Talk about a rollercoaster season. Beaulieu is also expected to start on the bottom-pair, but will likely have the ability to move around as necessary.
Last but not least, we have Marco Scandella. For Buffalo, this was their trophy fish of the offseason. Scandella played important minutes for Minnesota and will be expected to do the same for the Sabres. It is expected that Scandella will pair on the top-end with Ristolainen. Scandella's acquisition makes his defensive partner better, as well as the defense as a whole better because his presence likely pushes Jake McCabe to the second pairing and holds Nathan Beaulieu on the third pair.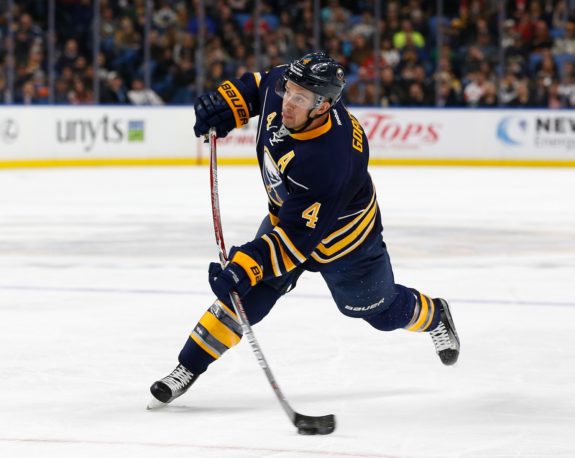 Extra defensemen are very important for any franchise, but for Buffalo there is a very sticky situation developing. Josh Gorges is in the final year of a six-year contract extension that was originally signed with the Canadiens – his cap hit for this upcoming season is a dismal $3.9 million. It doesn't take an expert to tell you that Gorges has slowed down and the game is quickly passing him by. Once a stout defender for one of Canada's proudest franchises, Gorges is now struggling to stay afloat in Buffalo. Buyout rumors were floated throughout the offseason but never materialized. Gorges likely will start the season as Buffalo's seventh defender and will draw into the lineup, but not as much as he would like.
Justin Falk and Taylor Fedun fall in the same category. Both players filled in admirably last season when injury or ineffectiveness catapulted them into the lineup. They will both provide great veteran depth in Rochester and will likely be the first called up in an emergency situation. If it weren't for Gorges, these two would be playing for the seventh defenseman spot. No slight on them though, these two are the hypothetical eight and nine in the system.
A talk about Buffalo's defense is not complete without talking about their best defensive prospect – Brendan Guhle. Called up last season on an emergency recall, Guhle impressed many with his ability to stick around in the NHL. While his game may need some polishing, a then 19-year old is not normally able to hang around without some major speed bumps. He will be eligible for play in the AHL this season, which likely tells you what you need to know about the beginning of the season. But Guhle should be able to play his way into Buffalo's lineup before the end of the season.
Forwards
Locks: Jack Eichel, Evander Kane, Kyle Okposo, Ryan O'Reilly, Jason Pominville, Benoit Pouliot, Sam Reinhart
On Fence: Justin Bailey, Nicholas Baptiste, Nicolas Deslauriers, Hudson Fasching, Zemgus Girgensons, Jacob Josefson, Johan Larsson, Matt Moulson, Alexander Nylander, Evan Rodrigues, CJ Smith
The forward group provides the most intrigue of the entire team at camp.
One main focus this offseason was creating more depth. Good news for the Sabres – depth creates healthy competition and breaks up any potential complacency. No longer will we see players getting solid ice time because of what they had done or their contract status.
When it comes to explaining players who are locked in, they are either top-six forwards (Eichel / Kane / Okposo / O'Reilly / Reinhart) or recent acquisitions (Pominville / Pouliot). Simple enough.
The players on the fence really highlight the potentially intriguing camp battles.
Will the kids break through?
Despite Botterill's insistence on development from his very successful stint with the Pittsburgh Penguins, a strong camp would be very hard to deny by any younger player. Justin Bailey, Nicholas Baptiste, Hudson Fasching and Evan Rodrigues are knocking on the door. All four players definitely appear ready to play full time at the NHL level, but they just need a little more consistency. With an offseason filled with adding size, we might see Alexander Nylander play his way into the lineup this season before many expected. What about college free agent CJ Smith? He'll likely fill a role in Rochester but as mentioned above, a great camp performance could change minds very quickly.
Who will lead the third line charge?
Last season, Johan Larsson was locked in as the third-line center. He was gaining steam throughout the league as a potential trade candidate, until a very nasty fall in Boston ended his season. One would have to assume that Larsson's proven ability to be a shut-down force on the third line would give him the leg up but we remind you of the potential competition. Zemgus Girgensons has seen time at center along with time on the wing. At the time of writing, Girgensons is still a restricted free agent but one would have to assume he will be under contract shortly. In a nutshell, it appears this is Larsson's job to lose.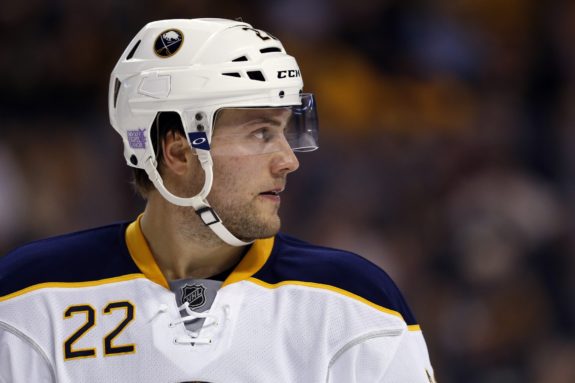 What will a fourth line look like?
Here comes another very loaded question – how will the Sabres build their fourth line to start the season? Teams of the recent past have featured big bruisers, kids and former top-liners. As for this season, it seems like there are a few different combinations that could take the KeyBank Center ice. Perennial fourth-line pest Nicolas Deslauriers is the first name that pops up. He stuck around all last season, but it appears that his time may have run out. Another name that has potentially run its course in Buffalo – Matt Moulson. Last season, Moulson did score 14 goals in 81 games. That stat line comes with a big, bold buyer beware – 11 of 14 goals came on the power play. Logic has to point out that with the additions to Buffalo's lineup, Moulson likely won't be seeing a lot of time on the power play. Where does that leave him? Likely on the fourth line. Moulson's contract can be buried in the AHL, but it is currently unknown if there is any traction on that thought. When free agency began, Buffalo went out and grabbed Jacob Josefson, a solid bottom-six center. A safe bet right now would be to slot Josefson into that fourth line center role right out of the gate – very short, sweet and to the point.
Here is a look at a projected opening night lineup, barring injury or trades.