Expectations have always been sky high for Sam Bennett, especially since the former OHL standout was picked by the Calgary Flames fourth overall in the 2014 entry draft. After a solid yet unspectacular rookie season last year that saw Bennett notch 18 goals and 36 points, most expected the young center to take another step this year.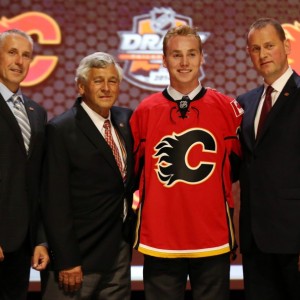 In his second season, though, Bennett's nine goals and 18 points have him on pace to finish just shy of his rookie totals. Mired in a seven-game goalless drought and with only three points over his past 17 games, Bennett is certainly going through a bit of a sophomore slump.
In addition to his production being shy of the lofty expectations many had, Bennett's underlying numbers aren't exactly inspiring either. Despite being given the second most offensive zone starts of any of the teams' centers behind only Sean Monahan, Bennett is carrying the worst possession numbers of the four, with a 47 Corsi percentage (-4.5 percent relative to the rest of the team).
So, with his entry-level contract set to expire at the end of this season, what should the Flames do with Bennett as he becomes an RFA? How is management meant to evaluate and project the future with a player who is clearly still developing?
Looking for Comparisons
When looking at other young centers taken very early in the draft over the past few years, there are plenty of examples to draw from. Nathan MacKinnon, Aleksander Barkov, Sean Monahan, Alex Galchenyuk and Ryan Nugent-Hopkins were all taken early, saw measures of success early on, and have since signed their second contracts. Each player also burned through the first year of their entry-level deals in their first season after being drafted, just as Bennett did by playing 11 games with the Flames in the 2015 playoffs.
When looking at those five players, there are a few constants. Each player scored between 45-60 points in the final year of their entry-level contract, and all but one (Galchenyuk) then signed a long-term deal with an annual cap hit in the realm of $6 million.
So how does Bennett fit in with that group? Unfortunately, he has yet to produce at the level of any of those players, failing to top 40 points in his first season, and on pace to do the same again this year. Perhaps a closer comparison to Bennett's production this early in his career would be Sean Couturier of the Philadelphia Flyers. After spending most of the 2012-13 season in the AHL, the former first round pick notched 39 points with the Flyers in the final year of his entry-level deal the following season, and then signed a two-year bridge deal worth less than $2 million per year.
Couturier then spent the two years of his bridge deal continuing to post somewhat underwhelming offensive numbers. While emerging as a valuable two-way player, Couturier put up 37 and 39 points in those two seasons, and the Flyers were then able to lock him up on a longer term deal at an affordable $4.3 million AAV that kicked in this season.
The Silver Lining
While Bennett, unfortunately, has yet to live up to the performance of many other top-five picks at center over the past few years, he is still only 20 years old and has not looked out of place playing down the middle at the NHL level.
Additionally, the Flames have insulated Bennett far more than most teams have in recent memory with similar center prospects. His career 15:16 average ice time is significantly lower than the likes of Monahan, MacKinnon, Barkov, and Nugent-Hopkins – all of whom played 18-19 minutes per night in their first three seasons. Of that group, only Galchenyuk saw less ice time in his first three seasons, and was also being heavily insulated by his coaches just as Bennett has.
This shows that while Sam Bennett has burned through his entry-level contract quickly, the Flames' management and coaching staff have still taken their time developing him at the NHL level. Having two centers of Monahan's and Mikael Backlund's caliber already in place certainly helps in allowing the team to shelter Bennett – a luxury the team didn't quite have when Monahan was drafted.
Now, as Sam Bennett nears RFA status this summer, the silver lining for the Flames will be the opportunity to sign him to a more team-friendly contract. The question now is what type of deal should the team pursue with Bennett? A low-cost bridge deal would free up a lot of short-term cap space, but a long-term could prove to be a potentially major bargain.
Bridge Deal vs. Long-Term Contract
The situations with Galchenyuk and Couturier highlight both outcomes with a bridge deal. Had Marc Bergevin signed Galchenyuk to a long-term deal two years ago, he likely would've come in at a cap hit between $5-6 million. Now, having notched 30 goals last season, and sat fifth in league scoring before being injured in early December, Galchenyuk is poised to make $7 million or more on his next deal.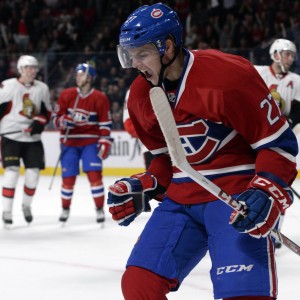 Meanwhile, Couturier did not take the same steps during his bridge contract, and thus signed a team-friendly six-year, $26 million deal. So the Flyers saved cap space over those two years, but was the risk ultimately worth the reward? They likely could have locked Couturier up with a similar team-friendly cap hit two years earlier, and saved the risk of paying a much higher salary should he have seen a major uptick in production.
Ultimately, it's safe to say that each of the four GMs who signed the young centers mentioned above to long-term second contracts are quite glad they did. It's hard to argue the value the contracts for MacKinnon, Barkov, Nugent-Hopkins and the Flames' own Monahan, especially after looking at some of the deals handed out this past summer.
Despite less offensive production early on than some might have hoped for, Bennett is already a capable and proven NHL center at just 20 years old. With that in mind, the best bet might just be to lock him up now to a long-term deal with a team-friendly cap hit, and bet on the young center's continued development.
Calgary-based writer covering all things Flames. Follow me on Twitter @glenneberth