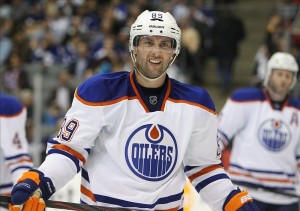 His three goals and six assists put him in first place in team scoring. But it's more than just showing up on the score-sheet that makes Sam Gagner a valuable piece on the Edmonton Oilers. At the ripe old age of 23, Gagner is a veteran on this young Oilers squad. He has five full seasons of NHL experience under his belt, and has been with the team through some of their darkest days.
Often the subject of trade rumors, Gagner has quietly been doing his job on and off the ice, and has quickly become one of the most important players on the team. Chosen 6th overall by the Oilers in 2007, Gagner went straight to the NHL, a move that many felt have hindered his development. He has been a work in progress, his numbers steadily progressing. But Gagner is becoming the kind of leader that the Oilers always knew he could be, and with such a young roster, his presence is needed.
When Gagner scored the big overtime winner against the Kings early in the season, it became evident what kind of player he is. He crashes the net, and has the hands to put the puck in. He's not afraid to mix it up, and that hasn't gone unnoticed by the Oilers coaching staff.
Gagner's talent was never in question, evidenced by the massive eight point night he had against the Red Wings last season. But it took him some time to adapt to playing in the pros. Now, he has become a well-rounded player, his hockey sense and skill complimented by a commitment to playing tough, defensive hockey. Perhaps we're starting to understand why Oilers management have held on to Gagner despite his name being floated in trade proposals.
Gagner is a soft-spoken guy, doesn't demand the spotlight and understands his role on the team. And he has meshed quite well playing with Ales Hemsky and rookie Nail Yakupov this season.
"I've been here long enough. I want to be in a leadership role. I think I'm ready for that and I'm excited for that challenge." – Sam Gagner (CBC)
Gagner's stock has certainly been rising, and being in the shadow of so many top picks, there's a good chance he'll always be considered trade bait. But for now, Gagner is quickly becoming a key cog in the Oilers machine, and with his contract soon expiring, he knows that he needs to continue to take strides forward. So far in this young season, he has been doing just that.