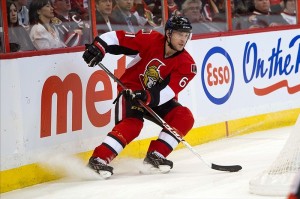 After a 5-1-1 start, the Ottawa Senators suffered a bit of a setback over the weekend, falling to the Carolina Hurricanes on Friday by a score of 1-0, and dropping a 2-1 decision on Sunday at the hands of the Montreal Canadiens. These two contests marked games 2 & 3 without Jason Spezza (back) in the lineup, and clearly the club is missing his scoring prowess and offensive creativity.
Ottawa had an opportunity to at least steal a point on Sunday, having seemingly tied the game early in the 3rd. The goal was immediately waved off by the official, prompting the following tweets and many like it:
That non-goal against Ottawa is inexcusable in the video age we live in.

— Ian Mendes (@ian_mendes) February 3, 2013
That's a really tough one to swallow.. Really tough… I know you all know what I mean too.

— Marc Methot (@MarcMethot3) February 3, 2013
Less than a day later, some light has been shed on the matter. What follows is what Brendan Shanahan might have said in response to yesterday's blown call.
I'm Brendan Shanahan, the National Hockey League's Senior Vice President of Player Safety.

Sunday afternoon in Montreal, an incident occurred in a game between the Ottawa Senators and the Montreal Canadiens. At 1:26 of the 3rd period, Ottawa defenseman Andre Benoit fired a wrist shot from the point, past Montreal goalie Carey Price, and into the net. This goal was waved off by the official due to an apparent goalkeeper interference infraction committed by Ottawa forward Jakob Silfverberg, who was immediately sent to the penalty box.

This was seen as a violation of the "Interference on the Goalkeeper rule (69.1)" which states: Goals should be disallowed only if: (1) an attacking player, either by his positioning or by contact, impairs the goalkeeper's ability to move freely within his crease or defend his goal; or (2) an attacking player initiates intentional or deliberate contact with a goalkeeper, inside or outside of his goal crease. The overriding rationale of this rule is that a goalkeeper should have the ability to move freely within his goal crease without being hindered by the actions of an attacking player. If an attacking player enters the goal crease and, by his actions, impairs the goalkeeper's ability to defend his goal, and a goal is scored, the goal will be disallowed.

However, as the video shows, Carey Price ventured out to the edge of and past the confines of the crease on the play, and appeared to be only lightly grazed by either a cool breeze or a warm feeling.

To summarize, this was a blown call by the officials, and Carey Price was no doubt giving PK Subban a mental triple low five as a result.
There you have it; hopefully we're now all on the same page.
Regardless of the outcome of yesterday's game, the Senators sit in 6th place in the Eastern Conference with a record of 5-3-1, and should be pleased with that start. The task at hand is to keep their heads above water (or at least above 9th) during Spezza's absence, and, to that end, the club has recalled F Stephane Da Costa (as first reported by @SensProspects.) Da Costa had scored 24 points (9 G, 15 A) in 31 games in Binghamton, and the hope is that he can infuse some offense into the Senators lineup.
And in case you missed it, Craig Anderson was named the 1st NHL star for January, and continues to post elite level numbers for the Senators despite the 2 losses now on his record.
Ottawa has a 3 game week on tap, all at home: Buffalo on Tuesday, Carolina on Thursday, and Winnipeg on Saturday afternoon.
Follow Ian on Twitter for more hockey commentary and updates.