The Sharks season is nigh upon us, and we will soon be discussing nightly performances and prognosticating the playoffs. Each season there are different stories that come to the forefront, and last season was especially interesting for a Sharks team that many expected to be beginning a (mini) rebuild. After missing the playoffs in the 2014-15 season, many expected a focus to recently drafted players.
As we know, last season the Sharks movement to youth did not fully shift with both Joe Thornton and Patrick Marleau remaining with the team. Despite bringing in some new players, the Sharks managed to both keep their core intact and go further than ever. With this in mind, here's a list of five things that will be important to watch this season.
Joe Thornton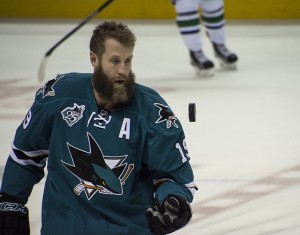 Joe Thornton not being traded was one of the bigger surprises of last season, while many expected that he might leave following his loss of captaincy. The 36-year-old center seemed to find extra motivation and posted the best numbers (82 points in 82 games) he has had since the 2009-10 season. He also added 21 points in 24 playoff games on route to the franchise's first Stanley Cup Finals appearance.
At age 37, he enters the final year of a contract that will pay him $6.75 million. He will be an Unrestricted Free Agent, free to sign with any team. Despite showing no real signs of slowing last season, it seems he might have had a bit of luck on his side, with the highest PDO of his (recorded) career, a 104.6 (Data courtesy of Puckalytics.com). Moreover, it seems somewhat unreasonable to expect a higher output from a player at age 37.
Luck or not, Joe has remained an effective player at an age when many in this sport have already retired. And despite the fact that the average age that an NHL player retires is 28, players playing into their 40's has been trending up since the start of the 2000's (see link below chart):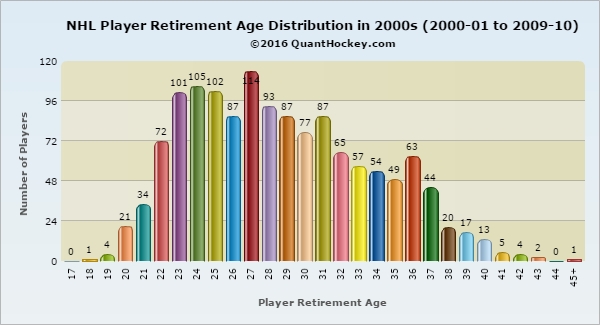 Just look at players like Jagr, Lidstrom, and Selanne as examples of other elite players that played into their 40's. If he wants to, the big center could sign a contract this season that takes him to his retirement and leaves his jersey hanging in the rafters at SAP Center.
A Spot for a Rookie?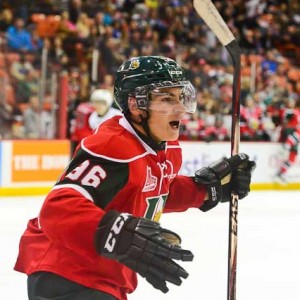 I mentioned this already in a previous article, but there might be a spot for a forward on opening night. There will be stiff competition for this spot, and I'm expecting Tommy Wingels and Matt Nieto to show up ready to compete against rookies Timo Meier (2015 first-round draft pick) and Marcus Sorensen (signed with the Sharks in May). Wingels and Nieto (read my thoughts on Nieto) had difficult seasons but have the chance to prove themselves once again.
It sounds like Coach DeBoer will be giving them this chance:
"I think it's real important as a staff we always go in with a fresh start for everybody the following year"
Timo Meier is a physical winger, that is extremely versatile. The 19-year-old had 87 points in 52 QMJHL games last season (fourth in points per game) and is ready for the next step. Unfortunately, he has had an illness during part of training camp and will miss at least the first preseason game.
Timo Meier is sick. That's why he's not playing in this intra-squad scrimmage #SJSharks

— Kevin Kurz (@KKurzCSN) September 25, 2016
Sorensen has looked really good in practices and games, and the 24-year-old Swede is making a strong case for playing on the NHL team this season. He is quick and hardworking, and if he doesn't make it in the NHL this season, you can bet he will be ready by the following season.
Marcus Sorensen shines @ #SJSharks' scrimmage; Per his countryman "He has everything u need to play at this level" https://t.co/pJoWmfKFo3

— Curtis Pashelka (@CurtisPashelka) September 25, 2016
Sophomore Martin Jones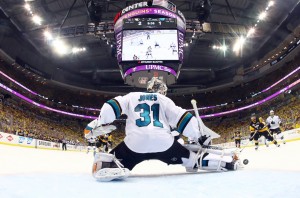 I typically like to think that the "Sophomore Slump" is more of a myth than actual fact in the NHL. That said, the argument that there is an actual Sophomore Slump for goaltenders might make some sense. As Justin Goldman (@TheGoalieGuild) wrote for NHL.com:
One reason why goalies struggle during their sophomore season is due to scouting. The more a goalie plays during their rookie season, the more their game can be picked apart by opposing players, coaches and scouts. The proverbial "book" gets written, and during the goalie's second season, they no longer are an unknown entity, often resulting in an increase in goals allowed due to exploited weaknesses.
It will be interesting to watch and see if coaches and/or players have written the "book" on Jones. Perhaps there is a team effect on this too? Maybe teams subconsciously protect the rookie Goalie but forget (or are not expected) to do the same for the second year starter? Maybe it's related to the increased workload?  For example, Jones played 65 regular season games and 24 playoff games (89 games total) last season, much more than he has in his career. Jones is a talented goalie who (as we will discuss in the next section), will be expected to carry a heavy load again this coming season.
Backup Goalie Battle
Who is the Sharks backup? Alex Stalock, who let Martin Jones rest while starting nine games last season, is now with the Minnesota Wild. James Reimer, who started eight games for the Sharks last season took his talents to South Beach (is now on the Florida Panthers). Enter the future, with Barracuda goalies Aaron Dell and Troy Grosenick, and free agent signee Mantas Armalis.
Armalis is a Lithuanian Goalie, who had played well for Djurgårdens of the Swedish Hockey League. Armalis also played well representing his Country in the Division 1B World Championships, winning the Best Goaltender, Best SV%, and Top Player on the Team Awards.  He's also a fashion model, so there's that. There is a good chance he is with the Barracuda this season, and it will be interesting to watch how he adjusts to North America.
One of these netminders will need to spell Martin Jones for around 15-20 regular season games next season, and it seems like right now the best bet within the Sharks organization is Aaron Dell, who took over the starting job for the San Jose Barracuda last season putting up respectable numbers in 40 regular season games.
Lessons Learned
As we all know, the Sharks made it further than they have ever made it. The 24 games of postseason play are equal to extending the season to almost a quarter longer. Further, the Sharks have had several players (Logan Couture, Mikkel Boedker, Brent Burns, Joonas Donskoi, Joe Pavelski, Joe Thornton, and Marc-Edouard Vlasic) competing in the World Cup of Hockey. Only Donskoi and Pavelski aren't playing in the World Cup Championship games.
Thus, you can add on another five or more games (plus the exhibition games) to some of the Sharks best players offseason. That's a lot of hockey games. It's probably worth considering that with extended playoffs and the World Cup of Hockey recovery could be an issue. The most playoff games the Sharks have ever played before last season was in 2010-11 when they went to the Conference Finals and played 18 games. The season following playing 18 playoff games we saw the Sharks earn nine points less than they had in the season before, and they lost in the conference quarterfinals. If the Sharks can save their best play for the playoffs, as they did last season, this won't matter.
Further, some might be concerned about Tomas Hertl, who sustained an injury to his knee that kept him from playing in the final four games of the Stanley Cup Finals. Hertl also had to opt out of playing for Team Czech Republic at the World Cup of Hockey. That said Hertl is good to go:
"Big slab of beef" Tomas Hertl has positive start to #SJSharks training camp https://t.co/N81C7FggUb

— Curtis Pashelka (@CurtisPashelka) September 23, 2016
Here's Hertl speaking to the media at the Sharks training camp: