Tristan Jarry – Pittsburgh's other highly touted goaltending prospect – played fairly well last season in his first year at the AHL level. While he didn't match Matt Murray's record-breaking performance from one season prior, he posted a respectable .905 save percentage and 2.69 goals-against average through 33 games played. Last night, everyone got their first glimpse of him at the NHL level and he turned in a superb performance.
Interestingly, everyone seems to leave Jarry out of the conversation when discussing the conundrum Pittsburgh is facing with Murray and veteran Marc-Andre Fleury. As everyone is well aware by now, the Penguins will need to move Fleury at some point prior to next summer's expansion draft or they run the risk of losing Murray to Las Vegas. Unless of course, a deal is struck between the Penguins and Vegas' expansion club that would be a sort of gentleman's agreement, in which case Pittsburgh could make an offer in return for general manager George McPhee's promise to leave Murray alone.
Excluding Jarry from that conversation seems foolish, though.
I pegged Jarry as the wildcard in this decision-making process back in December, when I discussed a looming goalie controversy for the Penguins. That controversy has indeed occurred and at some point, Jim Rutherford and the Penguins have to decide on the future of Pittsburgh's goal crease. Realistically, we still don't know enough about Jarry to sway one way or the other, as one preseason game – as superb as his performance was – doesn't tell us anywhere near enough about how he'll handle the NHL. It's worth mentioning, though, and he'll likely warrant a lot more attention by the end of camp.
Yet Another Option Between the Pipes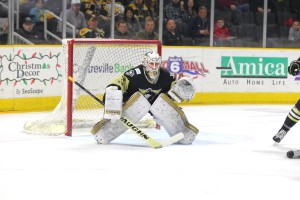 As if things weren't muddy enough for Rutherford and the Penguins, Jarry adds another wrinkle to this situation. This is a decision that will have a major impact on the future of this organization and honestly, I don't envy those who are tasked with ultimately deciding on which direction to take.
The Penguins can trade Fleury. Yes, his cap will be hard to move and he also has a limited ability to veto any deals but there's no question that someone out there would be willing to take the 31-year old netminder. He's a top-five goalie in the NHL and hasn't really shown any signs of decline. As far as that cap number, the fact that the NHL salary cap stayed flat this season is an issue. Comparatively speaking, though, he's much cheaper than acquiring someone like Ben Bishop, who will require a new deal at season's end.
That would obviously leave Murray at the helm. But what if the Penguins decide to trade him instead?
In most cases, a young goaltender doesn't fetch a large return on the trade market. However, Murray isn't your average young goaltender. He's a Stanley Cup Champion.
The Penguins could, theoretically, trade Murray and let Fleury play out the rest of his contract in Pittsburgh as the starter. Jarry would eventually – if not right away – move into the backup role and develop into their next starter. He certainly projects as a starter at this level.
Pros and Cons
It's pretty simple, really. If the Penguins trade Fleury, they're clearing $5.75 million in cap space and making room for a top-six wing. It's always tough to imagine trading away an individual like this, but hockey is a business and there's a pretty good goaltender waiting to take over. The downside, of course, is that Murray still has limited experience. What if he isn't ready to take over for a full 82-game season?
If Murray is traded, Pittsburgh retains their trusted veteran and they'll still have Jarry in the system. Initially, he was projected to be better than Murray, so there's no telling where his ceiling is. However, Fleury's cap hit remains on the books for the next three seasons and while Jarry is developing well so far, will it continue?
There are cases to be made for every possible outcome. For now, at least we know that Jarry deserves to be in the conversation and if he's given a shot at the backup role while Murray is recovering from injury – and excels – things will get even more interesting.