On Tuesday afternoon, a familiar face took the ice for the Florida Panthers.
Wearing the club's newly redesigned sweater, Roberto Luongo skated out to his net at the BB&T Center, given the nod to start the second game of Florida's preseason doubleheader against the Nashville Predators.
Although he may have picked up a 2-1 loss, fans will be pleased that he was out there.
"I felt pretty good," Luongo said, according to FloridaPanthers.com's Jameson Olive. "Timing-wise and read-wise I'm not exactly where I want to be, but that wasn't the purpose of tonight.
"I think it was a matter of getting back into some game action and making sure that everything is working properly still. As far as that's concerned, it was a good night."
The Backup Plan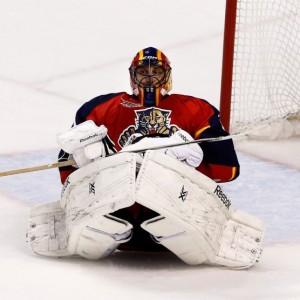 Roughly two months ago, the Cats expected Luongo to begin the 2016-17 campaign on injured reserve, and with good reason. Multiple sources confirmed that following postseason hip surgery to repair a torn labrum suffered on March 3, Panthers' management expected the former fourth-overall draft pick to be sidelined until November 1st.
Typically necessitating a recovery time of 4-6 months, Luongo's procedure should have shelved him well into the start of the regular season.
And after opting not to re-sign backup netminder Al Montoya, the Panthers needed a contingency plan.
Preparing for the worst, general manager Tom Rowe made a pair of proactive moves, swapping first-year forward Rocco Grimaldi for Colorado Avalanche understudy Reto Berra before signing goaltender James Reimer to a five-year, $17 million contract during at the opening of free agency.
big news is GM Rowe expects to start seAson with Reimer and Berra #FlaPanthers

— Harvey Fialkov (@hfialkov) July 1, 2016
At the time, the prevailing opinion was to ease Luongo into the swing of things — with two competent goaltenders slated to begin the year in the NHL, the native of Montreal, Quebec, wouldn't be rushed to the front line. Following his return, the Panthers' goaltending situation would evolve into a 1A-1B scenario, with Reimer starting approximately 35 to 40 games. As the Sun Sentinel's Harvey Fialkov noted, Rowe's rationale revolved around keeping the 37-year-old Luongo fresh for another playoff run.
"A little bit more rest for me should keep me fresh for the playoffs; that's a good thing," Luongo said in an article published in the Miami Herald written by George Richards. "If I was 29, I probably wouldn't be saying the same thing. I might even be upset about it. But I've (been) through a lot, went through this in Vancouver toward the end.
"You learn how to manage these things. I'm mature enough now to see that at 37, it's tough to play 60 games, especially with the travel and all that."
But while that plan remains, Luongo has other ideas.
The Comeback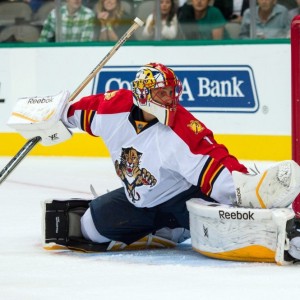 Joining forces with goaltending coach Robb Tallas, Luongo began rehabbing his hip just a month removed from surgery.
Utilizing the pool in the backyard of his South Florida home, the injured goalie waded in place, working to build strength in his hip before he was off crutches. Luongo worked with Tallas day-in and day-out, only taking weekends off, in an effort to shorten his rehabilitation period.
He put in the effort. And over time it began to show.
Per the Sun Sentinel, Luongo worked for hours on end, wearing through the Diamond Brite surface lining the floor of his pool.
Eventually, the netminder ramped up his training regimen, and on August 5 — less than three months after going under the knife — Luongo strapped on his pads and took to the ice.
"…He's doing really well," Tallas said. "He is very optimistic about starting the season and has put a lot of time in not only at the rink but off the ice.
"He has really committed himself this summer to being 100 percent again. We're at the point where there aren't a lot of restrictions on what he's doing on the ice. That's a great sign."
A great sign both for Luongo and the Panthers.
While he may only have stopped 9-of-11 shots in Tuesday's preseason tilt, his presence will anchor the Cats' defensive efforts come October 13, much like it has throughout his 454 appearances for the club.
The winningest goalie in franchise history is officially back, and should things go as planned, he could finally capture that elusive Stanley Cup.