I wonder if potential fourth-line wingers Garnet Hathaway, Michael Ferland and Lance Bouma have ever asked Flames defensive prospects Ryan Culkin, Kenney Morrison, Brett Kulak or Tyler Wotherspoon what they plan to dress up as for Halloween? My vote would be that they go as red-shirted expendable security officers from Star Trek because amusingly hockeydb.com lists them all at 6 foot 2, weighing between 200 to 210 pounds – except for skinny Kulak – who weight in at just 187 pounds. They're also all fairly young, ranging in age between 22 and 26-years-old. See for yourself with Ryan Pike's 2016-17 main camp roster & schedule.
Can You Have Too Much Truculence?
Everyone knows Brian Burke loves a truculent style of play. There's nothing really wrong with that but I think the similarity between all of these players is a problem. Each of the forwards is known for their gritty style and their aggressive fore-checking but not for their scoring prowess as only Bouma has ever scored more than five goals in an NHL season, and that may have been a fluke. Yet, any Flames fan will tell you that Bouma, Ferland, and even Hathaway have each provided warrior-like performances that have affected the outcome of some games just through their sheer force of will and their ability to agitate the opposition. Plus, most observers of Flames first-round pick Matthew Tkachuk are touting that he has all of these skills and more with a tremendous offensive upside.
The problem isn't any specific player. It's just the combination of them all together makes a Flames third or fourth line change look more like a sending in of the stormtroopers than it does a line with offensive upside that can hit back when the top two lines need a rest.
Skilled, Reliable and a Little Above Average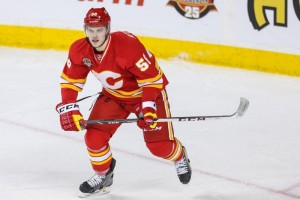 On defense, the NHL experience is thin among Wotherspoon, Culkin, Kulak and Morrison, but like the forwards, they are all known as hard-working prospects with a solid two-way game. Morrison and Kulak hold a slight edge offensively. But, there's no flair or exceptional talent among this bunch of players and defensive prospects. They are all skilled, reliable and consistently average. That's why I found it frustrating, especially last season, to see Flames management and the coaching staff "swiping right" as if they were on Tinder when it came to seeking out and playing moderately tall and rugged players from Canadian prairie towns on their bottom two forward lines and as the seventh defenseman.
Is Change Coming?
Perhaps the on-ice philosophy with the Flames third and fourth lines will change with the transition from Bob Hartley to new head coach Glen Gulutzan? I'm hopeful it will. After all, it's not that heart and soul players like Ferland, Bouma and Hathaway aren't marketable. On the contrary, I think it would be great to keep one of them and let the others make the strong impact I know they would on other NHL teams.
Work ethic, discipline and a commitment to defensive play are all important and in short supply on many NHL teams. However, right now I think the Flames would benefit from a healthy dose of speed and a little more finesse from their bottom six forwards and from the third defensive pairing.