Sharks' Burns Signs 8-Year Contract Extension
The San Jose Sharks have signed defenseman Brent Burns to an eight-year, $64 million contract extension — a deal that makes him the NHL's second-highest paid blueliner behind the Nashville Predators' P.K. Subban who earns $9 million per year.
#8MoreWith88 pic.twitter.com/PWr0k4wCck

— San Jose Sharks (@SanJoseSharks) November 22, 2016
The eight-year term is the maximum allowed under the NHL's current collective bargaining agreement, and keeps the 31-year-old from reaching unrestricted free agency this July.
Burns was a key piece to the Sharks team that earned a berth in the 2016 Stanley Cup Final — the first in the franchise's history. Despite falling to the Pittsburgh Penguins in the six-game series, the Sharks' appearance had major significance to the growth of hockey and the NHL in California. It's something Burns talked about during questioning from members of the media after news of the deal became public on Tuesday.
Burns: "Off the ice [the fans] are just great. You're in Five Guys, and it's just 'hey Burnzie, win the next game. Good luck.'"

— Kevin Kurz (@KKurzNHL) November 22, 2016
The deal includes $37 million in signing bonus money and $27 million in salary, according to Sportsnet's Chris Johnston. He also reported the contract contains a partial no-trade clause, unique in that it has a three-team trade list.
The Brent Burns extension also includes lockout protection for 2020-21, where he receives $8M bonus and $2M salary.

— Chris Johnston (@reporterchris) November 22, 2016
Burns has been an important piece of the Sharks' roster since being acquired by the team in a trade from the Minnesota Wild at the 2011 NHL Entry Draft on June 24, 2011. An all-star caliber defenseman before he arrived in San Jose, the Ontario native has emerged as one of the league's premier players in just five seasons with the Sharks.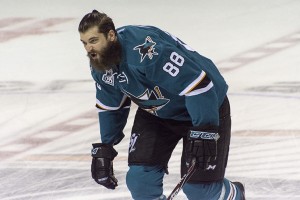 At 6'5″, 230-pounds, Burns is often lauded for his smooth skating ability and physical play, while logging big minutes. Burns set career-highs offensively across the board during the 2015-16 regular season in goals (27), assists (48) and points (75) in 82 games. He also averaged nearly 26 minutes of ice time per contest.
During the 2016 playoffs, Burns raised his game to another level, tallying seven goals and 17 assists in 24 games. He also registered a plus-11 rating and was matched up against opposing teams' top offensive players throughout the postseason. He was a finalist for the Norris Trophy, awarded annually to the NHL's best defenseman.
Burns, who is also well-known for his tremendous beard, will be 40-years-old at the expiration of his new contract after the 2024-25 season, but has no doubt both he and the beard can be effective.
Burns on playing until age 40: "[Beard will] probably have a little bit of grey in it, but the body will still be tight." #SJSharks

— Kevin Kurz (@KKurzNHL) November 22, 2016
The Sharks are 10-8-1 and in second place in the Pacific Division, despite being currently ranked 23rd in the league with just 2.4 goals per game. Burns, however, has picked up right where he left offensively at the end of the 2016 playoffs with 16 points in 19 games and a team-leading nine goals this season.
With Burns officially locked in to a long-term contract extension, general manager Doug Wilson's focus now turns towards longtime Sharks forwards, Joe Thornton and Patrick Marleau. Both veterans are set to become unrestricted free agents this summer.
Burns on extension pic.twitter.com/UUDvqODhJK

— Curtis Pashelka (@CurtisPashelka) November 22, 2016
Odds and Ends
— The NHL's Las Vegas franchise will reveal the team's name and logo during a ceremony set to take place at 9 pm ET in front of their future home, the T-Mobile Arena. The festivities will be broadcast live on NHL Network and on NHL.com.
Will you be watching @VegasHockeyNHL unveil its team name tonight? Tune-in at 9PM ET on https://t.co/D5CMtvNmln. https://t.co/GUmVkY3YHd

— NHL (@NHL) November 22, 2016
— The Anaheim Ducks will be without forward Joseph Cramarossa and defenseman Clayton Stoner when the team hosts the New York Islanders on Tuesday. Cramarossa has skated in 13 games with the Ducks this season, tallying three points, while Stoner has tallied three points in 14 games while averaging over 17 minutes per contest on the blue line.
INJURY UPDATES: Carlyle said both Joseph Cramarossa and Clayton Stoner are unavailable for tonight's game. #NYIvsANA

— Anaheim Ducks (@AnaheimDucks) November 22, 2016
— The Tampa Bay Lightning have re-assigned forward Erik Condra to the American Hockey League's Syracuse Crunch just a day after recalling him to the NHL club. Condra was brought up in the midst of the team's five-game road trip in eight days, which came to a close after the Lightning's 3-1 loss to the Nashville Predators on Monday.
#TBLightning announce Erik Condra has been re-assigned to #SyrCrunch today. Condra has yet to play in a NHL game this season.

— Bryan Burns (@BBurnsNHL) November 22, 2016
— The Calgary Flames have assigned forward Linden Vey to the AHL's Stockton Heat, the Flames announced on Tuesday. Vey, 25, was held without a point in four games with the Flames and has registered nine points in six games in the AHL this season.
The #Flames have assigned forward Linden Vey to the @AHLHeat ~ https://t.co/b7TvvLTrgu pic.twitter.com/XUTNRCCYp1

— Calgary Flames (@NHLFlames) November 22, 2016