If it were up to me, the San Jose Sharks would have kept Brent Burns at forward after the 2013-14 season. For about a season and a half, Burns was a dynamite offensive force on the right wing of Joe Thornton. Playing up front masked Burns' tendency to get a little carried away offensively at times. While yours truly was adamant all last season that the Sharks made a mistake moving him back, Burns hadn't been playing the position of defense at the NHL level by accident. Over the years Burns had become a dynamite even strength defenseman.
In his first season with San Jose after being traded from Minnesota, Burns was a far better all around player than he was last season. Burns was an All Star in 2014-15 as well as here in 2015-16, but the Wookie struggled defensively all of last season and the first half of this year. During the offseason Paul Martin was brought in to be the defensive defenseman complement to Burns to try and make up for Burns' defensive struggles. While Martin has done an admirable job in this role, the fact is Burns when at his best, doesn't need much help.  That first season in teal, Burns didn't get the notoriety or national acclaim for his offensive game because he "only" tallied 37 points. However, during that 2011-12 season Burns posted a terrific 54.8% goals-for and a 53.3% Corsi-for. He was a beast at even strength, strong at both ends despite playing most of the season with a poor group of rotating defense partners.
Burns Quietly Impressed in 2011-12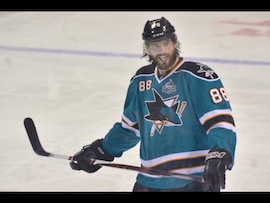 While Burns did play 400 of his 1300 minutes with Marc-Edouard Vlasic, No. 88 had to play the rest of his 2011-12 minutes with the shell of Colin White (in what would end up being the final year of his career), an inconsistent fellow right-handed puck mover in Jason Demers and the quickly deteriorating Douglas Murray. Burns skated nearly 400 minutes with Murray and their Corsi-for together was an abysmal 46.6. Apart from Murray, Burns' Corsi-for was an elite level 55.9.
Certainly part of the reason Burns' point total was down in 2011-12 was that he played primarily on the second power play unit as Dan Boyle was the top unit quarterback. Burns only picked up 16 power play points in his first year as a Shark, whereas last season he had 24 and currently has 22 this year. More power play time and less even strength time with Murray, and Burns' 37 points that year could have easily been in the mid-50s. He was still a major offensive weapon at the time. The overall game though was extremely impressive. In the Sharks' worst playoff ever that season (just five games), Burns was arguably the second best Shark in the series behind Joe Thornton. For the year, Burns finished a plus-8 on the blue line. In 2014-15 he finished minus-9 and halfway through this season he had fallen down to -15. With largely the same team around him, that is a staggering drop in even strength performance.
Position Change Hurt
Clearly the near two-year hiatus from the blue line hurt Burns' defensive game. That said, few guys have the talent to play both positions at the top-level. Even fewer can be elite at both positions and switch back and forth relatively seamlessly. The only one that comes to mind is Dustin Byfuglien, it is essentially unheard of.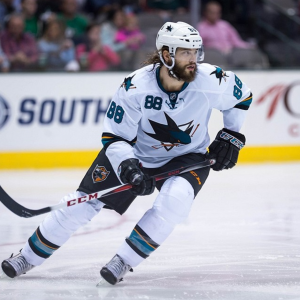 Now ideally for the Sharks and their fans, Burns would have been able to return to his old defensive form quicker than he did. It can't be overstated how miserable Burns was defensively in 2014-15 and the first half here in 2015-16.
However, at this point in time, he has fully returned to that two-way beast that he was in 2011-12. Over his past 26 games, Burns has an impressive plus-10 rating. After a minus-15 first half, that is an amazing turnaround. Not to mention it hasn't come at the expense of his offensive game. He's still posted a terrific 22 points over that span.
Burns Back to Elite Level 2-Way Defense
As for Burns' fancy stats this season, they also backup the improved defensive game. After posting an extremely disappointing 47.1% goals-for percentage last season, this year Burns currently sports a solid 51.6 and that is after having been in the low 40% range through December.  His Corsi-for of 52.1 leads all Sharks defensemen.
The ability to be a dynamic offensive force both at even strength and on the power play as well as a strong defensive player is a rare breed. If the Norris trophy for best defenseman in the league were awarded for just the past 26 games, it would be a crime if Burns weren't one of the three finalists. Over the course of the whole season, teammate Marc-Edouard Vlasic deserves more Norris consideration in my book but if Burns played at his current level for a whole season, he would have a case for best defenseman in the league.