When the Ottawa Senators decided to send forward Curtis Lazar down to the minors before the beginning of this season, it was more a matter of unfortunate circumstances rather than his development. Lazar had an illness during training camp, so management wanted him to go to Binghamton to return to game form.
"We feel that Curtis is an important part of our team, but given that he's been unable to participate in games or to take any contact in training camp, we know this is the best move to get him ready to be able to be a big contributor in Ottawa" general manager Pierre Dorion said at the time. "We expect to have him back here soon."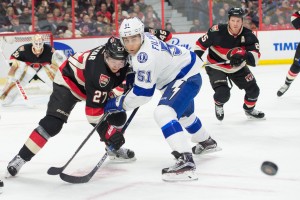 However, what seemed like a simple conditioning stint that normally lasts a couple of weeks lasted much longer. It seemed that the Senators were satisfied with the 23-man roster that started the season, so Lazar became the odd man out. Other young players, such as Ryan Dzingel and Matt Puempel, moved ahead of Lazar on the organization's depth chart.
Lazar's Burial
During his time with the Binghamton Senators, Lazar played 13 games, adding four points to his American Hockey League resume. Although he was not very productive, he was able to receive top quality minutes on the first line, something that never hurts a player's development.
He also spent time on the power play, something he did sparsely in Ottawa. Though some of that time was spent on the point, it allowed him to see the ice from a different angle, hopefully translating to a better understanding of the play in the offensive zone.
Having better on-ice vision will help Lazar with his offensive output. It was one of his strengths back in Junior, but has not translated well in the NHL. That is mainly due to playing on the wing to start his NHL career, whereas he played his Junior career as a centre. If the Senators want to meet his full potential, having him play centre in the NHL full time might be the key.
Lazar's Resurrection
With injuries to key players Bobby Ryan and Mike Hoffman, the circumstance was right for Lazar to make his return to the Ottawa lineup.
With Ryan gone for an indefinite amount of time, Lazar has an open window to try and move up the lineup. The organization is also less one forward, with Matt Puempel gone to the New York Rangers.
Also, with the team's offensive struggles this season, changes to the forward lineup are bound to happen. If Lazar can impress head coach Guy Boucher in a short amount of time, he may be able to see time and more offensive responsibilities.
As a strong two-way player, Lazar is the kind of player that fits very nicely in Boucher's system. He may not have the offensive touch to score a huge amount of points in the NHL, but doing the little things right on a consistent basis is what will make him an effective NHLer.
Against the Florida Panthers on Saturday, Lazar played a decent game with a small amount of ice time. He had three shots on goal and three hits during only 11:12 of ice time. He skated hard and was effective on the forecheck. He spent the game playing as a centre, albeit on the team's bottom forward line, something he has not been able to do so far in his career.
In his third NHL season, it is time for Lazar to find his place and identity in the NHL.