The Buffalo Sabres have received some much-needed production from their blue line from an unexpected source. Taylor Fedun has exceeded expectations so far in his brief stint with the club. The 28-year-old signed a one-year, two-way contract this summer and was expected to be a depth defenseman. Fedun was expected to provide a veteran presence for the Sabres' American Hockey League affiliate, the Rochester Americans. However, with the rash of injuries to the defense group and underperformance of Casey Nelson, Fedun has got his chance.
Pleasant Surprise
The Edmonton native was signed as an undrafted free agent out of Princeton by his hometown team in the Oilers. After an impressive rookie camp, Fedun, had a major setback suffering a complex fracture to his femur on a freak icing play. He would miss the entire 2011-12 season and not get a chance in the NHL from two more years.
Since then he's seen limited time in the league with the Edmonton Oilers, San Jose Sharks, and Vancouver Canucks appearing in 12 total games. In a small sample size, Fedun managed to bring offensive production. Entering this season he scored two goals and seven points in those 12 games.
Fedun has always produced in the AHL, averaging 33 points a season in his four years with Oklahoma City, Worcester, and Utica. The start to this season in Rochester was no different. He started the season hot with 12 points in his first 14 games for the Amerks.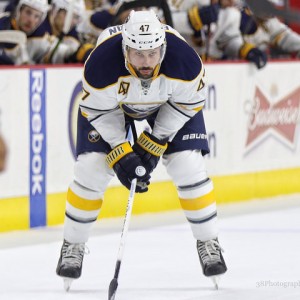 The offensive production is what initially caught the eye of fans and Sabres management. The blue line in Buffalo was struggling to contribute offensively and with the injuries of Zach Bogosian and Dmitry Kulikov, Fedun, was an obvious choice for a call-up.
After missing out on the majority of training camp with an ankle injury, all that was known about Fedun prior to his Sabres debut was he would help quarterback the power play. He's certainly produced in that aspect by registering four points in his first three games this season. His passing and vision have not only helped in the offensive zone but in the defensive zone as well. Buffalo really struggles with their breakouts out of their own zone and Fedun has been a big part of that improving over the last few games.
We hoped he could show the poise and the puck play on the power play, which he has – Dan Bylsma
The surprise through three games is how well Fedun has played in the defensive zone. He has not shown any signs of being overmatched at the NHL level. After the Sabres' 4-2 win over the Calgary Flames on Monday, Bylsma was asked if he was surprised by Fedun's play. The second year Sabres head coach admitted that he was, saying, "He's even shown that he can defend and battle like that, battled it out hard tonight on the defensive side of the puck. That may be a bit of a surprise for me."
Bylsma has rewarded him with increasing his ice time over the three games he's played. He debuted playing 14:02, then 15:21 against the Pittsburgh Penguins on Saturday, and 17:15 against the Flames on Monday. The defense is one of the weaker spots on the roster and if Fedun can consistently play at the level he's playing at now, the club may be in good shape when they get healthy. It doesn't appear Kulikov and Bogosian will be back in the near future. However, upon their return, Bylsma and general manager Tim Murray will be left with a decision to make if Fedun continues to impress.