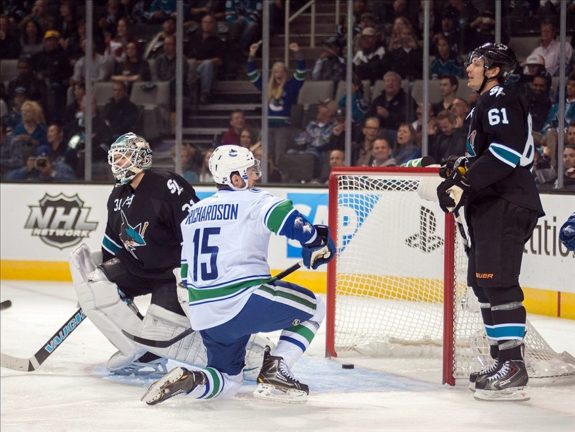 It's almost as if the San Jose Sharks have forgotten how they got off to a 10-1-1 start to the season.
After an overtime loss to the Kings last Wednesday, the Sharks dropped back-to-back games in the shootout to the Coyotes and Sabres, the latter of which was their worst defeat of the season.
Until tonight, when they suffered their first home regulation loss, falling 4-2 to the Canucks in a game that wasn't even as close as the score indicated.
Defensive Miscues Leading to Easy Goals
Three of the four goals scored by the Canucks on Thursday night were a direct result of lackadaisical effort by the Sharks.
Let's start with the first one, when Tyler Kennedy was stripped of the puck in his own zone. The puck then pinballed around several sticks before finding its way to Brad Richardson who beat Antti Niemi at point-blank range. As Sharks' color commentator pointed out, the Sharks defensemen — Marc-Edouard Vlasic and Justin Braun — were "too far ahead" and could not recover after the turnover:
Later in the period, the Canucks took a 2-1 lead when the Sharks did not get back on defense quick enough and left Mike Santorelli wide open on the rush, resulting in once again a point-blank opportunity, right in front of Niemi:
And finally, goal No. 3, which takes the cake, and not just because it was the game-winning goal. For some reason, Jason Demers' D-to-D pass in his own zone went about five feet in front of Scott Hannan. Alex Burrows intercepted it, and seconds later — you guessed it — another goal from point-blank range for the Canucks:
Don't Blame Niemi
Yes, Niemi hasn't exactly been sharp the past few games — a 4.09 GAA plus a .842 save-percentage in his last four games — and he has been one reason why the Sharks are suddenly struggling to win.
And yes, Niemi was pulled on Thursday night after allowing just four goals on 13 shots, and Alex Stalock stopped all 21 shots he faced in relief of Niemi.
But when three of the goals that Niemi gave up were literally point-blank opportunities with no one in between the shooter and the net, the notion that Niemi should have stopped those shots is silly. And considering that those three goals could have been avoided if not for careless defensive miscues, Niemi does not deserve to be the scapegoat.
McLellan Calls Out His Team
Head coach Todd McLellan knows the Sharks can play better — he saw it when they got off to their scorching hot start.
So when his team gets out-shot 34-24, fail to convert on the power play, and give away easy goals, he should be frustrated.
"We were clearly outworked," McLellan told NHL.com. "In the real world, you work for eight hours, and in the hockey world, you work for 60 minutes. And we didn't even come close to that. … When you have a busload that didn't show up to play, it's pretty hard."
Check out our partners at TiqIQ for the best deals on San Jose Sharks tickets for all 2013-14 games.
Eric is a journalism student at the University of Southern California and a sports editor at the Daily Trojan. He grew up in the Bay Area and has followed the Sharks since a young age. He served as a beat writer on the team for SFBay.ca during the 2014-2015 season. Previously, Eric has worked at FanSided and Bleacher Report.