At the start of the NHL season, we laid out three questions we felt would dictate the San Jose Sharks' season. One-third of the way through the season, answers are emerging to two questions, while the third answer is still wide open.
Question 1: Sharks' Cap Space
What will general manager Doug Wilson do with the cap space?
This is the one question which we can answer definitively, but only up to this point. Wilson has done nothing yet. The Sharks have considerable cap space and since the roster is essentially the same since the start of the season, the cap situation is status quo.
The season-long answer to this question remains wide open. There will either be a move for a high-end player or there won't. So far, Wilson hasn't made a move. If he does, it is more likely he makes this move closer to the trade deadline.
Question 2: Coach DeBoer
Is Peter DeBoer the right coach for this team?
DeBoer has accomplished something he wasn't known for: helping players succeed early in their NHL careers. This is perhaps the most critical of the many issues he faced. Several of these players are not young but have spent time developing their games in other leagues. Several of these players have been effective. Some will be reluctant to credit DeBoer with the development of these players, but at a minimum, he hasn't hindered it.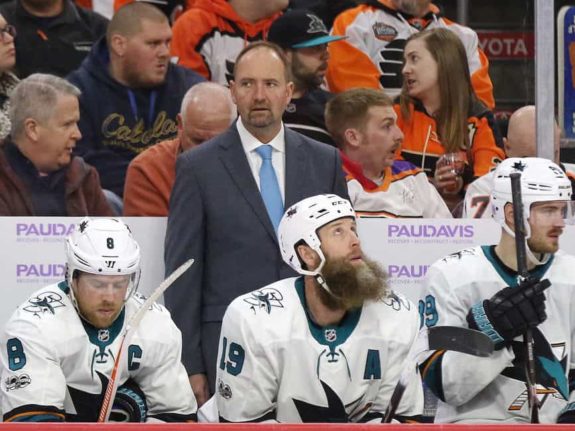 Among those who entered the season with under 41 games (half a season) of NHL experience and are playing either regularly or frequently are Joakim Ryan, Tim Heed, Ryan Carpenter, Timo Meier and Danny O'Regan. Others with only bit more experience, include Dylan DeMelo, Kevin Labanc, and Barclay Goodrow. These eight players are a combined plus-2 on the season. Defensemen Heed and Ryan have been particularly impressive, given the longer learning curve usually associated with the position.
Additional Challenges
DeBoer's list of challenges is a lengthy one. Effectively managing Joe Thornton upon his return from knee surgery is one, while getting more from disappointing veterans Jannik Hansen and Mikkel Boedker is another. Correcting situational hockey problems from last season, notably power plays and faceoffs, is another challenge.
Questions about the defense are also important. Not just finding the right defensive pairs, but also maintaining the Sharks top-tier defensive game. In the offseason, former Sharks assistant coach Bob Boughner left to become the head coach in Florida. Boughner was in charge of the Sharks' superb defense, and maintaining this in Boughner's absence is on DeBoer's plate.
On several of these fronts, DeBoer is answering the question affirmatively. The faceoff circle is better and a revamped power play is showing signs of life. In Boughner's absence, the defensive game remains among the NHL's best. Three defensemen have taken good steps, the aforementioned Ryan and Heed, along with Brenden Dillon. If there is a drawback here, it is Brent Burns. Burns, who credited Boughner with helping him improve, has regressed this season. This is concerning.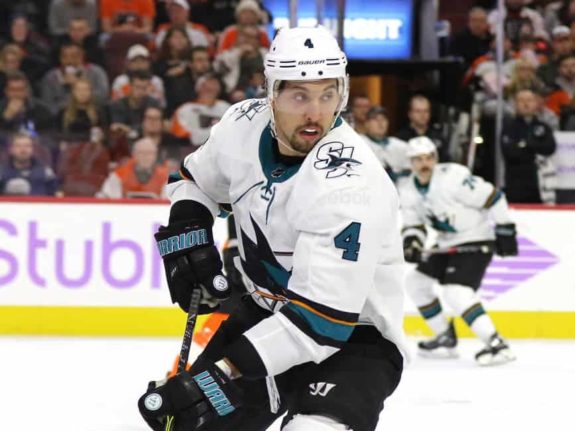 We'll get to Thornton in a moment, but its fair to say DeBoer seems overly optimistic and overly dependent on Thornton, who isn't the great player of years past.
The one area which remains a DeBoer problem is the integration of Boedker and Hansen. Neither worked out well last season and it's been a rocky road so far this season, at least against expectations. Both are minus players for the season and they've combined for a meager nine points.
Question 3: Joe Thornton
What do the Sharks have in Joe Thornton?
Alas, this is perhaps the most uncomfortable question to answer. Thornton, affectionately known as Jumbo to Sharks fans, is coming off major offseason knee surgery to fix two torn ligaments. Not surprisingly, he has been inconsistent thus far. He has played well at times and is second on the team in points (19). But he is also third-worst in plus/minus (minus-5).
In the last three games, he's been fined for a slash (against Tampa Bay), gotten himself into a fight (against Washington) and had a three-point game (against Carolina). To borrow from Forrest Gump, Joe Thornton is like a box of chocolates; you never know what you're going to get.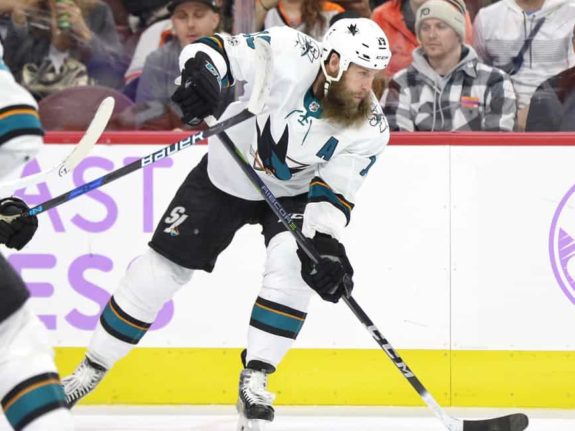 The fight was troubling. Thornton fought Washington Capitals pugilist Tom Wilson. At the time of the fight, the Sharks trailed by two goals with just under 18 minutes left. This is when the Sharks need Thornton. He can't be taking himself off the ice for seven minutes with the likes of Tom Wilson (game flow kept him off the ice even longer). They are not 'equal' players. By the time Thornton had his next shift, the Sharks were down three goals and under 10 minutes remained. And to top it off, it wasn't smart to fight the other team's designated fighter.
The Old Jumbo
In the bigger picture, Thornton is facing a double whammy. He has never relied on great speed to make his game work, even if he was faster than most give him credit for. But this season, he is slower than ever, just as the style of play being adopted across the league demands faster play. The sorts of plays Thornton once made successfully and routinely are more difficult than ever because of quicker defenses. While perhaps Thornton in his prime could overcome this, he clearly isn't in his prime.
One Thornton play encapsulates the season for me. It came in the Sharks' 2-0 loss to Florida on Nov. 15. During the game and on a rush, Thornton made a near-perfect drop pass for Tim Heed at the blue line. Heed fired the puck past goalie Roberto Luongo. Originally ruled a goal, the play was correctly overturned when the replay showed the puck had come outside of the zone by what appeared to be less than an inch. Thornton's game has always been based on precision. For two decades, these fractions of inches have been Thornton's friend. In 2017-18, these tiny bits of lost precision have been less kind to Thornton.
Thornton's Upside
There is hope. Thornton's knee can get better over the course of the season as he moves further away from the surgery. It might take over a year to fully heal, but improvement can be continuous. If the Sharks can get past the opening round of the playoffs, Thornton will pass the one-year mark on his surgery.
The expectations that Thornton would return and be the great center he's always been were never realistic. Thornton, for the first time since he came to San Jose, is not the team's top-line center. He might not even be the second-best center. Chris Tierney (plus-3) has 11 non-power play points, one more than Thornton.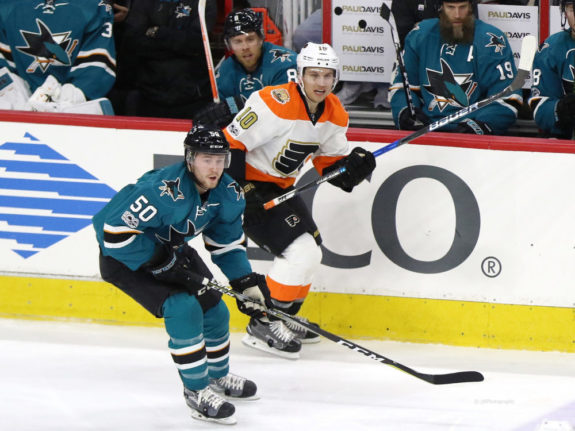 Still, the role Thornton has is important. San Jose is a deep team and it needs players up and down the lineup to contribute. Thornton's elite days may be a thing of the past, but he still makes meaningful contributions. For example, his 53.2-percent faceoff win percentage is solid. In the recent comeback win over Carolina, Thornton kicked in three points, including an assist on the overtime winner.
Sometimes, Thornton's play is reminiscent of his frustrating and injury-plagued 2014-15 season. Other times, he looks like a player ready to discredit his doubters. What is the new normal for Thornton? This will play out over the season, but I suspect the inconsistency is here to stay.
When I posed the original question, I considered a scenario where his game was third line center quality, "If Thornton is reduced to a third line center role, the Sharks become a fringe playoff team."
One-third of the way through the season and with Thornton's play at roughly the level of a third-line center, the Sharks are a fringe playoff team, on track for a 98-point season.
The Results
For starters, the three questions are all very relevant.
The answer to the cap space question is, not surprisingly, "nothing yet."
On whether DeBoer is the right coach for this team, he is passing the test in multiple key areas.
What do the Sharks have in Joe Thornton? This is the most difficult to answer, though the range of possible answers is narrowing. He isn't playing at the legendary level some hoped for upon his return. But given the severity of his injury, the fact he's playing at a respectable level is good news. And it is important for the Sharks. Currently, he is playing around a second or third-line level. As he gets further from the surgery, he may improve both his strength and quickness. The more Thornton tilts towards a strong second line center, the better off San Jose will be.