One of the first signs of my father's arthritis was a tendency to drop things. Grabbing an object creates an instantaneous flow of information moving between hand and brain. For most people, this information flow requires no conscious thought. It is an instinct. The brain trusts the information coming from the hand.
Arthritis, in its early stages, caused my father to think he had a firm grip on objects when he didn't, misinterpreting the signals from his hand. Since he could no longer trust the signals, he had to relearn a basic task. His lifelong instinct no longer worked, which meant picking up an object required conscious thought.
A similar process happens during an athlete's recovery from a significant joint injury. The signals between the body and the brain change. Late last season, Joe Thornton suffered a significant knee injury, partially tearing two ligaments, including his ACL. Remarkably, he played on the damaged knee during the playoffs. Just days after the Sharks' season ended, Thornton underwent surgery.
We are at the second of three key questions the Sharks face this season: "What do the Sharks have in Joe Thornton?"
Question 1: Is Peter DeBoer the right coach for the Sharks?
Thornton's Recovery
Thornton's recovery requires the knee to become mechanically strong and healthy. This is not a given. Like Thornton, Jason Verrett of the San Diego Chargers also suffered a partial ACL tear 11 months ago. Verrett was just shut down for this season because the knee did not fully recover and requires another surgery. Unlike Verrett, Thornton is only five months post-surgery.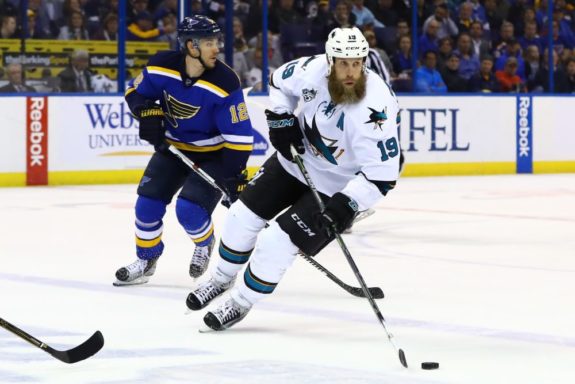 Even if Thornton's knee is fully healthy, a full recovery requires him to "relearn" how the knee responds to hockey. The signals between the knee and the brain that were learned over his 38 years, to the point of becoming instinct, have changed.
A common part of an athlete's recovery from a knee surgery is learning to "trust" the joint again. It sounds simple enough until you consider that the signals are, in effect, lying. The brain will interpret the signals from the joint incorrectly until the re-learning process is complete, where the signals again become instinctive.
Thornton's case is not inherently different from other athletes who have gone through this, with one exception. He is among the oldest athletes attempting to play at this level of sports following a major knee surgery.
Thornton Expectations
Thornton was asked at the end of last season about what he had to go through in order to play through the knee injury. "Just the normal hockey stuff hockey players deal with" he replied, one day before he underwent surgery. These days, he'll tell people who ask that his knee is great, and because of the rehab, it is stronger than ever.
Brodie Brazil's disarming question got a different answer from Thornton who said: "I'm still doing rehab and it will continue through the year … I still need to get it stronger." Many are hopeful he has made a miraculous recovery from a damaged knee, but this answer suggests a different reality.
Further lowering expectations, the Sharks have a history with knee injuries. Milan Michalek, Raffi Torres, Jonathan Cheechoo and Tomas Hertl all had damaged knees, and all were less effective players after their injuries. Hertl's results are probably the best of the group but it has been a multi-year recovery requiring multiple surgeries.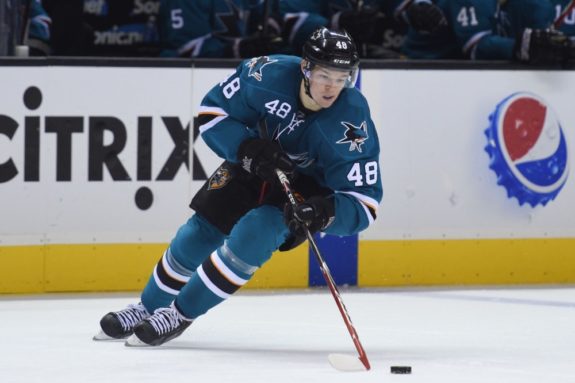 Last Season
It's not like the 2016-17 season was a good one for Thornton, at least by his standards. Fifty points are a healthy output for most but not a for a Hall of Fame lock. It was his lowest point total over a full season since the 1990s.
Father Time was already making inroads on Thornton, though there is another possibility. I've speculated Thornton's knee was compromised before the major injury. There was a lot of damage sustained on what appeared to be modest contact. Couple this with his down season prior to the injury, and I wonder if his knee-joint was fully healthy before the major damage occurred.
What Thornton Loses
Some will argue that Thornton's best hockey qualities are not dependent on his knee. Some will note he wasn't the fastest skater to begin with. Others will note his game is based on superb vision. In that case, losing a bit of speed won't be a huge issue. But losing some burst is an issue. Not being exactly sure of the precise moment he has achieved balance is an issue. These issues are measured in units quicker than the blink of an eye.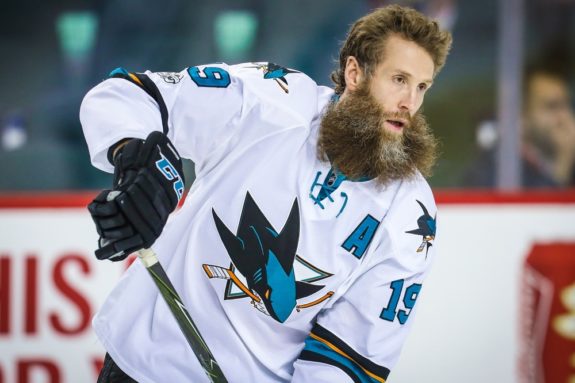 Between the mechanics of the knee and the subtleties of interactions with the brain, Thornton's reflexive movements will be challenged. How small is this margin? On a crisp NHL pass, the puck goes about one inch in a millisecond (0.001 seconds). Thornton plays a precision game, so even an imperceptible slowing of his movements can throw that precision off.
Another area Thornton may be challenged is in the face-off circle. For 14 consecutive seasons, he has won over half of his draws. As recently as 2014-15, he won 58% of them. Among Sharks players, only Joe Pavelski consistently takes more draws. But it might be wise to limit Thornton's visits to the dot, where the required deep knee bends and high torque put significant stress on the joint. The face-off circle, though, is an area the Sharks fared poorlt last season. Fixing the problem will be even more difficult with a reduced contribution from Thornton.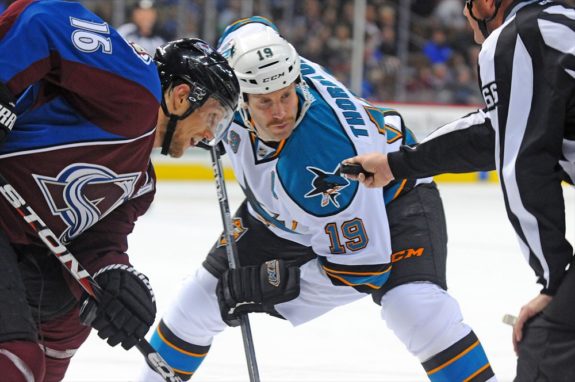 Managing Thornton
It may be wise for the Sharks to limit Thornton's ice time early in the season. It gives him time to relearn the movements of his knee while lowering the risks of re-injury. Less early season ice time will keep him fresh over the course of a season. This is something the Sharks need to improve on. Last season, several players ran out of gas in the last month of the year.
Limiting ice time means moving Thornton off the top line, a change that will impact every forward line. For years, Thornton has made his linemates better. This too may change. A diminished Thornton might hold back excellent players such as Joe Pavelski or Logan Couture.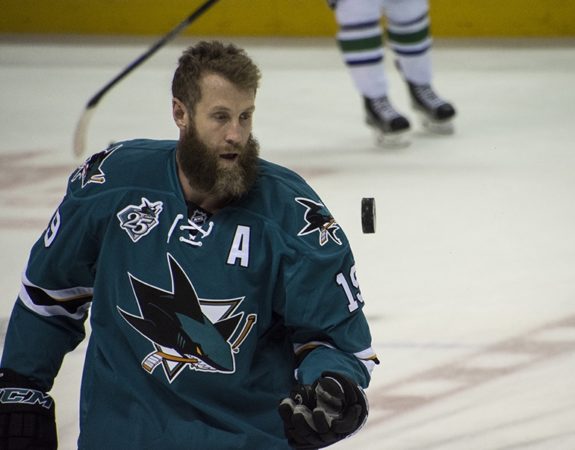 The Sharks have, on rare occasions, experienced life without Thornton. They've also experienced life with a physically compromised Thornton. Neither result was encouraging. The best example stems from the 2014-15 season when he suffered a shoulder injury on the last day of 2014. He missed four games, and the Sharks were outscored by eight goals in his absence. Upon his return, a compromised Thornton (who hadn't finished with a minus rating since 2000-01 season), went minus-9 over the rest of the season and the Sharks were reduced to a 'point per game' team.
A Player in Flux
It is unlikely Thornton's knee is static throughout the season. There may be days where it is responsive, other days where it is balky. He may need games off. One hopes the knee improves on a continuous basis, but the history of prior Sharks with knee injuries suggests we're likely to see both improvements and setbacks. As Thornton indicated, even if things go according to plan the recovery process is a long one.
The Sharks have high hopes for his return but the reality is unpredictable. If Thornton is reduced to a third line center role, the Sharks become a fringe playoff team; and there is always the possibility he suffers a setback which ends his season prematurely.
To seriously contend, the Sharks need a top line center capable of competing with Connor McDavid, Ryan Getzlaf and Anze Kopitar. For over a decade, Thornton has brilliantly filled that role. For the first time since the day he joined the Sharks in 2005, his role is in question.
Zeke's Notes
As we close in on the regular season, I'm adding a few of the great Sharks goals in this section. Today's first highlight comes from 2011. Torrey Mitchell weaves past four Canuck defenders before beating goalie Corey Schneider in this beauty.
And for added fun, there's this amazing between-the-legs goal by Jonathan Cheechoo in the 2004 playoffs against Colorado. My favorite part of the video is actually the audio. At about the 17-second mark, the sound of the crowd changes. There is a reason for this. Inside the arena, the video board showed the replay. As the fans got a good look at Cheechoo's move, the cheers switched to wows!