San Jose Sharks general manager Doug Wilson finished an offseason without acquiring any major players. But he did acquire an asset the Sharks have not had much of in recent seasons: salary cap space. When it comes to cap space, the Sharks, atypically, have plenty. Our third and final key question for the Sharks' season is this: "What will Doug Wilson do with the cap space?"
Question 1: Is Peter DeBoer the right coach for the Sharks?
Question 2: What do the Sharks have in Joe Thornton?
The Piece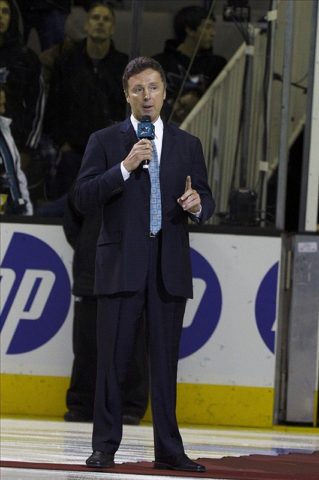 Looking over several Wilson statements, it is possible to parse his words. He is looking for "the piece." Not just some piece, but the major piece that will take the Sharks from playoff contender to Stanley Cup champion.
I don't sense Wilson is interested in an upgrade. He is interested in the best. He has compiled a remarkable resume during his decades in the NHL, but he's never finished a season as part of the best team in hockey.
Between now and the trade deadline five months from now, he wants to acquire a player who will be a major difference-maker on the top forward line. These players don't come around often but Wilson has worked magic in the trade markets before and he'll need to do this again for the Sharks.
To be clear, this is almost entirely about an NHL trade during the season. There is little chance of a solution coming from overseas leagues or players outside of the NHL.
Everything But
At this time, San Jose has everything but a top line center. Joe Thornton believers are thinking, hoping, he'll be the player he's always been. I concede there is a chance, but I don't like the odds.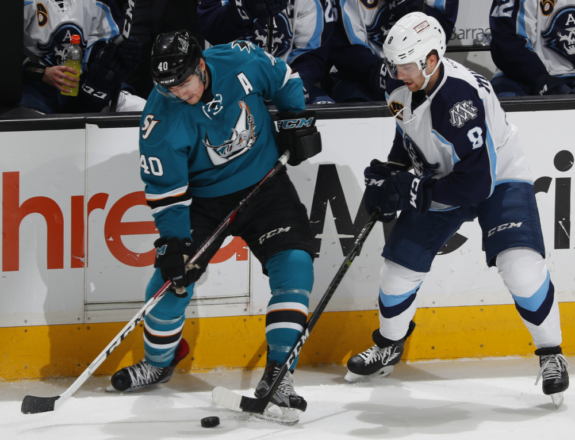 Most of the roster is strong. It is led by a strong defensive group, a big game goalie and a deep forward group.
The Sharks have historically struggled with the bottom portion of the roster. Not this team. They have an abundance of talent to fill the bottom half of the roster. A half-dozen NHL-ready players will find themselves either starting the season in the AHL with the San Jose Barracuda or watching the games from the press box as members of the Sharks.
Wilson values internal competition for roster spots and playing time, believing it pushes players to improve. The competition for roster spots and playing time will continue for most of the season. I expect the Sharks bottom two lines and third defensive pairing to be among the league's best.
Because Wilson believes in the combination of talent and internal competition, he didn't pursue veterans like Jaromir Jagr (now in Calgary) and Jarome Iginla. Wilson wants younger players to seize their opportunity, not older players who'll be obstacles to the growth of younger players.
In this light, Wilson's trade last season for Jannik Hansen (a veteran middle tier player) remains puzzling. The same sort of move won't happen again this season. The Sharks are in the 'go for it' zone, they do not need another Hansen-level player.
Few teams who are serious about a Cup run have this amount of cap space at the start of the season or a major question about their top center role. Few teams have the Sharks' roster depth.
Put it all together. The young, deep roster means San Jose can trade good players without major harm to the team, while the cap space gives them room to make a big acquisition in the specific area of need.
How Much Cap Space?
San Jose is almost $6 million shy of the cap this season and the team has plenty of money coming off the cap in 2018-19. After this season, three deals finish that combine for over $13 million in space.
How did the Sharks wind up with this much cap space after being right at the cap limit last season? Most of it comes from the departures of Patrick Marleau ($6.67 million cap hit last season) and David Schlemko ($2.1 million). Also playing a role is the increase in the cap ceiling (up $2.0 million).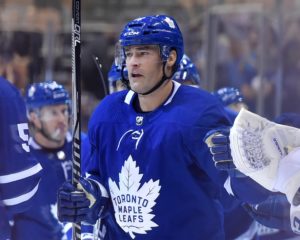 The Sharks have enough cap space for any player they want this season. Equally important, if need be, they'll be able to re-sign the player next season and beyond. Even if it is a monster contract.
The biggest name out there is John Tavares. Tavares is the only player potentially available and can make San Jose a Stanley Cup favorite. Other players, like Patrice Bergeron, could accomplish this but he is not available, even if he did sit, uncomfortably, between two Sharks in a recent advertisement.
Colorado's talented center, Matt Duchene, is another option. He'd make the Sharks better but probably not enough to bring a Cup to San Jose. Duchene's success in the face-off circle might be unusually valuable, given the Sharks' struggles at the dot last season.
The Wise Joe Thornton Deal
Thornton carries an $8 million salary cap hit this season on a one-year deal. I don't think he comes close to this value this season, but it was a savvy move by Wilson considering the amount of cap space the Sharks have and Thorton's history with the club.
First off, Thornton has been underpaid over the course of his career. Not by a lot, but he's been worth more than his contract. This deal is a goodwill reward for what he's done before. Given his injury, there is the risk of a setback in which case he would be placed on long-term injured reserve. This would increase the Sharks' plentiful cap space.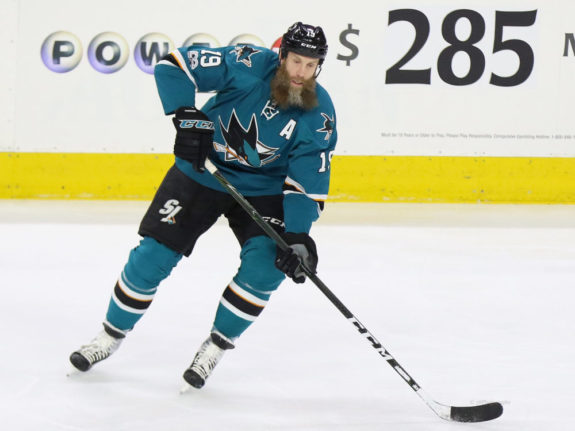 It is likely Wilson and Thornton agreed that next season's deal will be for a lot less if the Sharks need cap space to accommodate a major acquisition. This can only be done if the parties involved trust each other and it doesn't hurt if other players notice the Sharks taking care of their former captain.
Many teams would bail on a 38-year-old coming off major knee surgery. Not the Sharks. They had a salary cap window to reward Thornton and they grabbed it. If you're John Tavares, this is worth noticing if you're considering San Jose as a potential employer.
Taking An RFA Pass
This offseason, there were restricted free agent (RFA) game-changers on the market. Either Wilson took a pass or any attempts to offer a deal were rebuffed. Bo Horvat, David Pastrnak, Ryan Johansen and Leon Draisitl are all young, talented players. Despite being affordable and a major upgrade for the Sharks they all signed long-term deals to stick with their team.
One Unusual Opportunity
One intriguing possibility is a trade for the Sedin twins, Daniel and Henrik. They are in the final season of their identical contracts. If you listen to some of the pessimist prognosticators, Vancouver's playoff hopes are expected to go on life support by the time Canadian Thanksgiving arrives and they'll be eliminated from a playoff spot by the time America's same holiday rolls around. Perhaps it's not that dire, but few expect Vancouver to be a contender now or anytime soon.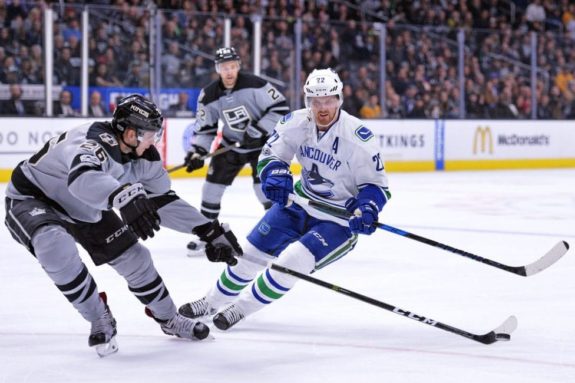 To date, all the key people involved deny this could happen. Still, one has to think the twins will be open for a move to a contender. If they want to be on a Stanley Cup team between now and the end of their careers, they'll need to move. The Canucks are in the early stages of a rebuild. San Jose is perhaps the lone contender who can scrape enough cap space to bring them both into the fold.
Navigating Opportunity
The opportunity to use the Sharks' considerable cap space goes beyond this season. Using it wisely is a big challenge. For example, acquiring the Sedins in a mid-season trade moves the needle this season, but only this season. It has a "now or never" vibe to it, given San Jose has limited trade assets. Longer term deals which might involve players such as Tavares or Duchene are forward-looking, but are exceptionally challenging to close.
Depending on who is available and the price for the player, it might be equally wise not to use the cap space. Wilson will have trade opportunities and temptations, but few will make sense for San Jose. Perhaps none will make sense. Wilson is already receiving criticism for his quiet summer, but I'm not joining the chorus. A wrong move now could block a better move later on. Getting this one right matters.
Zeke's Notes
With the season about to begin, we've been taking another look at some great Sharks goals. Here is a pair of the sweetest starting with Patrick Marleau's best, a move of both power and grace against Florida. The hook turn at the net is remarkable.
To finish off the highlight goals, well, "fun must be always." Tomas Hertl's career was only two games old when he made the top highlight spot on just about every sports show with this stunner against the New York Rangers. Later on, former Sharks defenseman Jason Demers was asked about the goal. With tongue firmly implanted in cheek, he said, "what a great pass." Indeed, it was Demers who got the primary assist but he wasn't about to take credit for what happened next.
ZEKE is a native of the DC area where he witnessed the birth of the Capitals franchise. After graduating from Cornell University, which had seen hockey glory before he arrived, he moved west to San Jose. There he witnessed the birth of the Sharks franchise. His wait to witness a Championship from any of these teams finally ended in 2018.