The San Jose Sharks' offseason is both very complicated and quite simple.
Factors such as the expansion draft, the potential for a relatively flat salary cap and expiring contracts of the franchise's two greatest players are all in the mix. Yet, the Sharks need to focus on a single core objective: getting the elite forward which makes them into legit Stanley Cup contenders.
The Changes
Objectively, the San Jose roster is every bit as good as the roster that went to the Stanley Cup Final in 2016, with one exception. Joe Thornton is not the player he was just a little over 12 months ago. He showed his age this season, before suffering a major knee injury in April. The Sharks' future depends on replacing the role Thornton filled for well over a decade.
If the team is unable to fill the Thornton role effectively, they will still remain a playoff team but they are unlikely to be a serious contender. If however, they get a Thornton replacement, they are a legit contender.
There are several players around the league who fit the description. Heading the list is John Tavares of the Islanders. Patrice Bergeron (a particularly good fit for San Jose) is another. Alexander Ovechkin is not a center, but he is a goal-scoring winger, something the Sharks can use. All these players present match-up challenges for other teams.
An elite forward is the only piece this very deep team needs.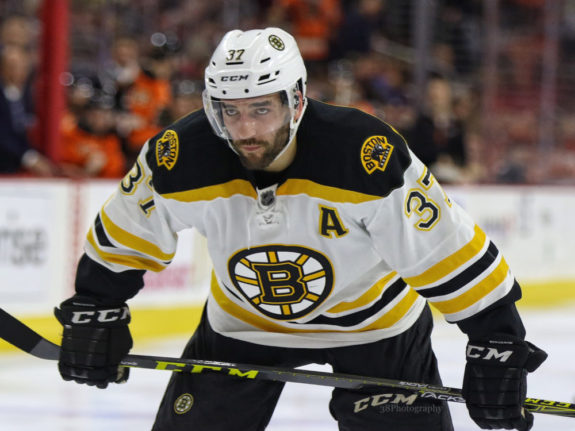 Some other players rumored to be in the mix seem to fall a bit short of the Sharks' needs. Players like Ilya Kovalchuk and Matt Duchene may be available and would make San Jose better, but not enough to make them a serious contender.
In order to get the job done two things are necessary.
Cap Space
First, San Jose needs the salary cap space. This is a challenge, but not an overwhelming one. Expect both Thornton and Patrick Marleau to take large pay cuts from their current deals (if they both stay in San Jose). It is possible Vegas selects a player in the expansion draft which gives San Jose additional cap room, but even if this isn't the case, they have assets they can trade.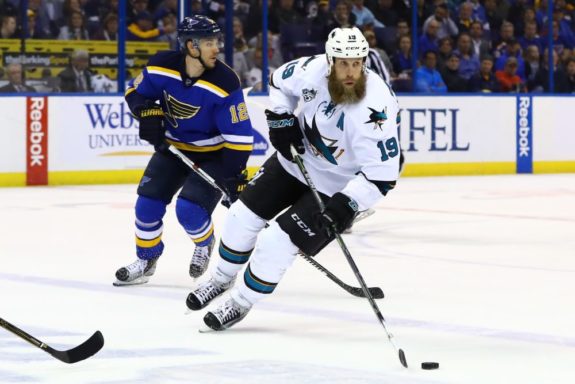 Also a possibility, Thornton may spend a significant part of the season on long-term injured reserve (LTIR) as he attempts to come back from two torn knee ligaments. For the record, the Sharks disagree, suggesting Thornton will be available from the start of the season. The team's track record on knee injuries, though, has not been good. The "recoveries" of Tomas Hertl and Raffi Torres both fell far below expectations. If Thornton is on LTIR, he will not count against the Sharks' cap figure.
Lastly, the latest rumors have the salary cap increasing by about $2 million for the upcoming season.
There are multiple paths which allow San Jose to find the cap space to acquire an elite forward. Salary cap is a solvable problem.
Trade Bait
Second, San Jose needs the right trade bait to get a deal done. Here's where things get tricky. The player San Jose needs won't come cheap. They won't part with their upper-tier players such as Brent Burns, Joe Pavelski and Logan Couture. This will mean offering a mix of draft picks, desirable prospects and legit NHL players on favorable contracts.
The Sharks are a deep team at forward and on defense, so they have resources to get this done, assuming the right player hits the market. However, it might require a 'two-step' approach to getting it done.
The Two Step Approach
Recently, the defense-needy Tampa Bay Lightning traded exciting young forward Jonathan Drouin to Montreal for promising defenseman Mikhail Sergachev and a second round pick. Perhaps San Jose might have been able to acquire Drouin for Brenden Dillon plus Tim Heed (Heed had a terrific season with the AHL Barracuda, averaging over a point per game, the only defenseman in the AHL to do so).
We'll look at this scenario as a model, knowing the names will change when the time comes.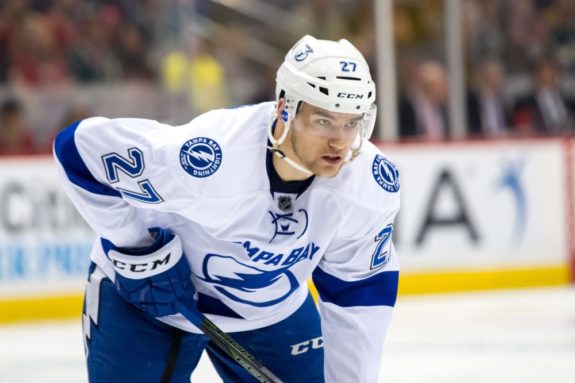 Drouin isn't what the Sharks need, so he becomes trade bait in this imaginary scenario. With Drouin plus Timo Meier plus Tomas Hertl, San Jose can offer three young players who project as top-six and possibly top line forwards. This is the core package one needs to get a player at Tavares' level.
This two-step deal sends Tim Heed, Brenden Dillon, Tomas Hertl and Timo Meier to other teams, with San Jose getting Tavares or a similar player in return. Drouin, in this example, is part of both deals. He acts as a catalyst, passing through San Jose, but never becoming a key part of the team. If this sort of scenario also requires a high draft pick along the way, so be it.
Deal Impact
The deals described opens up sufficient cap space. Hertl and Dillon alone combine for over $6 million in cap hit.
Hertl's departure opens up a roster spot for Ryan Carpenter, who is coming off a strong season for the Barracuda, he was also solid in his limited appearances with the Sharks last season. Dillon's departure opens up a spot for Joakim Ryan or Dylan DeMelo. Other players had strong seasons with the Barracuda (some had playing time with the Sharks) and can compete for starting forward spots on the Sharks. These include Marcus Sorensen, Barclay Goodrow, Kevin Labanc, Buddy Robinson and Danny O'Regan.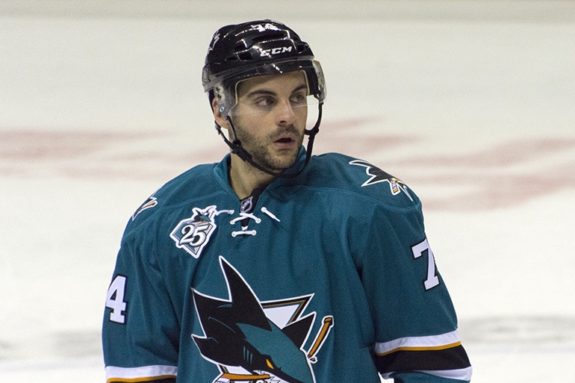 The Sharks' depth is the great enabler here. Losing several good players hurts the team. Most teams take a huge hit trading away the quantity and quality of players mentioned. But the depth San Jose has would buffer the damage.
The Method
In one respect, the Sharks are in a similar spot as they were at the recent trade deadline. They needed to think big if they wanted a chance to go far in the playoffs. Instead, they worked around the edges and got Jannik Hansen. A nice player and a defensible trade based on value, but not the sort of acquisition needed to take San Jose to another level.
Working around the edges is a ticket to the middle of the pack. The Sharks have a great pack, but they don't have its leader. Whether the Sharks get their leader of the pack in one step or more, the basic process is clear. The should move out multiple quality mid-tier players along with promising young players, prospects and/or draft picks. Moving into San Jose's lineup will be one elite-level forward. Also moving into the lineup to replace the multiple departed players are the Sharks' excellent depth players.
The other important part, creating adequate cap space, can be accomplished in several ways. The key here is to avoid a self-inflicted wound – a move which makes the cap issue more difficult. Picking up someone with a mid-tier cap hit (say in free agency) reduces San Jose's cap space. This could frustrate a deal for the acquisition San Jose really needs.
Bottom Line
Doug Wilson has proven a savvy trader over the years when it comes to major deals (Dan Boyle, Brent Burns and Joe Thornton).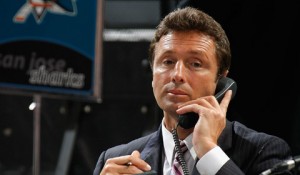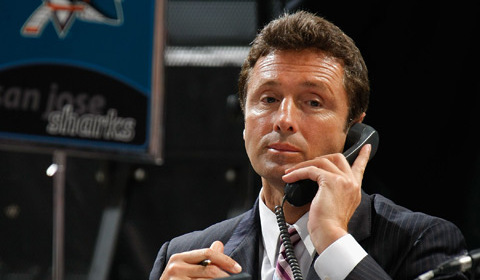 San Jose isn't going to be a top Stanley Cup contender unless they can reel in a top forward. The Sharks need a Thornton replacement. While there are several players who can fill the need, few (maybe none) will be available. It is OK if none are available on July 1, when free agency starts and trades heat up. The Sharks must make sure they have the resources and cap space needed to make a deal if and when one of these players becomes available. They have until the trade deadline, roughly eight months from now, to find this missing piece.
Zeke's Notes
• Many people have speculated on the players San Jose will protect in the expansion draft. I won't pretend I know what Wilson will do. This is the list and approach I would go with:
Forwards: Joe Pavelski, Logan Couture, Tomas Hertl, Melker Karlsson, Jannik Hansen and Chris Tierney. For the seventh forward, I'd sign Ryan Carpenter (soon to be an unrestricted free agent and bound to get other offers) and protect him.
Defense: Brent Burns, Marc-Edouard Vlasic and David Schlemko. I would try to trade Justin Braun.
Goalie: Martin Jones (Wilson did announce this)
• I felt San Jose would have been wise to trade Braun earlier, before the trade deadline. I suspect his value was higher than it is now. Given what teams gave up for rental players, Braun could have fetched a first round pick. Not only is he a quality player, but he provided a major added benefit in a favorable contract running well into the future. As a rental, he'd get plenty of interest. Add in his contract, and the Sharks could have gotten an excellent return.