The Vegas Golden Knights announced Saturday the three-year entry-level signing of Nicolas Hague. Taken with the 34th pick, he became the second defenseman drafted by Vegas after they selected Erik Brannstrom in the first-round.
After taking two centers with the selections of Cody Glass and Nick Suzuki, Vegas turned their attention to defense. They opted for a smooth puck-moving defenseman in Brannstrom, and then they went in the opposite direction with Hague. Pegged to go in the first-round by some, Vegas can potentially be walking away with a steal.
Such an amazing feeling signing my first NHL contract with the @GoldenKnights . Excited for what the future holds! pic.twitter.com/hlNCMxVudN

— Nicolas Hague (@nichague14) September 30, 2017
Nicolas Hague's Style of Play
The 18-year-old has built a reputation of being a physical and mean defenseman. Hague uses his entire 6'6″ frame to impose his will on opponents. Although he has intimidating size, Hague isn't a huge hitter. Instead, he uses his size to push players off the puck and knock them down. Also, his long reach allows him to steer opponents away from the net while taking away any time and space they might have.
Although he has been labeled as a stay at home defenseman, Hague has offensive upside. In his first full season in the Ontario Hockey League, Hague registered 14 goals and 24 points in 66 games. The next year, Hague improved his offensive numbers. In 65 games, his points total nearly doubled, going to 46 to go with 18 goals. Then, in the playoffs, he added another 12 points in 18 games as Mississauga fell in the OHL Championship.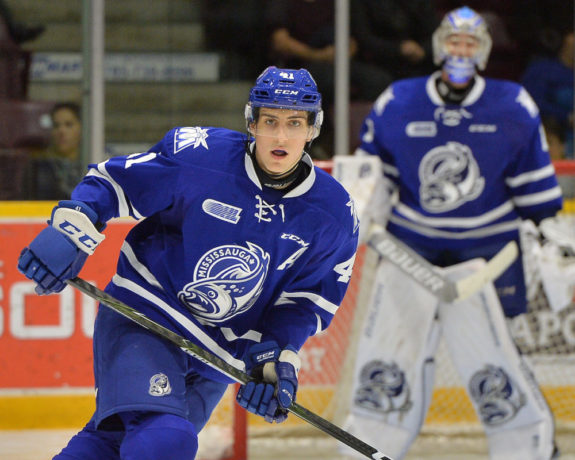 His craft to improving on the offensive side has allowed him to morph into a two-way defenseman. Another aspect of his game that has grown is his leadership. Entering the second season with Mississauga, Hague had an "A" on his sweater. Now, a three-year junior hockey veteran, he will shoulder the duties of providing leadership for a team that should contend in the OHL.
Area of Improvement For Hague
Hague has compared his game to that of Montreal Canadians defenseman Shea Weber. Both like to play a physical and positionally-sound game while contributing on the offensive end. If he's able to translate these attributes to the National Hockey League, Vegas might have themselves a top-four defenseman.
However, to get there, Hague must continue to work on his skating. He's improved over the last year, but it's still a work in progress as he has issues with smaller forwards. Hague has gone on the record of saying that skating is an area he'd like to improve upon:
"When my skating coach first videotaped me, I could see that I wasn't getting full extension on my push. I need to get my stride longer. A lot of it is balance and quick feet, paying attention to really important details."
Although he might compare himself to someone like Weber, Hague should emulate a fellow big man in Tampa Bay Lightning defenseman Victor Hedman. The Swedish defender stands at similar height while his skating abilities allow him to keep up with anyone in the league. Thus, he's able to hold his own against opponents and does not allow them to skate past him.
Nice defensive stop by @nichague14 at #vegasgoldenknights developmental camp at @LVIceCenter #BoldinGold #vegashockey pic.twitter.com/evmhohFPAb

— VegasHockey (@VegasHockey) June 30, 2017
Immediate Outlook
After spending camp in Vegas and appearing in a preseason game, Hague went back to Mississauga. There, he will play significant minutes as the team's number one defenseman. Playing with a chip on his shoulder, Vegas could see a highly motivated Hague this season. Not only will he try to aide in Mississauga's attempt to return to the OHL Final, but he will eye a spot on Team Canada's Junior Team.
Hague has the chance to make teams pay for overlooking him, and Vegas look like a genius for picking up a first-round talent in the second round.