The San Jose Sharks have landed in one of the worst positions imaginable, not only are they near the bottom of the league but they're also spending to the cap with no flexibility for the next few seasons. Last week, I discussed what this could mean for Timo Meier's future in the Bay Area. This time we'll be looking at players who would make sense to move in order to create long-term flexibility even if it may break fans' hearts. It's worth noting, for some of these guys it will be easier said than done to move them simply because with their contracts, teams would want sweeteners to make a deal however the Sharks would be wise to consider doing so.
---
---
Kevin Labanc 
Kevin Labanc has been a healthy scratch in the past four games with recent waiver claim Mikey Eyssimont leap-frogging him on the depth chart since arriving in San Jose. Labanc was a regular in the Sharks lineup dating back to the 2016-17 season, however, if they're struggling to find a role for him it may be time for a change of scenery. He's the type of player who will benefit the middle-six of nearly any team and his cap hit isn't massive either. He carries an average annual value of $4.725 million through the 2023-24 season. Teams like the Winnipeg Jets for example who prefer non-rental options could be intrigued by the winger. He has averaged just over half a point per game throughout his NHL career and in his limited playoff experience, he has maintained a similar pace. For teams who already have their stars in place and simply are looking for depth scoring, Labanc can certainly be their guy.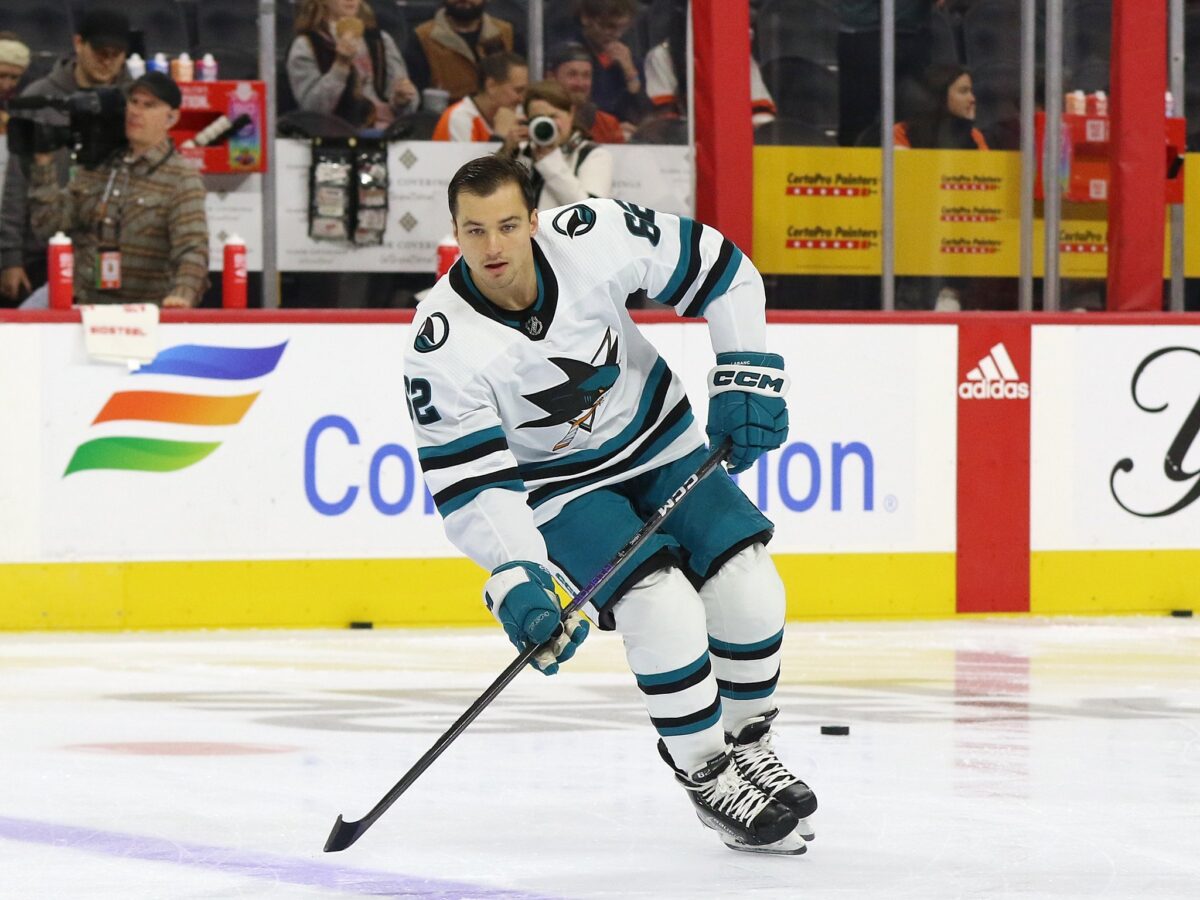 Logan Couture
The captain of the Sharks will be a difficult player to move for many reasons. First, Logan Couture has a limited no-trade clause which allows him to submit a list of three teams he'd accept a trade to according to CapFriendly. Considering the salary cap situation around the league, it would be fairly easy for him to essentially turn that into a full no-trade clause by picking three teams who wouldn't be able to afford his contract. Second, his age and term may be a difficult combination for opposing teams to get behind. He's currently 33 years old and will turn 34 before the end of the current season.
Related: Sharks' Erik Karlsson Showing No Signs of Slowing Down
---
Latest News & Highlights
---
Financially, Couture has four seasons remaining after this one with a cap hit of $8 million. Very few teams would be able to afford that contract, even fewer would be able to afford it and have a genuine interest in the player. A team missing a second-line center would be the best destination, however, teams in that predicament likely won't be in the market for a player of that age. Contenders would certainly love to have his experience on the roster for a playoff push, except financially it simply wouldn't make sense. If the Sharks could find the very small market for Couture and get a reasonable offer, it would be a great way to have some cap flexibility and look toward the future.
Marc-Edouard Vlasic
It will be almost impossible to move this contract unless the Sharks give up an asset alongside Marc-Edouard Vlasic. While he's certainly a serviceable defenseman in the NHL, he's not worth a cap hit of $7 million per season. Retaining half of the salary would be one way to move the contract, as there would likely be a few suitors at that price; it wouldn't be ideal for the Sharks. The 35-year-old will have three more seasons on his deal following the 2022-23 season, which makes it very difficult for any team to take a chance on him without additional assets included in the deal. While it's unlikely that he'll be moved, if on the off chance any offers come through even with retailed salary; it's a move that the Sharks should jump on.
It's going to be a difficult process, but moving some core pieces will help the Sharks be competitive sooner than any other route. Clearing up cap space gives more flexibility with trades, and free-agent signings and gives them more room to retain younger players when the time comes. The salary cap is going to rise over the coming seasons, but that won't be the organization's saving grace. Moves will need to happen eventually, and they should be made sooner than later.
William Espy is a graduate of California State University, Stanislaus. He has been writing about hockey since 2016 on various platforms. He currently covers the Columbus Blue Jackets but had a previous stint covering the Calgary Flames.