The recent news that the Western Hockey League has received approval from the Government of Alberta and Alberta Health to return to play has renewed optimism about a 2020-21 season for the rest of the league. The five Alberta-based teams, who play in the WHL's Central Division, will be able to begin their 24-game 2020-21 regular season slate without fans on Friday, Feb. 26 while adhering to extensive COVID-19-related protocols.
If the remaining five jurisdictions within the WHL's footprint do grant approval to play, specifically Saskatchewan which is home to six teams, a handful of Saskatoon Blades players stand to reach individual milestones.
An excerpt from a news release on the WHL website reads, "the WHL continues to work with government and health authorities in each provincial and state jurisdiction to establish a start date for the WHL's East Division, B.C. Division and U.S. Division." It goes on to say that approval from health authorities is required in each jurisdiction for the balance of the WHL Divisions to return to play.
Players in all three zones for the Blades -a goaltender, a defenseman, and two forwards- are nearing career achievements, and hope to capture them this season. Here is a closer look at four Blades players who are primed to reach new career benchmarks in 2020-21, if the season does go ahead in Saskatchewan.
Nolan Maier
Blades Franchise Record, Wins By a Goaltender: 83
Veteran goaltender Maier has 79 wins to his name during his three seasons thus far in Saskatoon, which is three back of tying, and four away from establishing a new career record for a Blades' goaltender.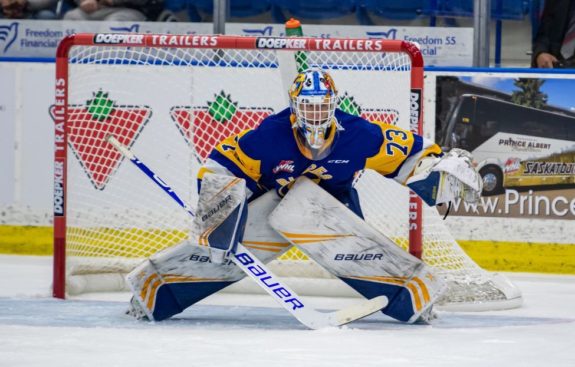 The current mark of 82 is held by Vancouver Canucks goaltender Braden Holtby, who starred at the SaskTel Centre in Saskatoon for three seasons (2006-09). Holtby played in a franchise-record 175 games for the Blades before going on to stardom in the NHL during his decade with the Washington Capitals (2010-20), where he won the Stanley Cup in 2018.
The same season that Holtby was backstopping Washington to their first Stanley Cup, Maier was thrown into the fray as a rookie with the Blades. He began that season with his hometown Yorkton Terriers of the Saskatchewan Junior Hockey League before receiving the call up for the Blades' US Division road trip and never left. Maier held his own as a 16-year old, posting a 23-17-1-1 record with two shutouts. 
Maier made his statement the following season, posting 36 wins with a 2.64 goals-against average and a .910 save percentage with four shutouts in 2018-19. That Blades squad that ended the franchise's five-season playoff drought. 
During the COVID-shortened season in 2019-20, Maier saw his numbers regress slightly as he posted another 20 wins. He had some competition in the crease last season in the person of rookie Koen MacInnes, who posted 14 wins in 24 appearances. Maier missed three weeks due to injury after the holiday break, which pressed MacInnes into service for nine consecutive starts and put the rookie's name into draft conversations.
"It's hard," Maier said about waiting for word on the start of the new season when he was a guest on the 'Blades Uncut' podcast. "It seems like I can't sit still (because) I'm so anxious and ready to go up to Saskatoon and play."
The new layers of complexity to the 2020-21 season are difficult to fully anticipate, but we do know some of the schedule structure that the Central Division will follow. 
Roadmap
All 24 games will be scheduled on weekends, arranged in home-and-home sets. Teams will only play one opponent per week and will take a five-day pause before facing each new opponent. If the remainder of the league receives government and health approvals and follows the Alberta schedule concept, it seems like the layout would not be drastically different from a normal season from a goaltender's perspective. 
After so much time off, it would be reasonable to expect Maier and MacInnes to split time in the net fairly evenly with Maier, now in his 19-year old season, perhaps having the edge as the older of the two. That would mean that if Maier stays healthy and performs up to his standards, he should have every expectation to own the Blades' record for wins by a goaltender well before season's end.
Maier is 36 games away from Holtby's record for the most games played by a Blades goaltender (175) and could track down that mark in 2021-22 if he returns to the club for his overage season. Twelve games played for Maier this season would surpass for Blades' goaltender Trevor Robins (1989-92) –father of Blades' 2019-20 leading goal-scorer Tristen Robins- for second place on the list with 151 games played.
Chase Wouters
Blades' First Three-Season Captain
Overage forward Wouters has been a tremendous leader and influence for the current core of Blades' talent including top scorers Robins and Kyle Crnkovic. The centreman from Lloydminster, AB was the first captain named by head coach Mitch Love before his first season as bench boss in 2018-19.
Assuming the season is played league-wide, Wouters will become the first three-season captain in the Blades' storied franchise history, which dates back to 1966-67, before the modern-day WHL began play in 1978-79.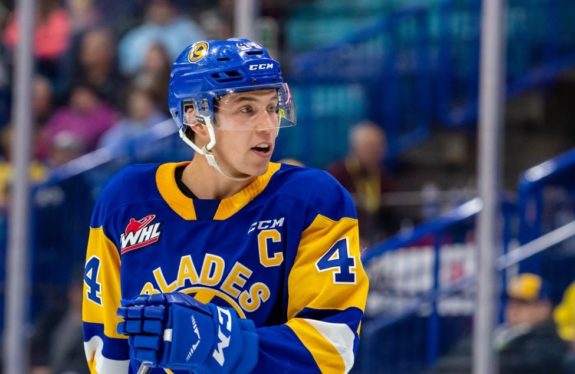 After tallying 21 points in 54 games as a 16-year old in 2016-17, Wouters became a reliable offensive contributor the next season, putting up a career-best 51 points. In 2019-20, he scored a personal-best 26 goals.  Altogether, Wouters has amassed 65 goals and 159 points in 259 games. Six assists this season would give him 100 for his career.
The last two-year captain for Saskatoon was forward Warren Peters (2001-03), who is third in games played with the Blades with 330 across five seasons (1998-03) after debuting for a game in 1997-98. He then played 94 NHL games in parts of four seasons for three teams. 
Rhett Rhinehart
200 Career Games
Somewhat of a journeyman so far in his career, having played for three WHL teams, Rhinehart is looking to grow roots in Saskatoon.
The Blades acquired the 6'4'' defenseman last season with the Prince George Cougars. Another product of Lloydminster, AB, Rhinehart has been traded twice in his career. He broke into the WHL with the Prince Albert Raiders for two games in 2016-17 before he was dealt to Prince George midway through the following season.
After he arrived in Saskatoon in 2019-20, Rhinehart suited up in 21 games, chipping in three assists while playing a large portion of that time on a pairing with Scott Walford, who has since graduated from the WHL and moved on to McGill University.
Rhinehart was one of five Blades players who made NHL Central Scouting's 2020 Final Draft Rankings but was not selected. Of the eligible Blades, only Robins had his name called, going to the San Jose Sharks in the second round.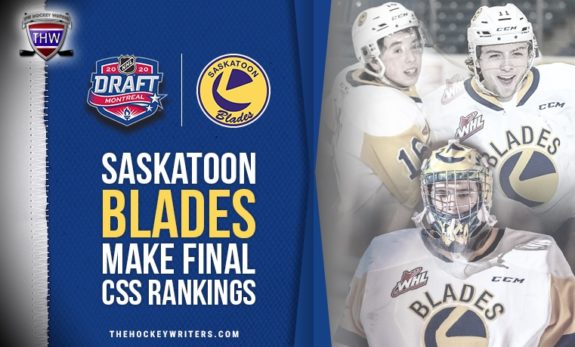 For his career, Rhinehart is sitting on 187 games played and has picked up 11 goals and 47 points along the way.
Saskatoon's defense would likely lean heavily on veteran blueliners Rhinehart and Aidan De La Gorgendiere if this season gets the green light. That pair has 298 games of WHL experience between them, while the remaining six members of the defense core currently listed on the Blades' website roster combine for 51. 
Three rookies are in that group including 2020 first round bantam draft pick Tanner Molendyk.
Tristen Robins
100 Career Points
Sharks prospect Robins currently sits on 99 points in his WHL career.
The product of Clear Lake, MB broke out as the Blades' leading scorer in his second WHL season in 2019-20, playing on a top line with Kyle Crnkovic and Martin Fasko-Rudas, after the latter was acquired from the Everett Silvertips midseason. Robins himself came to the Blades in a blockbuster trade with the Regina Pats at the 2018 deadline.
Robins output of 33 goals and 73 points last season led the team in both categories and represented a sharp uptick from his nine-goal, 25 point output as a rookie in 2018-19. Not blessed with an imposing frame, Robins plays with an edge to go along with good hands and a quick release, which all helped him garner attention heading into the 2020 draft.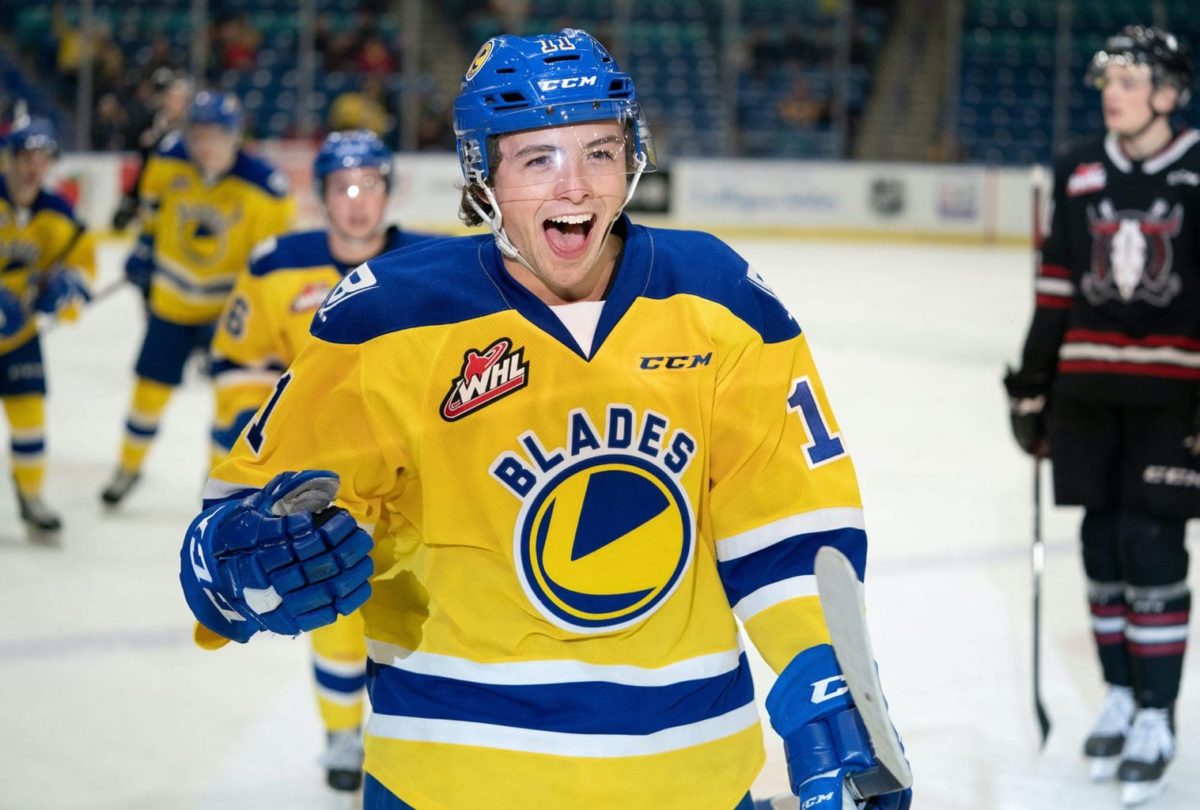 In the absence of a guaranteed WHL season for the Blades, the Sharks have assigned the 19-year old Robins to the American Hockey League. If the WHL receives the necessary approvals to play in Saskatchewan this season, he will be reassigned to Saskatoon.
Two-thirds of last year's top line, Robins and Crnkovic, would almost certainly be reunited back in Saskatoon, but would need to find a new centerman. As part of the club's January 25th announcement of the acquisition of overage defenseman Wyatt McLeod from the Edmonton Oil Kings, the Blades also revealed that Slovakian forward Fasko-Rudas and Czech defenseman Radek Kucerik will not return to Saskatoon this season due to uncertainty around the COVID-19 pandemic.
That news likely spells the end of Fasko-Rudas' WHL career, who is in his overage season, after 170 games across three seasons (2017-20) with the Silvertips and the Blades. Kucerik, meanwhile, could return in 2021-22 as an overage player if COVID-19 conditions have improved enough to allow normal travel by that time.
Near Misses
Regardless of whether the shortened 2020-21 season comes to fruition for the Blades, Wouters and forward Caiden Daley will both narrowly miss the opportunity to reach the 300 games played plateau in the WHL. Each has played in 259 games with this being their final season of junior eligibility.
Also a centreman, Daley played for three teams in 2019-20 between the Brandon Wheat Kings, Regina, and the Blades. He put up five goals and 12 points in 22 games after arriving in Saskatoon from the Pats. The Winnipeg, MB product played his first 212 games (2015-20) as a member of the Wheat Kings.
Wouters, meanwhile, is a career Blade, and debuted in 2015-16, playing in a pair of games as a 15-year old.
All things considered, it will still be a great day for the Blades and their fans when the team returns to the ice, even though fans would not be in attendance.  February 26th would be 353 days since the last Blades game before the COVID-19 shutdown, a 6-0 shutout over the Warriors in Moose Jaw on March 10, 2020.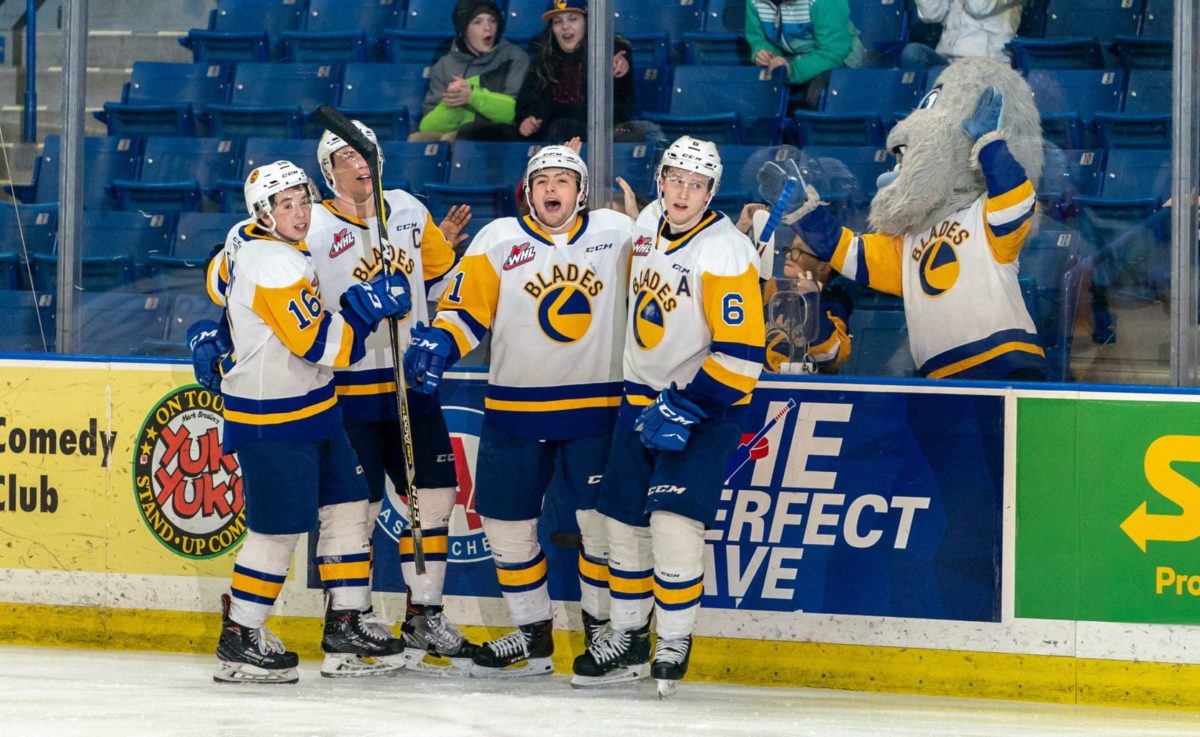 Reaching the starting line of the 2020-21 season would be a milestone day in itself.
---
---