This time last year, Tristen Robins was a name that very few people knew, let alone attached to a potential NHL Draft selection. Shadowed by Chicago Blackhawk and 2019 third overall NHL pick Kirby Dach, Robins was a prospect considered to be on the back burner of many scouts' minds.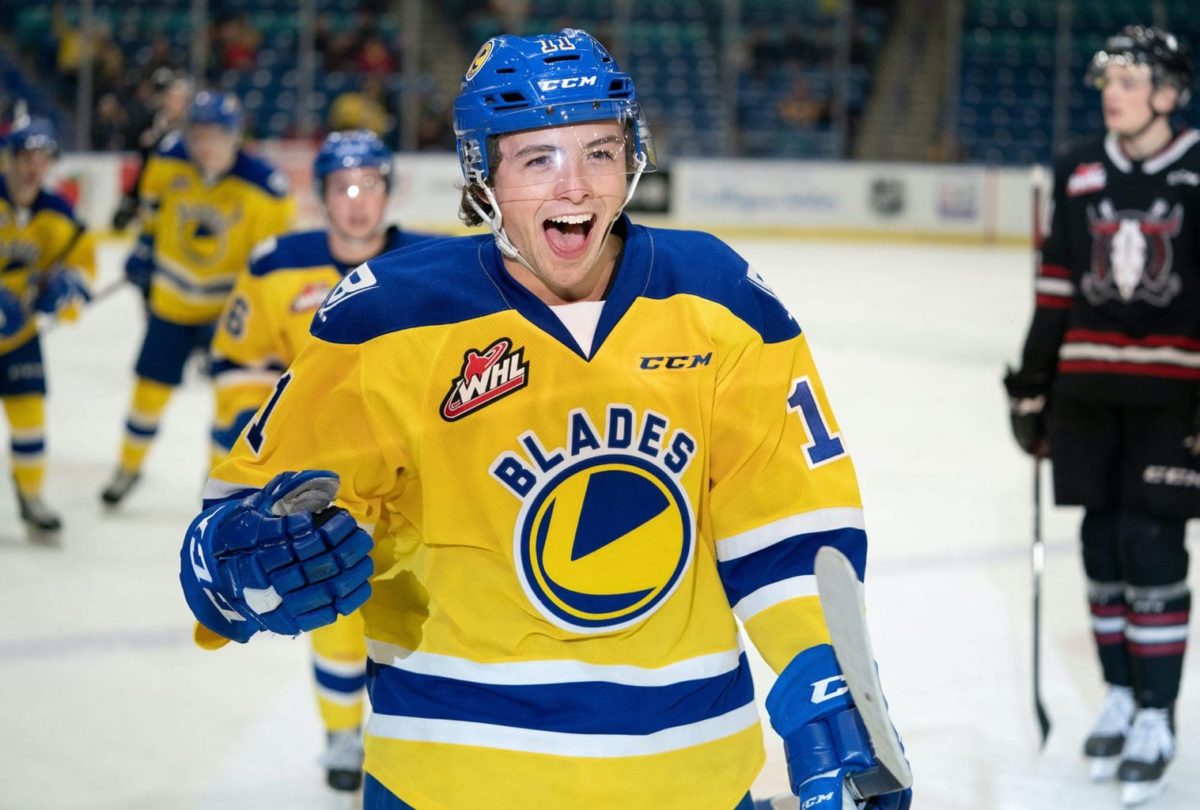 After a fantastic season with the Saskatoon Blades of the Western Hockey League, though, Robins put his name onto the shortlists of many teams around the NHL for his skating ability and top-notch hockey sense.
2019-20 WHL Season Set the Bar
To say that 2019-20 was a big year for Robins is an understatement. After putting up a measly 25 points in his rookie season with the Blades, Robins exploded offensively this year to lead the Blades in all offensive categories with 73 points, placing him 14th in the league and third amongst all draft-eligible WHL skaters.
Eying up Tristen Robins ahead of the 2020 NHL Entry Draft 👀#BladeCity | @tristenrobins1 pic.twitter.com/H1OCnYeBtE

— Saskatoon Blades (@BladesHockey) May 11, 2020
Despite his impressive stat line, Robins managed to slip through the cracks and fall into the late second round last night where he was selected 56th overall by the San Jose Sharks. This draft day slip was a combination of two important factors; the young center sizes up poorly against his competition at only 5-foot-10 and 164 pounds, and he simply wasn't seen by nearly enough amateur scouts. San Jose kept Robins in their back pocket despite another pick at No. 38 in the second round, knowing full well they had a diamond in the rough hidden amongst their draft targets.
Huge NHL Potential
One of the biggest indicators of Robins being an excellent selection by the Sharks is his low risk/low reward playstyle. THW's own Dayton Reimer credited Robins as a "two-way energy winger who can solidify a middle-six" in his draft prospect profile back in June. A tenacious center like Robins is something teams are always looking for, and after his major offensive influx he saw in 2019-20, things are looking up his raw skills development.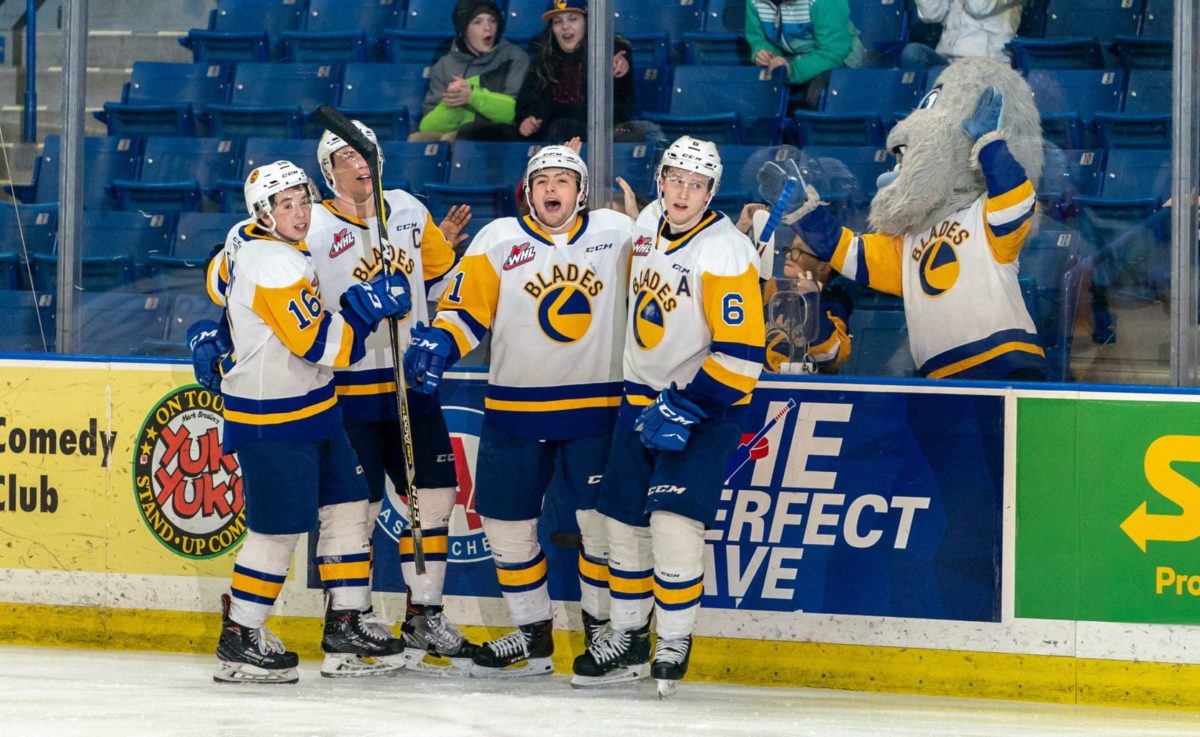 Robins will be returning to the Blades for next season alongside fellow 2020 draft-eligible players Kyle Crnkovic, Rhett Rhinehart, Koen MacInnis, and Aiden de la Gorgendiere. While Robins was the only Blades player selected on draft night, his teammates will play an important role in his progression moving forward as the Blades set their sights on a Memorial Cup berth. Robins will need to lean on his teammates for success and build off the foundation of his 2019-20 season as he hopes to see even more growth in his offensive game.
How Robins Stacks Up
The Blades have had three centermen selected in the NHL Entry Draft in the last three seasons. In 2018, the Washington Capitals selected Eric Florchuk with their seventh-round selection at 217th overall, before the following year when Dach was drafted by the Blackhawks at No. 3. Robins falls in as the second-highest player off the board from within the organization, and thus far is stacking up quite comparably.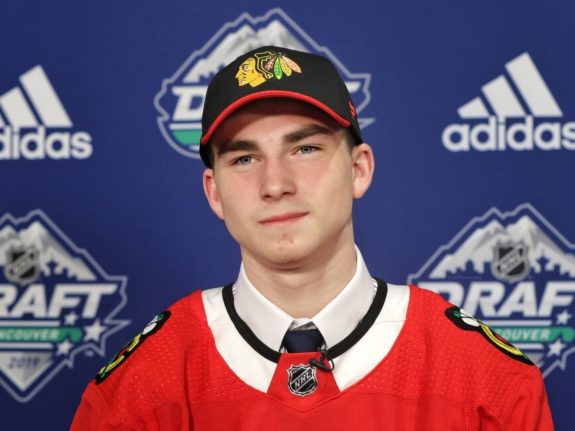 Eric Florchuk || 2017-18 – Saskatoon || Pts: 49 ||
Kirby Dach || 2018-19 – Saskatoon || Pts: 73 ||
Tristen Robins || 2019-20 – Saskatoon || Pts: 73 ||
It's interesting to note that while Robins and Dach had identical points totals, they were selected at drastically different points. The main difference between the two is in the physical game, where Dach is known to dominate. While Robins isn't necessarily weak when it comes to playing the body, it's hard to compare him to a true power forward like Dach.
Related: Blackhawks Pick Kirby Dach #3 Overall
Eric Florchuk on the other hand had a much less complete offensive season and fell accordingly. Robins is already shaping up to be a talented offensive player, and the additional year of seasoning could see him jump into pro scouts vision provided he patches up the less-developed areas of his game.
Important Future Role on Sharks
Robins will be part of a new young core offensive group for the Sharks featuring Danish winger Joachim Blichfield and fellow 2020 center draftee, 38th overall selection Thomas Bordeleau. The Sharks had a huge need for center and forward depth heading into the draft, and establishing Robins as a part of their middle six of the future is important. While Robins doesn't necessarily has superstar written on him, his play style was compared to that of Tyler Johnson by Ben Kerr of Last Words on Sports. The Sharks certainly won't be disappointed at the thought of adding a player of that calibre.
All in all, Robins is looking to be a fantastic acquisition by the Sharks, and will unquestionably be a major cog in the wheel for the Saskatoon Blades moving forward. Only time will tell if he truly lives up to his new reputation as a diamond in the rough.
---
---