Anton Lander made it official last week that his time with the Edmonton Oilers and Bakersfield Condors is complete. He'll be heading to the KHL and trying his luck in a different professional hockey league.
Thank you Oilers, Barons and Condors fans for these 6 years, you guys are awesome! ???

— Anton Lander (@Landie51) May 31, 2017
This is sad, but not terribly unexpected news for Edmonton Oilers fans who've spent the last three or four years watching as Lander lit up the American Hockey League (AHL) as one of its very best players, only to struggle to find consistency in the NHL. The Oilers would have been on the cusp of keeping Lander's contract alive. His decision to leave means the organization won't have to decide.
Did Lander Deserve Better?
It's difficult to put a finger on just what went wrong for Lander in Edmonton. There was a time that he looked like he was going to be a natural leader on a young Oilers roster and that the depth he would offer as a third or fourth line center was going to be crucial to the team moving forward. In 2014-15, he scored 20 points in 38 games for Edmonton and under coach Todd Nelson was taking a major step forward.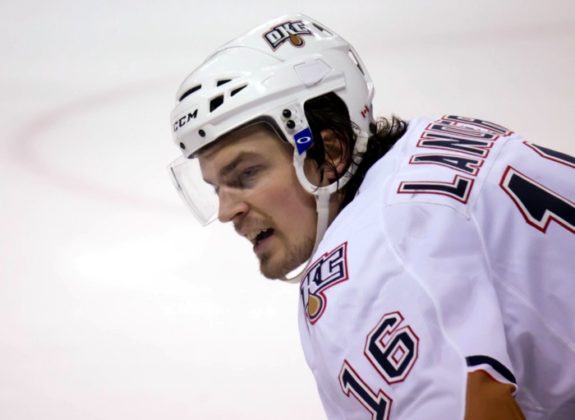 Fast forward only two seasons and in 83 games, Lander had a lowly two goals and seven points. He was up and down from the AHL to the NHL, but could never find a footing and really not considered more than a call-up when the Oilers were desperate for faceoff help. Even then he was often overlooked.
His move to the KHL means a new opportunity and a fresh start. Should he excel there, as he did in the AHL, it wouldn't be at all surprising to see him make an NHL return.
What It Means for the Oilers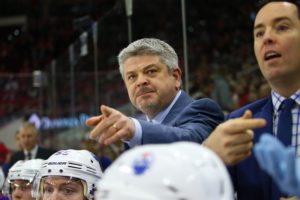 Oilers' coach Todd McLellan never seemed to be a big believer in Lander's ability. In fact, no one had the same belief in Lander that former coach Todd Nelson did. Only under Nelson did Lander really get a shot with linemates like Taylor Hall or others who were considered strong offensive players.
The reality is, Lander is a replaceable asset. The Oilers struggle on faceoffs, but the team already had a faceoff center high on its priority list for the upcoming season. Keeping Lander was not going to be the key piece to solving that puzzle.
Youngsters like Drake Caggiula and Jujhar Khaira already had much more love from McLellan and that wasn't likely to change. Lander likely saw the writing on the wall and took a chance at a better opportunity.
What It Means for the Condors
The bigger hit is what this does to the AHL team in Bakersfield. If Lander had been re-signed, he likely would have spent another year moving back and forth between the NHL and the AHL. He was easily the best Condor player the organization had seen in three seasons. They'll mightily miss his offense and leadership qualities.
Best of luck to Anton Lander who, I'm sure, will do well in the KHL. Lander likely deserved a bit better, but he had opportunities to show his stuff in the NHL. Going to the KHL now gives him time to take another route and get back to the pros where he probably belongs.
Jim Parsons is a freelance writer who covers the Edmonton Oilers and news and rumors posts here at The Hockey Writers.
You can also catch him writing at NHLtradetalk.com, The Sportster and hosting weekly video casts, THW News and Rumors Rundown, plus Oilers Overtime.
Follow below on any my social media accounts.