Only in New York can the return of a fourth line center stir up this much controversy. Love him or hate him, Sean Avery is back in New York.After a preseason positional battle, which he lost to Erik Christensen, Avery was demoted and assigned to the Connecticut Whale of the American Hockey League. The decision was based on a myriad of factors, including salary cap hit, personal relationship with the coach, and deteriorating offensive skills.
On Monday it was made official, Sean Avery was placed on re-entry waivers (which he subsequently passed through the next day).
When Avery first came to the Rangers, in a deal which sent Jason Ward to the LA Kings (he is now playing in Austria for those who care), he was brought in to provide a spark. That spark turned to lightning as Avery's presence in the line-up was impossible to miss. After signing a monstrous contract with Dallas, he talked his way back into Broadway Blue for a second go-around.
"The only two things I need to know and I think the other guys in this room need to know, is that he wants to be here and wants to be a Ranger, loves wearing our jersey and loves living in New York; and secondly, that he wants to win a Stanley Cup," Rangers Captain at the time Chris Drury said when the team re-acquired Avery.
Ranger fans are now hoping, third times really a charm.
But was the Avery recall the right move? This is not the same Sean Avery who left his mark on the hearts of Ranger fans across the country.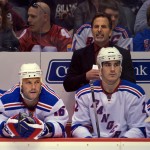 Firstly, since he has played for Rangers head coach John Tortorella he hasn't been the same. While it may necessarily be a bad thing that Tortorella "tamed" him, it certainly has reduced his effectiveness, as well as stupid penalties.When Sean first got into trouble with his "sloppy seconds" remarks, Tortorella was an analyst for TSN at the time.
"Enough is enough," Tortorella said then. "He's embarrassed himself, he's embarrassed the [Stars'] organization, he's embarrassed the league and he's embarrassed his teammates, who have to look out for him. Send him home. He doesn't belong in the league."
But even Tortorella admits now, when Avery is on his game, he is a very effective agitator.
His teammates and fans alike seem to be welcoming the move with open arms. There was outrage when he was originally demoted, and on more than one occasion you could hear "WE WANT AVERY" chants throughout Madison Square Garden.
"Sean is bringing something that not a lot players have in the league, a lot of edge to his game," teammate Henrik Lundqvist said after practice Wednesday afternoon.
There is no doubt that last season's Sean Avery was a shell of his former self. He often killed the rush by going offsides, and took a lot of stupid penalties. But this time around, he is playing for his career, and never discount a man on his very last life.
Sean has said all the right things, and took his demotion like a professional. If he had bolted to Europe, and broken his contract he wouldn't be where he is right now. He cant help but admit, he loves playing in New York.
"I love every game I've ever played for this team," Avery said. "I love walking into the building. I'm definitely excited about playing in the new building. I just want to help these guys win. I just want to play my game and play as hard as I can and help them win."
Now it's Sean turn to prove his detractors wrong. He wont be in the line-up Thursday night against the Ducks, but if the Rangers come out lethargic, expect to see him Saturday against the Canadiens.
http://www.youtube.com/watch?v=mpJ-nxPkchE