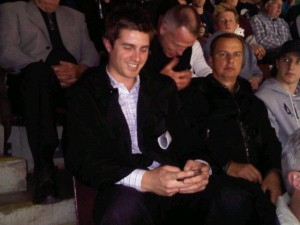 Kyle Dubas is the youngest GM in the history of the OHL.  At only 25 years old,  Dubas is brash and bold, especially after the trade he made today with the Windsor Spitfires.
Dubas pulled the trigger on bringing in USA goalie phenom, Jack Campbell, and sending two players and six draft picks to the Windsor Spitfires. Clearly, Dubas is looking to catapult the Greyhounds to winning the Memorial Cup . Currently slotted in 3rd place in the West, the Greyhounds had 2012 draft eligible goalie, Matt Murray as their top netminder.  Murray has a 9-4 record with Sault St. Marie (3.29 GAA/.891 SV%), but with the addition of Campbell, Matt might need to work that much harder to get noticed by scouts this season.
Campbell has won two gold medals at the World U18 Championships (2009, 2010), won gold at 2010 World Junior Championship and secured bronze at 2011 World Junior Championship.  He also won the Best Goalkeeper Award and Tournament All-Star selection at the 2010 World U18 Championships and the 2011 WJC.  On top of being one of the most winningest goalies for his age, he also dressed in a game during the 2011 IIHF World Championships.
It has always been common for teams to build from the net out.  So if the Greyhounds are going to take that approach, why not go after the most decorated teenage goalie to come across the border?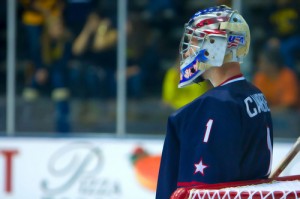 Dubas had this to say about his new acquisition:
"We compete in a division of very tough opponents. Our goal here is to accomplish sustained success, year in and year out.  With that said we feel adding a player of Jack's calibre to our lineup shows our players and our fans that we will do everything we can to reach the level we all feel our franchise is capable of reaching."
Besides the trade with the SOO Greyhounds, the Windsor Spitfires also moved Tom Kuhnhackl to the Niagara Ice Dogs.  Between the two trades, the Greyhounds have received a total of 10 draft picks (one 1st round pick, seven 2nd round picks and two 3rd round picks). That will certainly bolster the Spitfires for years to come.  But in this scenario, a proven commodity in Jack Campbell has been acquired for players who may never live up to their potential. Having assurance in net, the Greyhounds may now be the team to beat.
With a trade like this, not only do the Greyhounds get stronger, but Kyle Dubas has put his name on the map as a confident and capable general manager. I'd like to think somewhere out there Scott Howson is lying on the floor crawled up in fetal position…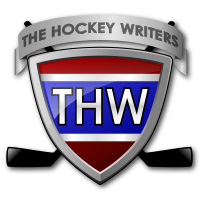 The archives of THW contain over 40,000 posts on all things hockey. We aim to share with you some of the gems we've published over the years.