A summer ago, the Calgary Flames selected Sean Monahan at sixth overall in the 2013 NHL Draft.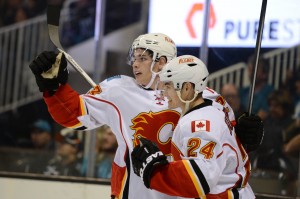 It was a simple decision. The team was positively bereft of NHL-ready center options and, with Swedish forward Elias Lindholm being snatched up a pick earlier by the Carolina Hurricanes, the decision was more or less made for them. Monahan was the best player available.
A year and a half later, it can be argued that he was the perfect player available for the Calgary Flames. And all it took was a few key injuries to uncover Monahan's progression from National Hockey League rookie to top-line contributor.
It's often said "when it rains, it pours," and much the same is true with injuries in the NHL. One player doesn't get the flu, everybody does. And one player doesn't get hurt, a bunch do. Last season for the Flames it was defensemen. This season? Centers. Mikael Backlund, Joe Colborne and veteran Matt Stajan – three of Calgary's four natural pivots – when on the injured reserve within days of each other.
The lone survivor? Sean Monahan, a 20-year-old who had roughly 80 games under his belt. Monahan was Calgary's top center by default.
Last season, Monahan had a strong rookie campaign with 22 goals and 34 points, but his numbers were a result of Monahan's hard work and some smart decision-making by the Flames coaching staff. Monahan was given good line-mates – primarily a combination of Joe Colborne and Jiri Hudler – and some fairly sheltered zone starts; primarily playing in the offensive zone against the other team's lesser lights.
Through 19 games, Monahan's progressed quite a bit. He has a 48.45% even-strength CorsiFor, a big improvement over his 43.81% from last season. He's facing tougher competition than last year – facing Alex Ovechkin and other elite players rather than third liners. And his offensive zone starts have been significantly varied – he's begun 44.38% of his shifts in the offensive end, compared to 54.60% a year ago. His most common line-mates this year have been Jiri Hudler and Curtis Glencross, as he's anchored the team's shutdown line.
In short: Sean Monahan has begun his progression towards being the centerman that the Flames dreamed he could become when they drafted him in 2013.
"Monny has done well," shared Flames head coach Bob Hartley. "It's pretty remarkable at his young age to be able to play both sides of the puck, offensively and defensively, and playing the game the right way."
Teammate Paul Byron, himself a center during his junior and American League days, assessed the challenges of being a young center at the NHL level.
"You want to make sure you're putting yourself in positions where you're not always chasing the puck and chasing players the whole game, ensuring you can get the puck out of your own zone because if you can't get your puck out, it definitely limits your offensive chances in the game. As a young guy, you just want to make sure you have good body position and good stick," said Byron.
One of the bigger challenges for young players in the NHL is often focusing too much on either offensive or defensive aspects of the game, particularly at center where there are more defensive responsibilities. Byron noted the importance of balance.
"Obviously as a young guy, you put so much focus on being good defensively because you gotta be good to get put out on the ice and you've gotta earn the coaches' trust, but I think part of being a good two-way forward is working smart and learning the maturity side of being a center," said Byron.
"That's something definitely you see in his game," added Byron. "He may be 20 years old, but he plays like a veteran out there."
As for Calgary's sixth overall selection in 2013 himself? Monahan is pleased with his success thus far – becoming better at face-offs was a focus of his in the off-season – and particularly seems to enjoy coach Hartley's coaching philosophy of "best versus best," which has seen him line up against high-end talent from throughout the league.
"I want to play against the best guys, and it's a challenge," said Monahan. "I think if I guess I'm better than the guys across from me then we're gonna have a good chance to win the game. I think right now as a group we're playing hard and we're playing the full sixty. I think that's why we're getting wins."