Elias Lindholm had a slow start this season which mirrored the play of the entire team. November came, and the Carolina Hurricanes started to look like a different team. The wins started to rack up, and a more motivated and organized team hit the ice every night. We are a little over halfway through the second month of the season, and Elias Lindholm has played consistently better for the 'Canes. Lindholm's play and the team's record has encouraged fans after the team failed to win a game in their first eight games of the season.
A look at Lindholm's numbers
In the first eight games of the season Lindholm registered only one assist, and no goals. The 'Canes have won six games in November and Lindholm has contributed 9-points (6-goals and 3-assists) this month including 3-game winning goals against Arizona, Los Angeles, and Columbus. Lindholm has the most points out of any forward on the 'Canes in November. Eric Staal and Riley Nash both have 8-points in November. The only other Hurricanes player with more points in November is defenseman Justin Faulk with 10-points. Lindholm has also gone from a minus-1 in October to a plus-5 in November. In eight games in October Elias Lindholm was averaging about 23 shifts a game. In Lindholm's 10-games in November he is averaging 24 shifts a game. He is playing the same amount of time on ice, but has really stepped up his offensive game.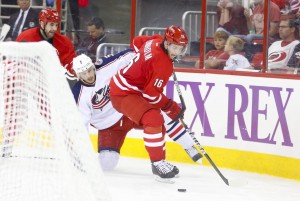 Making it work on every line
In the last 10-games the most frequent forward line for the 'Canes has been Riley Nash, Nathan Gerbe, and Elias Lindholm at %18.98. In the last 10-games Nathan Gerbe has 5-assists and Riley Nash has had 2-goals and 6-assists. This line has been by far the most productive line for the 'Canes this season. They have meshed for 8-points at even strength this season. Lindholm has also seen time on a line with Eric Staal, and Jiri Tlusty and they have combined for 4-points at even strength this season. He is clicking on any line that coach Bill Peters puts him on, and he is making things happen on the power play for a 'Canes team that ranks 12th in the league in power play percentage (19.7%). Nathan Gerbe, Elias Lindholm, Riley Nash, and Victor Rask have combined for eight points on the power play this season (Lindholm has scored twice on the power play in  November).
The 'Canes are not in last place
When watching the games Lindholm just looks more comfortable on the ice, and his offensive game is really hitting stride. In the most recent game against the Dallas Stars, Lindholm made two passes that were just inches away from Eric Staal being all alone in front of the net. At the end of October I mentioned the lack of points and production from Lindholm. He immediately started his hot streak in November directly after that. They recently started a five game road trip in Dallas, and came back from a 2-0 deficit to win a tightly contested 6-4 game. Writers have said the play of Lindholm, and Nash has made Eric Staal more expendable in trade talks. The 'Canes are climbing their way out of the basement. Eric Staal had a three-point game against Dallas, and if it's not broken, don't fix it. The 'Canes are getting production from all of their lines now, and will still get the return of Jordan Staal hopefully in January. If Jordan Staal can live up to expected level of play, the Hurricanes can will add another top-six talent to the lineup. The season is young, and I don't think losing Eric Staal will make the Hurricanes a better team. Elias Lindholm and Riley Nash are really stepping up but I don't think they are quite ready to adequately replace Eric Staal.