The Seattle Kraken could see their first playoff appearance in just their second NHL season, and current Vancouver Canucks captain Bo Horvat could become an integral piece to the puzzle. A 32 Thoughts segment on Jan. 7 put this possibility in my head after Elliotte Friedman wondered about the Kraken entering the Horvat market, so I decided he's someone they could target.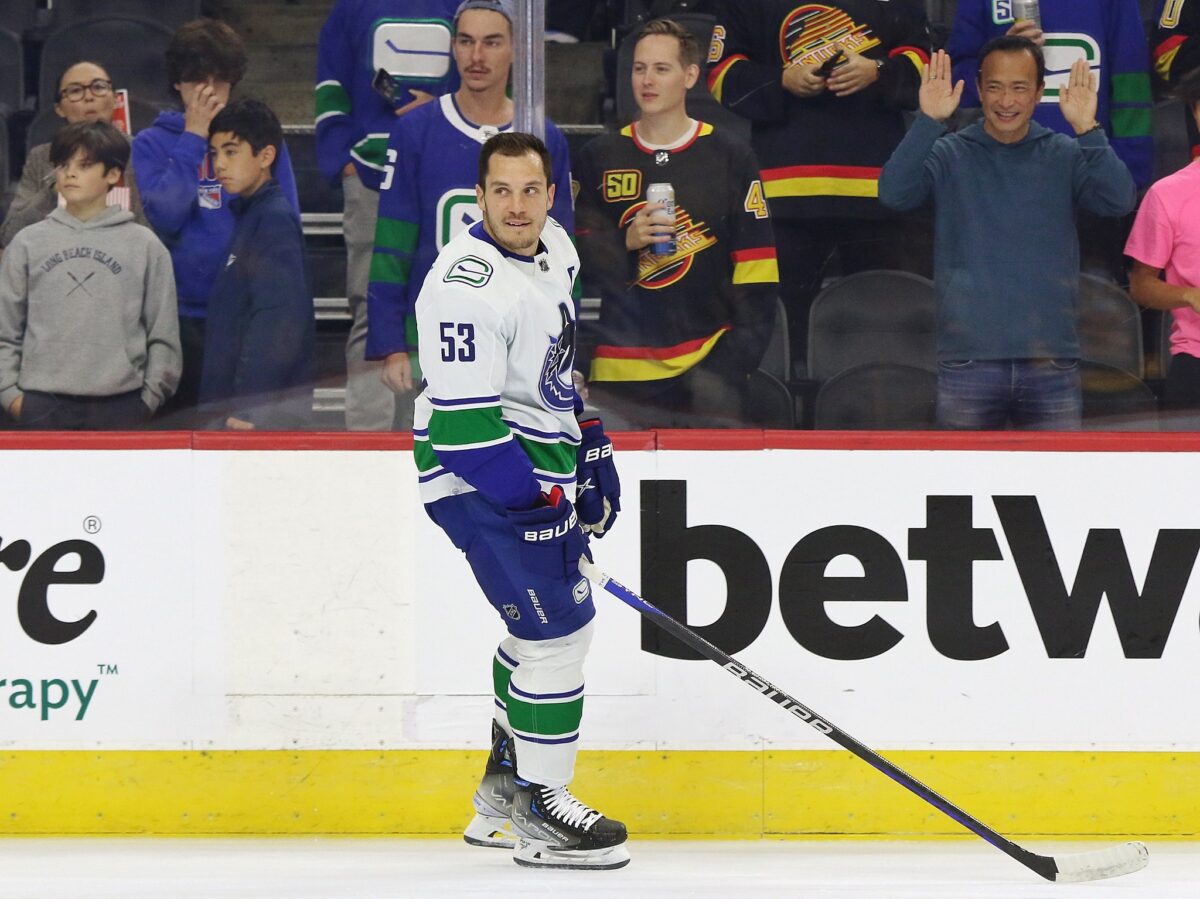 Horvat is a player who's had leadership experience as a captain and can help the Kraken in all three zones, and on special teams. I'm going to give an overview of his career to this point, talk about his potential fit with the team, and pose the question: does this make sense? Let's get into it.
Bo Horvat's Career Overview
Horvat was drafted ninth overall by the Canucks in 2013, following his first two junior seasons with the Ontario Hockey League's (OHL) London Knights. He played one more year for the Knights after being drafted before going pro for the 2014-15 season. He finished his junior career with 74 goals and 165 points in 185 games, seeing his point totals grow every season. In the playoffs, he scored 22 goals and 38 points in 48 games and captured two OHL titles and a playoff MVP award.
Horvat played just five games in the American Hockey League, scoring no points, before sticking with the Canucks from his rookie year onward. He's a six-time 20-plus goal scorer and has a career-high of 31. However, that career-high is going to be shattered this season as he's on pace for 59 goals. In total, he's scored 199 goals and 411 points in 612 NHL games and has remained disciplined with only 196 penalty minutes (PIMs), never exceeding 40 PIMs in a season.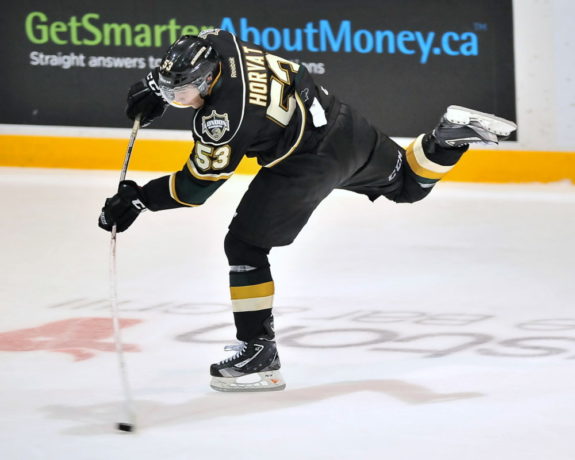 While Horvat hasn't seen a lot of playoff action in his career, he's provided a similar rate of scoring as he did in the regular season. In his rookie year he scored a goal and four points in six games, and during the 2020 Playoffs following the COVID-19 pause, he scored 10 goals and 12 points in 17 games. 
Bo Horvat's Fit in the Kraken Lineup
One obvious fit would be on the penalty kill. The Kraken still sit 31st in the NHL in penalty-killing percentage (PK%) with a 69.5 PK%. Even further, he has a 56.6 faceoff win percentage (FO%) this season and has never won less than 50 percent in his career. The Kraken are still in desperate need of help there and he could be a strong solution.
Related: 3 Seattle Kraken New Year's Resolutions
---
Latest News & Highlights
---
The Kraken have a lot of centers. As things sit right now, Matty Beniers, Alex Wennberg, Yanni Gourde, Ryan Donato, and Morgan Geekie are all in their logjam down the middle, with several wingers also able to play the pivot spot. I'll elaborate on this later, but to bring in Horvat a rostered center will have to go back the other way.
Horvat will provide a scoring boost, that's for sure. If he joined the Kraken at any point this month, he'd likely still be the leading goal scorer as Jared McCann is currently leading the team with 19. He'd also give even more depth scoring to a team that's already seeing a lot of its members putting up points; 17 Kraken have at least 10 points, and 10 have at least 20. Especially if their goaltending remains inconsistent, that added goalscoring will also help come playoff time.
Horvat's spot within the top-six will depend more on line combinations and chemistry that we just can't really predict. Ideally, he'd play as a top-six center with first-unit power-play and penalty-killing time.
Does Acquiring Horvat Make Sense for the Kraken?
Here's the $5.5 million (and likely more if they re-sign him) question; does trading for Horvat make sense? The first hurdle would be that both teams will have to make peace with the fact that they'd be trading within the division. For Kraken general manager Ron Francis to make the deal, it really depends on how he sees the status of the team and how that impacts their 2023 NHL Entry Draft strategy. They have five draft picks in the first three rounds, including three in the second round, and I can't see them selling to get more picks if they're still sitting in a playoff spot come the March 3 trade deadline.
The Canucks are looking to free up cap space, which moving Horvat would do as he is certainly going to get a raise with his next contract. Additionally, they're looking to get younger and could use another center coming back, along with some right-shot defenders.
Potential Kraken Trade Pieces
Looking at the Kraken, my first thought was that they'd need to trade one of their current centers for this to make sense, as there are already more players in the depth chart than lineup spots available. My pick was Wennberg. While his offensive numbers are on the upswing this season, I don't think he'll get back to a top-six level of production that saw him register a 59-point season in his third year in the league. Being that Wennberg plays in all situations, Horvat would be a perfect replacement. However, since the Canucks want to get younger, I'm a bit pessimistic that a 28-year-old as the sole player in return would be acceptable. Enter Ryan Winterton.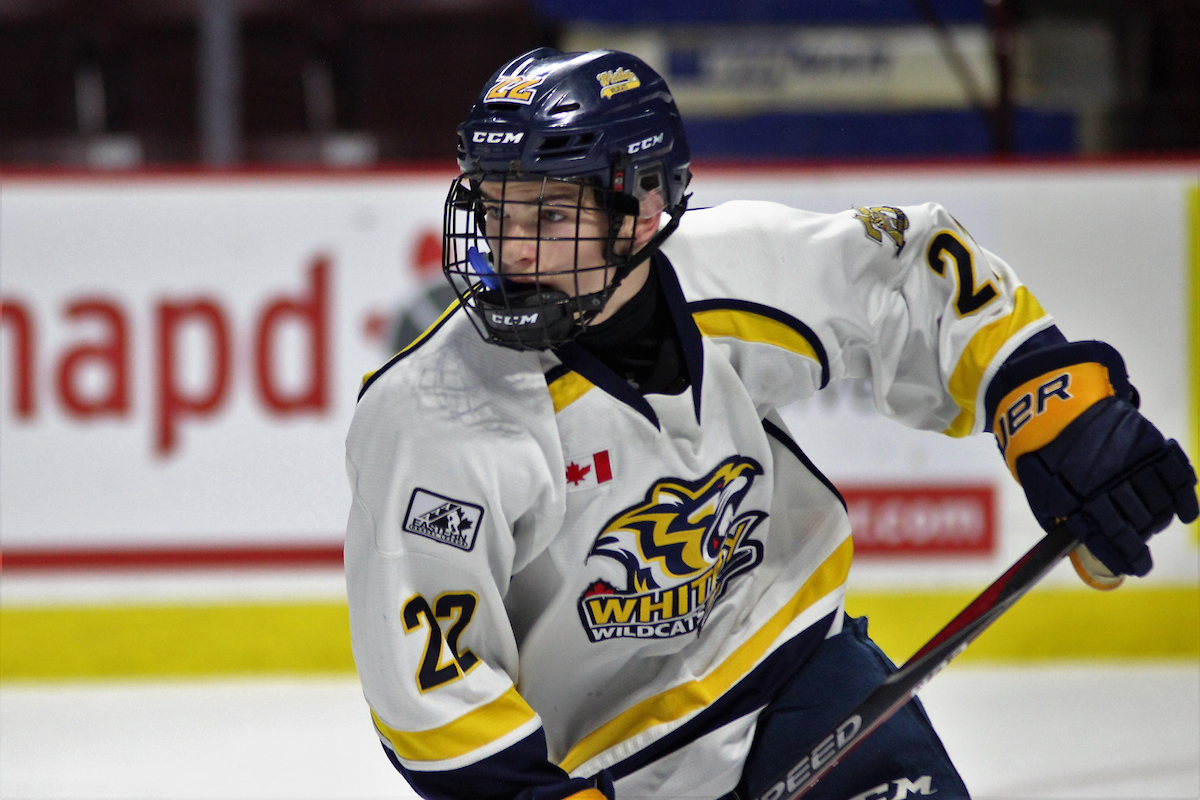 Winterton is a Kraken prospect, drafted 67th overall in 2021, who's shown his resiliency as he had to overcome multiple injuries thus far in his OHL career. The 19-year-old scored 32 goals and 69 points in 90 games over two seasons, and added 19 in 18 playoff games last season. On Jan. 2, he was traded from the Hamilton Bulldogs to the Knights, Horvat's alma mater. Is it just me, or did the stars just align?
Winterton plays center, which will come in handy if the Canucks don't extend Wennberg when his contract is up. While the Canucks are looking for young players who may be able to enter the lineup immediately, I really don't think they need that right now. This team should be looking to add pieces and try and figure out how to right the ship. If they take Wennberg and Winterton, then they have a player who will replace the body they're losing and a prospect who could grow into a decent middle-six scoring forward.
Related: 6 Keys of Kraken's 6-Game Winning Streak
In addition, the Kraken have a player like Cale Fleury who they can look to move that is a right-shot defenseman. However organizationally, they're pretty weak on the right side defensively. Ville Ottavainen (99th overall in 2021) could be an interesting trade option as an unsigned, right-shot prospect. I think the solution here could be draft picks, which ironically goes against my original visions for this team.
I really don't want to see the Kraken give up a first for pretty much anyone at this point. However, if Horvat is a piece they think will help them really go on a deep run, which would be an immeasurably important experience for this young organization, then they should definitely look to move their second-round picks. Though, I'm extremely skeptical of moving the first-rounder.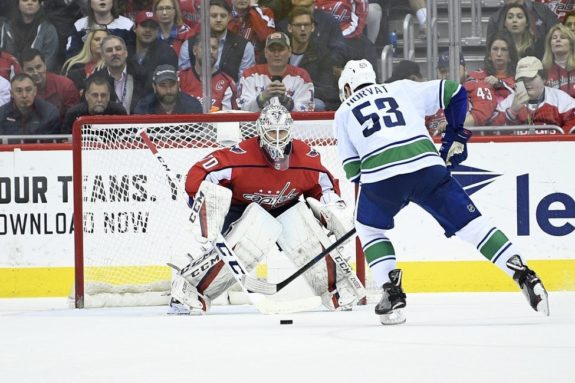 One thing that is almost a double-edged sword for the Kraken is the fact that Horvat is an unrestricted free agent (UFA) after this season. It helps the Kraken because the Canucks are going to want to move him so they can avoid him walking into free agency for no return, but it hurts them because they may be trading for a player who won't want to re-sign with them.
If they don't have assurances that Horvat will sign following the season, and don't see themselves as having a legitimate shot at raising the Stanley Cup, then it may not be the smartest move. The most important aspect of this whole trade conversation is probably that they need to have a deal with Horvat in place for next season if they're going to commit the assets to bring him aboard.
Projecting the Kraken Lineup With Horvat on the Team
Alright, now that the more serious stuff is out of the way, let's say this trade goes down and Horvat enters the deep; let's take a look at what the forward lines could look like. I used the Daily Faceoff line combinations as the basis for my lines.
| | | |
| --- | --- | --- |
| LW | C | RW |
| Jared McCann | Matty Beniers | Jordan Eberle |
| Jaden Schwartz | Bo Horvat | Andre Burakovsky |
| Eli Tolvanen | Yanni Gourde | Oliver Bjorkstrand |
| Brandon Tanev | Ryan Donato/Morgan Geekie | Daniel Sprong |
The only major change I made was swapping McCann and Burakovsky, and I did this because of his previous chemistry with the first line. Furthermore, with the rate that Horvat is finishing, I would want someone like Burakovsky there to distribute the puck to him. Putting McCann and Horvat on a line together could stack the unit offensively, but actually see them taking goals away from each other.
Related: Canucks Need to Move Top Trade Pieces Soon
This projected team looks really deep up front. Combine that with Daniel Sprong and Brandon Tanev's production this season on the fourth line and the team's offensive ability runs very deep. I mentioned it during a guest appearance on the PuckTalkCS podcast, that the Kraken genuinely have four scoring lines. They've managed to curate four trios that can find the back of the net, and yet their bottom-six can still play the physical style of classic bottom-six lines. It's a strong factor behind their aforementioned scoring depth.
Looking ahead to next season, they may have to make a move to free up a spot on the wing for Gourde assuming Shane Wright steps into the lineup, but that's a projection for a different article.
The Kraken Need to Decide What They Are Before Making Deal
This whole potential trade really comes down to whether the Kraken see themselves as a team that has a real shot at making a run, or if they decide they're just playing above expectations and still should look to build via the draft. If there's a possibility of securing Horvat at a reasonable price, especially since they hold more of the cards than the Canucks, then I think they should pull the trigger.
The Kraken have several players 25 years old or younger, and getting them playoff experience would be huge for the team going forward. Even more to that point, the organization as a whole would gain a whole new level of legitimacy from following up their inaugural season airball with a trip to the postseason. It could be what brings over fringe or casual hockey fans into full-on fandom.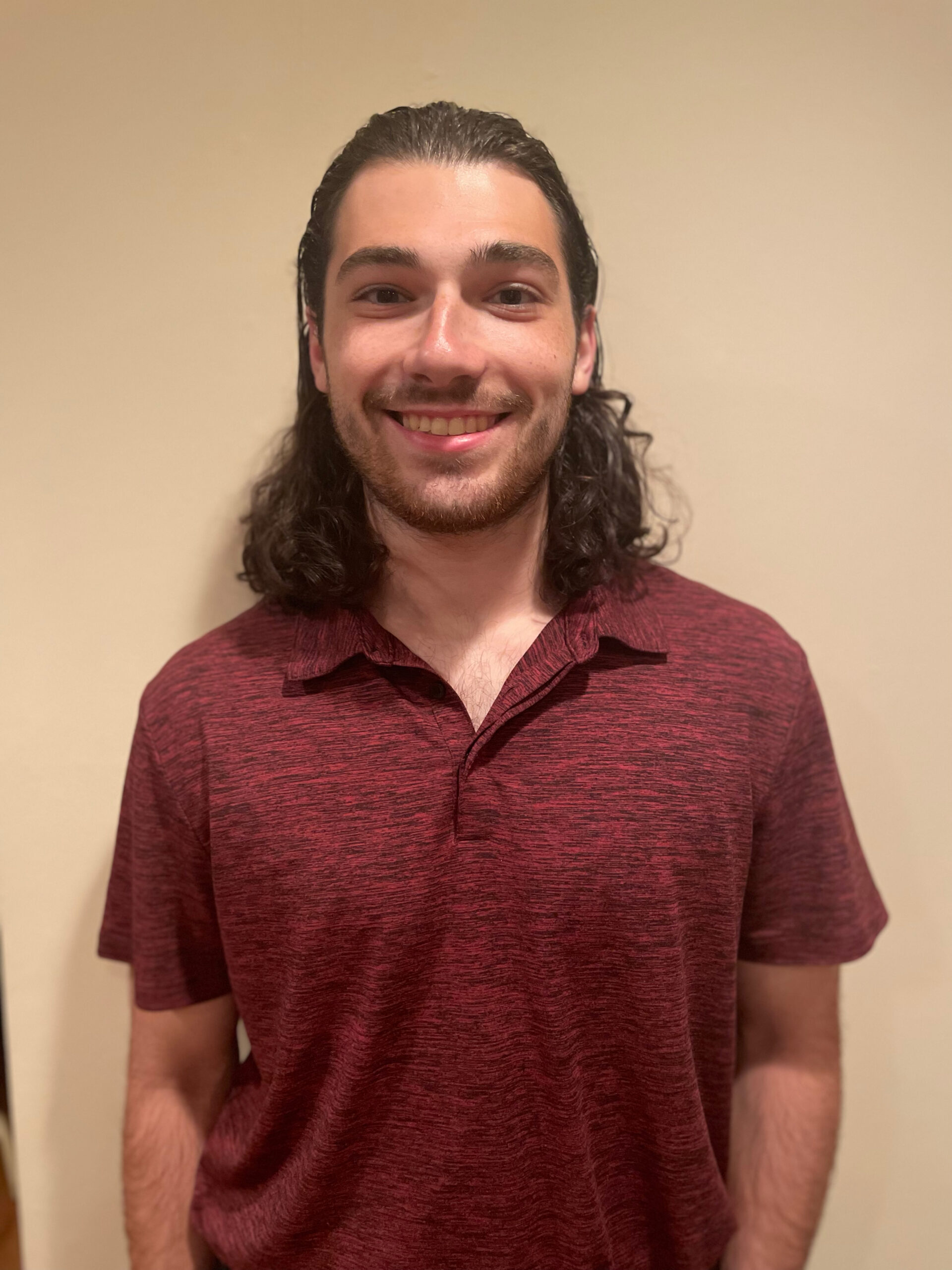 Sean Raggio lives for hockey. He will be covering the Seattle Kraken, and is a co-host of "What's Kraken" for THW. Sean gained experience in writing for television, print and radio while studying journalism at Quinnipiac University and being an active member in the student media organizations there. If you have any questions or comments, feel free to reach out on Twitter! A link can be found at the bottom of his articles, such as this one.