The Montreal Canadiens have had to face a difficult stretch of games since the beginning of Dec. 2022. Since that date, they hold the third-worst record in the NHL going 5-12-2 for a points percentage of .316. This is concerning, even if you want the team to lose and have a better chance at winning the draft lottery for a shot at adding 17-year-old phenom, Connor Bedard.
For those who want to see the team tank, there should be no worries. The Habs will continue to lose more games than they win and end up close to the bottom five in the NHL standings. The issue is less with winning games, but with how they approach each one, and how they perform in them. The Canadiens need to remain competitive to allow veterans to improve their trade values in advance of the trade deadline. But more importantly, to provide better opportunities to develop the youth.
Part of the issue is that the Canadiens need more leadership. This is why injuries to the veterans have hurt the team, but also that general manager Kent Hughes will need to be very careful in how he approaches the trade deadline, and who he moves out of Montreal. 
Canadiens Need Leaders 
Individually, Nick Suzuki has done very well with his on-ice performances, earning an All-Star nomination for his efforts. It is clear that no one can take issue with his work ethic either, as he consistently plays the most minutes per game, without missing a single game thus far in his professional career. 
Related: Canadiens' Player Development Changes Having a Big Impact 
---
Latest News & Highlights
---
That being said, he can't do it alone, especially in the room. That is why it is important for Suzuki to have mentors in guiding him in building his approach to leadership. Over time, younger players learn how to approach being a professional, they learn to focus on the strengths of their games and how to improve their deficiencies. More importantly, in Suzuki's case, he can learn how to lead by watching the veterans around him. Fans need to keep in mind that he's a first-year NHL captain, for the most storied franchise in hockey, and is only 23 years old. And now, he will be leaned upon to right the ship as the Canadiens are going through their hardest stretch of the season.
Suzuki hasn't had much leadership support since Sean Monahan was sidelined with a lower-body injury. Joel Edmundson and David Savard have also missed significant time at points in the season. Now Brendan Gallagher is out and his absence may hurt Suzuki and the team the most. He joins Monahan and Mike Matheson on the injured list as Montreal announced that they will be without their heart and soul player for no less than six weeks as he recovers from a lower-body injury. He missed 13 games in December with the same injury and then aggravated it when he returned for three games, where he scored one goal.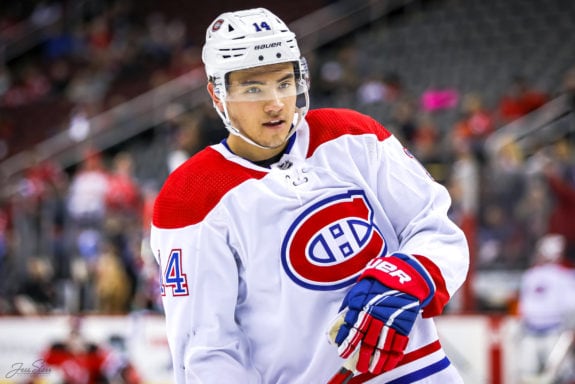 Although there are several other players injured, the Canadiens' performance issues only really started when Gallagher was first injured. The 30-year-old is far more than his four goals and nine points in 25 games this season. He can provide Suzuki off-ice support by taking some heat off of the captain, simply by talking to the media. Teams use these media availabilities to provide fans with a connection to the players. The way Gallagher conducts himself in these moments, showing emotion and sharing his frustrations (but controlling those emotions) in the down times, or, sharing a wink and a smile in the good ones, provides Suzuki with a good blueprint for public relations. He can share with fans without giving away too much information. It is important for the fan base to empathize with players, especially in a rebuild, and hear how the players understand their performance means a lot to not just themselves, but the fans too.
Gallagher has been with the team long enough that when fans think of the Montreal Canadiens, often, they think of him. It isn't just due to his media availability, but his style of play. He gives absolutely everything he has every shift, going to the highest traffic areas fighting for the puck, and adding offense. He leads by example and as a result, his voice is respected in the locker room and among the fans.
Canadiens Nearing Rock Bottom 
Since Dec. 1, the Canadiens have deserved their terrible record, in large part because they have been in the basement statistically. Starting with their offensive game, scoring on average 2.26 goals per game and a power play (PP) of 14.8%. Not only that but defensively, they have hit rock bottom. Allowing a league-worst 4.16 goals per game in that time, which is compounded by their league-worst penalty kill (PK) of 66.7%.
When the Canadiens were performing well at the start of the season, the team's defensive play in November looked no different than what fans are seeing in January. 
At the beginning of the season, the Canadiens' defense was insulated by the stellar play of their goaltenders. Before the start of the season, the goaltenders were seen as the key to camouflaging the team's defensive issues. With their play tailing off, the defensive issues are now glaring. Some of this poor defense can be explained away by injuries. However, according to head coach Martin St Louis, a lack of preparedness is also an issue.
"We weren't ready. It's disappointing. I'm disappointed in the defensive engagement."

– Martin St. Louis 
After the 4-0 loss to the Seattle Kraken on Jan. 10, when asked how they should feel about it, St. Louis responded with one word, "embarrassed". While preparing a team for a game is part of the coaching staff's job, a large part of a team's preparation also comes from the leaders in the room.
While St. Louis focuses on game-to-game readiness, Hughes will have to focus on the long term. The laundry list of injuries, especially to leaders such as Gallagher, makes it difficult for the coaching staff to prepare but also adds to the degree of difficulty for Hughes to navigate the trade deadline. A healthy lineup would make it much easier to move out veterans likely to be in demand around the NHL, like Edmundson, if the right offer were made. As it stands, veteran leadership is needed to support Suzuki, and Gallagher is the ideal candidate to provide that support. Without it, Suzuki will need to navigate the team through this slump without his ideal mentor.
---
---