As we stand today, the Edmonton Oilers currently sit 29th overall in the NHL standings, meaning they would choose second overall at the draft. (Unless the lottery balls change the rankings). The Arizona Coyotes are three points ahead of them. If things stay as they are, the Oilers would likely end up with Jack Eichel, who in any other year, would probably be the consensus first overall pick. But is he going to be the right pick for this Oilers team? I'm going to make the case that the Oilers would rather have the third pick. Just bear with me.
Connor McDavid or Bust?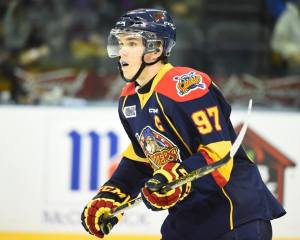 Of course fans really want to choose first and take Connor McDavid. This kid is the real deal. But let's talk in terms of the Oilers. How much faith do you have in Edmonton's ability to build around an elite player? The goaltending and defence still needs to be fixed despite having a McDavid or Eichel on the roster. This isn't the NBA, where one player really can change a team. Having said that, you can't quantify what the presence of a Connor McDavid could do for your franchise, if he turns to out to be as good as advertised.
Having such a supreme talent changes the landscape of a team. Maybe it causes free agents to look more favorably upon going to Edmonton. It will certainly change the game-plan of opponents knowing they have to contend with McDavid. This is not at all suggesting the Oilers don't need him. But, they may just be slightly too good to land him. Or rather, Buffalo or Arizona could end up being just that much worse. Because McDavid is so talented, and such a game changer, the other prospects in the draft aren't getting a ton of attention. This year has a similar feel to 2005 when Sidney Crosby was available. But the positive this time around is that the draft is much deeper now than it was then.
The Oilers Stud Defenceman Has Arrived
If the Oilers end up with the second pick, they probably wouldn't pass on Jack Eichel. It would be a difficult thing to do, but it wouldn't be something unprecedented. It's happened before that a team goes off the board. But, considering the heat that Edmonton takes for absolutely everything, they wouldn't hear the end of it if they passed on Eichel. Which is why finishing 28th and getting the third pick is the best possible solution. Because waiting in that third slot is Boston College defenceman Noah Hanifin, the best rated blueliner in the draft.
If there is one thing the Oilers are lacking, besides a goalie of course, is a true number one defenceman. Justin Schultz probably isn't that guy, and there's a good chance he may not even be part of the team moving forward. They have Darnell Nurse in the system, who's a stud in his own right. But you can't have too many great d-men, can you? Hanifin is 6 foot 3 and already 205 pounds. He's drawing comparisons to Rob Blake. He's going to be one of those real horses on the back-end, who can skate, hit and score. Hanifin is a rock defensively, he's sound positionally, and he doesn't take as many risks as Nurse does. Hanifin is the long-awaited cornerstone defenceman for Edmonton.
Who Should the Oilers Take?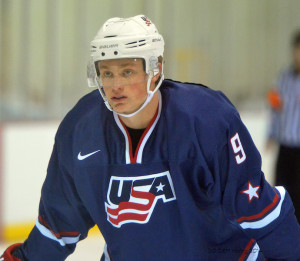 I understand that many people think it's a no-brainer to take Eichel at number two. And I'm not saying I disagree. He is a strong talent. But what I'm saying is that if the Oilers end up with the third pick, there are no decisions to make, no second-guessing and no criticism. (Unless of course the team with the second pick takes Hanifin, in which this becomes a moot point).
The odds that the Oilers get the third pick are decent, assuming the Coyotes continue to lose. But, Jack Eichel would be a fine addition to this team, though his arrival still leaves holes in the lineup. Granted, the Oilers do have another first round pick with which they could choose a blueliner. And we don't know what trades might be made before the draft. But here is the bottom line to me. If they the lottery balls fall their way and the Oilers get first overall, obviously you take McDavid and worry about the rest later. But if that doesn't happen and he's off the board, I would take a little more time to think about who to choose.
Passing on Jack Eichel may end up being a mistake. I don't want to see the Oilers once again become the butt of jokes in the NHL. Which is why, to me, finishing 28th and getting the third pick is the best solution. Noah Hanifin is exactly what the Oilers need. Being a little too good for McDavid might not be so bad after all.
Marcy, a former hockey player, is a hockey correspondent on CTV News and TSN radio. She began her career as a Sports Journalist in 2009 and has been part of The Hockey Writers since 2010, where she is currently a senior writer and editor.