It'll be four years this August since Nassau County voters rejected a plan to renovate the Nassau Veterans Memorial Coliseum, all but confirming that the team in flux would be relocating. While Islanders fans were ecstatic to learn that their team would be right nearby in Brooklyn and not Kansas City or Quebec City as rumored, it was still a major blow to the local area that the only professional sports team on Long Island would soon be gone.
But Nassau County Executive Ed Mangano has tried his hardest to keep the Islanders home. When the vote was taken, Mangano was vocal in his support of the plan that would require $400 million in taxpayer money to complete.
It was a vote that seemed destined to fail. Nassau County residents voted in early August, following a season in which the Islanders finished 14th in the Eastern Conference (last in the Atlantic Division) and dead last in both total attendance and attendance percentage with 67.9% of tickets sold. Potential and promise is not something you can sell to your average sports fan, especially in a market that is—in all honesty—not the greatest for hockey, so drafting John Tavares had little effect on the average sports fan in the area at that point. While Nassau County's voting hockey fans were hopeful, I'll tell you that we were not confident.
So when Mangano announced his intentions to keep the Islanders in Nassau, at some level, some ears perked up.
"When complete, the Coliseum will host several New York Islanders games, Brooklyn Nets games, New York Yankee Coaching Clinics, Children Shows, Heavyweight Boxing championship tournaments, Minor League Hockey, and college basketball games, as well as an exciting array of star-studded performers and family-fun entertainment.

The transformed Coliseum is only the beginning! After completion, plaza development will take place to construct a performing arts theatre, movie theatre, bowling alley, and theme restaurants. I am certain this world-class destination will get the attention of the NHL.

While I was disappointed when taxpayers voted no to building an arena to keep our only professional sports team, we have an opportunity to keep their roots in Nassau. Tonight, I announce we are close to finalizing plans, that I will forward to the Legislature, for a new historic public-private partnership with the Islanders to construct a state-of-the-art corporate office and practice facility in Nassau County. This facility will cement the Islanders in Nassau and provide hope, that we will witness their full-time return when they see the magnificent new Nassau Veterans Memorial Coliseum. This project will also create a sports-entertainment destination that will further provide a venue for young adults."
The bolded parts of the quote above are the real news here for fans. Though obviously nothing is set in stone, Mangano is putting the gears in motion to bring the New York Islanders back to Nassau County. The dream is not dead.
Nassau County and the New York Islanders are about to finalize a deal that would build a brand-new corporate office and practice facility for the team, which means the employees and players will likely not be looking to sell their houses. The Islanders currently practice at IceWorks in Syosset, which is a fine building but certainly nowhere near the state-of-the-art facility some NHL teams train in. The team will surely welcome this change.
This all ties back to a report from a few months back of a possible out-clause that would allow both the Islanders and Barclays Center to go their separate ways after five years. It was communicated when the building was under construction that the Barclays Center was created for basketball and concerts, and that hockey was not part of the plans. While the facilities in Downtown Brooklyn are beautiful, the poor sight-lines and alarming amount of seats with an obstructed view don't make it the greatest fan experience.
And the economics are just completely different now. When the Islanders are good, NVMC is one of the loudest buildings in sports, and this year they've been great. They're up to 93.6% of tickets sold, which isn't at the top of the league but is well above some established franchises who no one even considers relocating (Dallas, Colorado, etc.) When's the last time a team, with relocation looming, was selling out the building on a consistent basis?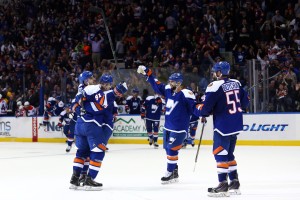 Whether the full move back happens or not, the Islanders will be in Nassau County for years to come. The team will obviously still practice here, and while nothing is set in stone it seems likely that one of the minor league affiliates of the Islanders will be at the renovated Coliseum soon enough. The team has also become a main sponsor and affiliate of the PAL Ice Hockey organization which plays games in Hauppauge and Syosset (at IceWorks), whose Junior A team has become one of the top on the East Coast.
It's not up for debate where the team will be playing for the next few seasons, but it'll be interesting to see if Mangano and Nassau County can do enough to allure the Islanders back home.