The Arizona Coyotes have seen a few familiar faces make their way back to Glendale during their current six-game homestand. Former Coyote Radim Vrbata made his first visit to Gila River Arena as a member of the Vancouver Canucks last week, while Mike Ribeiro made his second trip back with the Nashville Predators on Monday. Now, Antoine Vermette returns to Glendale just 11 days after being traded to his new team, the Chicago Blackhawks. Here is a look back on what Vermette helped accomplish as a Coyote.
Arrival to the Desert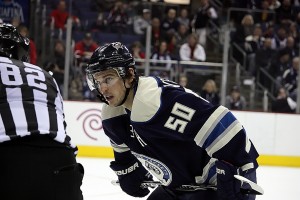 After starting his career with the Ottawa Senators in 2003 and then moving to the Columbus Blue Jackets in 2009, the Coyotes acquired Vermette in a 2012 trade with Columbus for Curtis McElhinney and a pair of draft picks. Vermette's skill in the face-off circle and his solid offensive talents paid off big for Arizona as the team captured their first division title and made their deepest run into the postseason since leaving Winnipeg. Vermette scored five goals and 10 points during the 2012 postseason, while also achieving a 60% faceoff win percentage in eight of the teams 16 games.
Continued Production
After helping power Arizona to their most successful season in franchise history, Vermette continued to be a vital asset to the Coyotes. Vermette notched 13 goals in the 2013 season, tying captain Shane Doan for the team lead, while also ranking sixth in the league in faceoff win percentage at 57.4%. In the following campaign, the Quebec native led the Coyotes with 24 goals and ranked in the top-10 in faceoff wins for the third consecutive year. One of the highlights from the 2013-14 season for Vermette came against his former team in Ottawa. In that game on December 21, 2013, Vermette scored a hat trick that included the game-tying and game-winning goals for the Coyotes.
Move to Chicago
Since the trade that sent Vermette to the Blackhawks, he has yet to pick up a point with his new team. However, Vermette did help Chicago defeat the Edmonton Oilers on Saturday with the deciding goal in the shootout. Time will tell if Vermette's skills can help push the Blackhawks to another deep postseason run, just like he did with the Coyotes three years ago.
Charles Woodall-Pike is a journalist who writes about the Arizona Coyotes for The Hockey Writers.