Just when the Colorado Avalanche thought it had the injury bug beaten, the team is slammed with problems.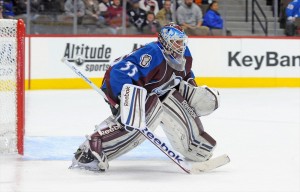 Matt Duchene has been out two weeks longer—and counting—than expected after he injured his knee late December in a game against the Phoenix Coyotes. Despite practicing with the team, a return date has not been set.
After an impressive return, Peter Mueller is back on the list of the injured although this time it's classified as a "torso injury" rather than the dreaded head injury. He took a maintenance day on Tuesday while his teammates practiced, but it was said he was fine to play in last night's tilt against the Vancouver Canucks. Shortly before the game, however, he was scratched with no explanation about how the injury occurred.
During the first period last night, T.J. Galiardi left the game with what was later disclosed as a shoulder injury. He was placed on Injured Reserve today.
With about five minutes left in the first, Jean-Sebastien Giguere was replaced by back up goaltender Semyon Varlamov. It has been announced that Giguere suffered a groin injury, one he says doesn't look to be very serious.
In light of these rash of injuries, the Avalanche have recalled forward Mark Olver and goaltender Cedrick Desjardins from the AHL affiliate Lake Erie Monsters. Olver's appearance makes it clear that Duchene still isn't ready to go. Desjardins suggests that Jiggy's groin is hurt worse than anyone is letting on.
Some good news is that Ryan Wilson appears to be fully healthy again as rookie Tyson Barrie was reassigned to Lake Erie after 4 games with the big club.
Cheryl Bradley is an Assistant Editor and Staff Writer for SBNation's Mile High Hockey, covering the Colorado Avalanche. Cheryl also is on the Board of Directors for the Avalanche Guild, an organization that partners with the Avalanche to support local youth and adult hockey in Colorado.