While the Ottawa Senators have experienced plenty of turbulence this season, they have ultimately accomplished their main mission. General manager Pierre Dorion invested heavily in his roster in the offseason and doubled down at the trade deadline with the acquisition of star defenceman Jakob Chychrun with a clearly stated objective: to play meaningful hockey down the stretch.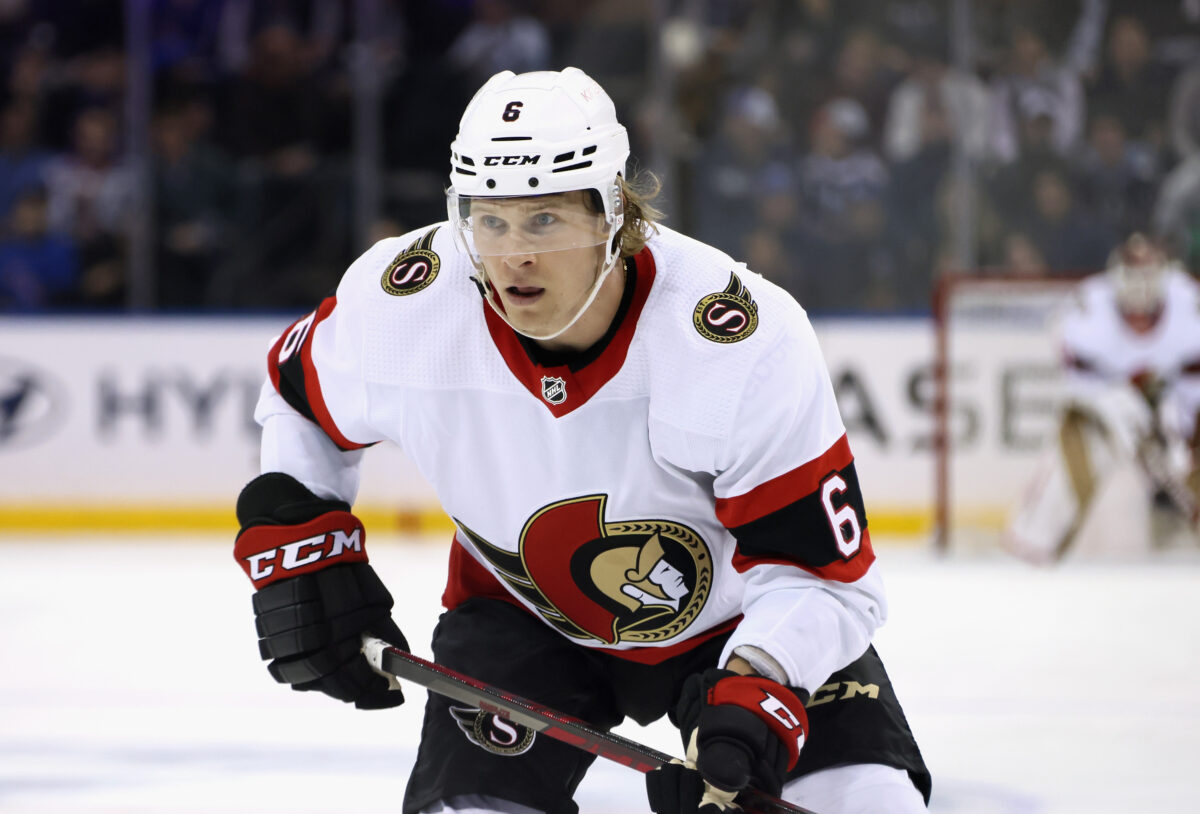 Evidently, the Senators find themselves in that exact situation. After their 5-2 win over the Columbus Blue Jackets on Saturday (March 4), Dorion's squad is just three points outside the wild card spaces with 20 games left to play.
The Senators toyed with the Detroit Red Wings in a pivotal back-to-back to start the month and are now on a collision course with the likes of the Buffalo Sabres, New York Islanders, and Pittsburgh Penguins, teams with serious playoff credentials.
While the Senators should aspire for a spot in the postseason, they have already made valuable progress this term and should celebrate that success regardless. Ottawa fans have been in for a wild ride lately, and here are two reasons to be satisfied with the campaign as a whole.
Ottawa Senators' Young Core Is Finally Playing Meaningful Hockey
The Senators were exceptional in their back-to-back versus the Red Wings. They knew that they needed to take every available point to keep their playoff hopes alive and absolutely dominated Detroit.
"We knew right from the start these two games were going to be really important for us, especially in the standings," Tim Stützle told reporters in Ottawa. "We showed tonight that we can be a really good hockey team."
Related: Senators Prospect Report: Preparing for the Playoffs
---
Latest News & Highlights
---
Austin Watson added: "I love this kind of hockey. Emotions are running high [and] it brings the best out of everybody. It's exciting to get out there, especially in a back-to-back set like this."
Before this season, the Senators had spent too many years down in the dumps. Their top talents, namely captain Brady Tkachuk, defenceman Thomas Chabot, and star forward Stützle, had amassed zero postseason experience and more than their fair share of regular-season disappointment. Since they arrived in Ottawa, they haven't had much to play for.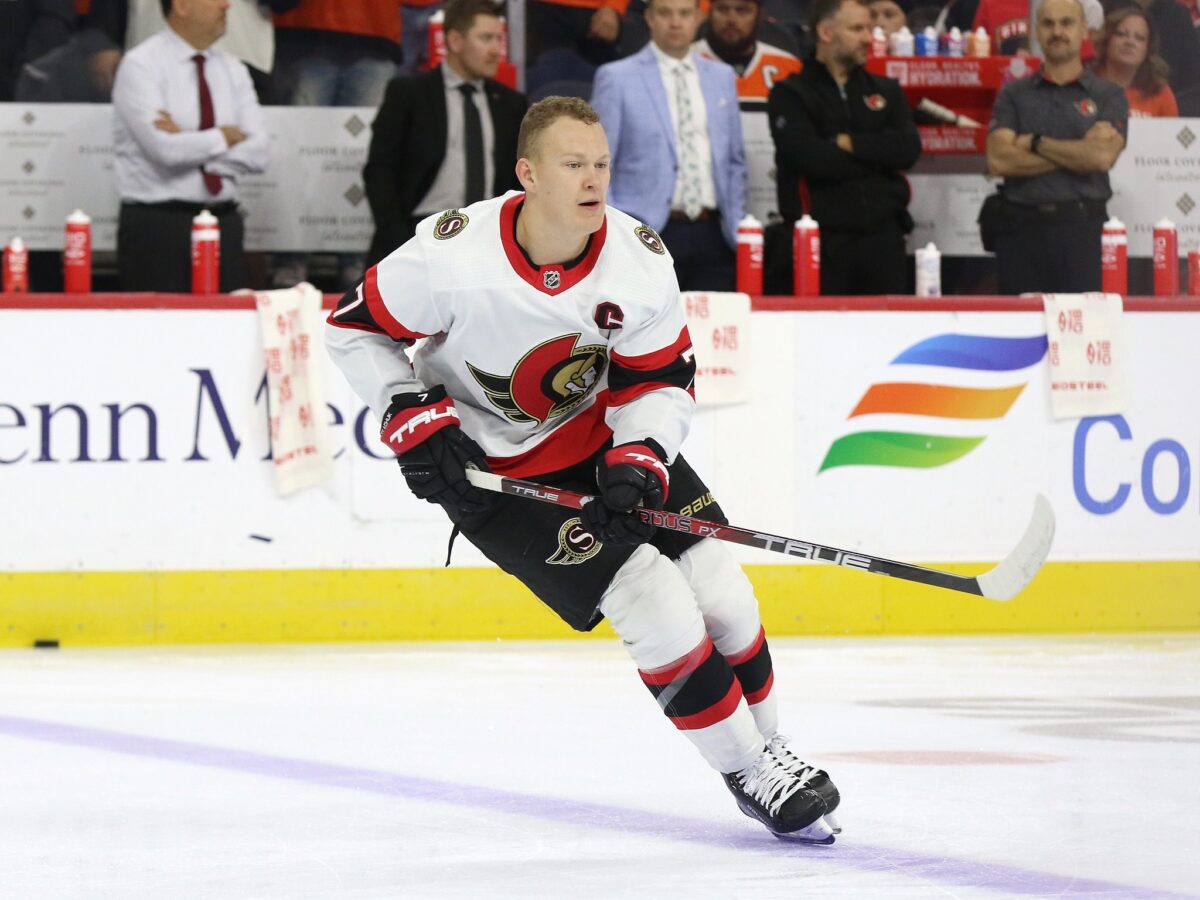 But they have their playoff lives to battle for now and have made valuable progress as a result. Tkachuk is obviously ready for a ticket to the postseason; his no-nonsense style is almost uniquely suited to the rough and tumble of the playoffs.
Stützle also looks the part, with his influence at both ends of the ice at an all-time high. The German has 64 points (29 goals, 35 assists) in 57 appearances this season, which already represents personal records in each category.
While the Senators, as playoff outsiders, will face an uphill battle in the weeks ahead, their struggle will make them better. Whether they make it into a wild card spot or not, Dorion's players stand to gain plenty from the experience.
Ottawa Senators' Finally Acquired Much-Needed Defenceman
"It's a great day for the franchise," Dorion said after the Senators landed a certain defenceman from the Arizona Coyotes. "For us to add a player the calibre of Jakob Chychrun, I think it's exciting for our fans, exciting for the players in that room."
The Senators have needed another top-four defender for a while, especially once it became abundantly clear that the Nikita Zaitsev experiment had fallen flat. In Chychrun, Ottawa has the intelligent blueliner they have long coveted.
"It helps us in every facet," explained head coach D.J. Smith. "He's a big guy that can play in all situations, he's played in the league for a number of years now and he's at the point where he's a difference-maker every night. With our group, his age, he fits in and he's certainly going to help us."
While the arrival of Chychrun is a major boost for the Senators, there is no need for the franchise to shift expectations immediately. Ottawa is on track to play meaningful hockey down the stretch, with the path to the playoffs even clearer next term.
Any early returns on Chychrun would be a bonus for the Senators, as acquiring the 24-year-old is a major win in itself.
Looking Ahead for the Ottawa Senators
In conclusion, the Senators have come a long way this season, despite the turbulence they have experienced. Dorion invested heavily in his roster in the offseason, with a clear objective of playing meaningful hockey down the stretch.
The acquisition of star defenseman Chychrun is a major win for the franchise, and the young core of the team is finally playing important games, which is crucial for their future success.
"The best growth this team can have for future success is to play meaningful games this year," Dorion explained after the trade deadline. "You know what? The players are having fun right how. This group never had this kind of buzz before the Detroit game. So let's let them have fun. Let's them grow and let's see what happens."
The Senators still face difficult math in the weeks ahead, but the experience gained from this season will be invaluable for their future. Whatever happens next, Ottawa should take satisfaction from a campaign of incremental growth.