Now that the trade deadline has come and gone, the Edmonton Oilers' biggest move was acquiring defenceman Mattias Ekholm, although it came at a hefty price. Notably, they traded two draft picks, promising prospect Reid Schaefer and parted ways with Tyson Barrie, who was excellent on the first unit power play and was known as a great locker room presence.
Still, Ekholm has fit in nicely in his three games in an Oilers' uniform, but of course, there were hockey pundits, like Craig Button, that felt Edmonton acquired the wrong defenceman. He said they should've gone harder after Jakob Chychrun, who ended up being dealt to the Ottawa Senators. He compared the contracts of the two blueliners, with Chychrun at almost a $2 million cheaper cap hit and he compared their age, with the Oilers' defender the elder of the two by eight years, and said, "[Ekholm], is no way better than Jakob Chychrun, in no way, offensively, defensively, contract or age. None of it".
Related: 4 Fun Facts About Oilers' Newest Player Mattias Ekholm
---
Latest News & Highlights
---
Yet, the defensively-sound Ekholm is exactly what the Oilers needed. They needed a defenceman that could shut down the opposition's top lines while transitioning the puck well — and they got him. There's some truth that he's much older than other options that could've been had at the deadline, but there's no denying the significant impact he's making now and it's also important to note the value he brings, by potentially playing a key role in shaping the future of the Oilers' defence corps by mentoring their young defencemen.
Ekholm's Mentorship Can Benefit Fellow Swede on Oilers' Blue Line
Ekholm made a big impression in his first game as an Oiler against the Toronto Maple Leafs on March 1. The Oilers won 5-2 and the strong skating Swede had quite the night, finishing with an assist, three hits, two blocked shots, and a plus-2 rating in 20 minutes of ice time and he played steady in the next two games against the Winnipeg Jets. The hope for the rest of the season is that Ekholm will play a significant factor in the Oilers' quest to capture a Stanley Cup; however, his influence could extend beyond this season and impact the development of the other smooth-skating Swede on the Oilers' back end, Philip Broberg.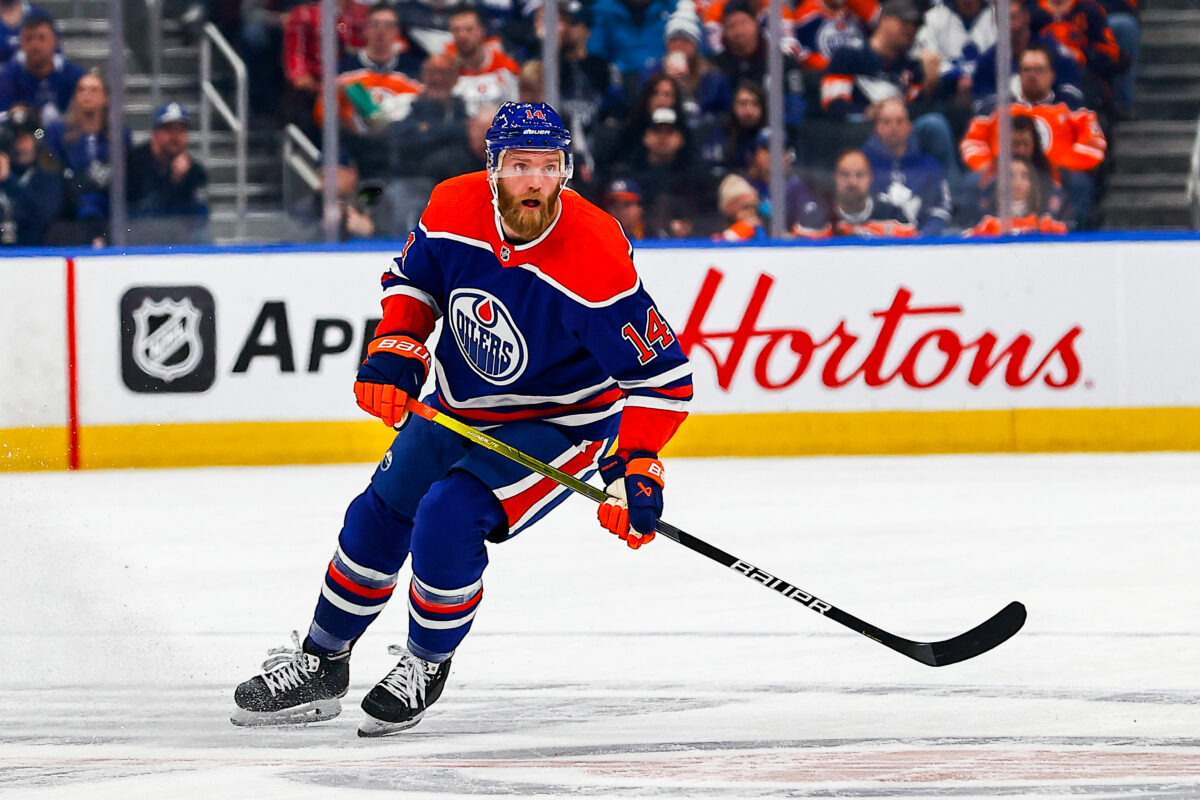 Ekholm and Broberg share striking similarities in several aspects. Both are from Sweden and have suited up for their country in international competitions, both are left-shooting defencemen with size (both above 6-foot-2 and 200 pounds), and both can skate very well for large men. That said, Ekholm has played in the NHL for over a decade and has established himself as a reliable two-way defenceman. In contrast, Broberg has yet to play a full season in the NHL. With the elder Swede's wealth of experience and knowledge, he seems like the perfect mentor for Broberg, a former eighth-overall pick, to help him reach his potential as the next steady two-way defenceman on the Oilers' blue line.
Before coming to Edmonton, Ekholm held a media availability and spoke about his openness to take on a mentoring role with Broberg, saying, "[Oilers] have a young Swedish defenceman there today, I haven't met him yet, but I'm sure I'll try to help him out as much as I can and whoever needs a helping hand, I'll be there as much as I can. That's what we've been doing in Nashville for a long time – we've had some pretty good success developing defencemen over the years, so not at all afraid of that, I think that's just a part of who I am."
Additionally, it seems like Ekholm has already made strides in taking Broberg under his wing, as he mentioned on his day off after the game against the Maple Leafs, that he went for dinner with the younger Broberg. Ekholm's been very impressive in his short stint with the Oilers, and should his talents rub off on the younger Swede, it would be an added advantage for the club that could pay dividends in the future.
Ekholm Might Help Evan Bouchard Reach His Full Potential
Moreover, another player Ekholm can have a significant impact on is Evan Bouchard, who has had an up-and-down season so far. The Oilers' blueliner is only on pace for 27 points, a decrease from the 43 he tallied in the 2021-22 campaign and it's safe to suggest he's experienced a sophomore slump. Yet, since Ekholm's arrival in Edmonton, he's been paired with the young Bouchard and the defensive tandem has put up strong analytics. According to Natural Stat Trick, at 5-on-5, they have a 64.47 Corsi (CF%), 65.12% scoring chances for (SCF%), 83.3% goals for percentage (GF%), 73.13% expected goals for (XGF%), and a 73.68% high danger chances for (HDCF%).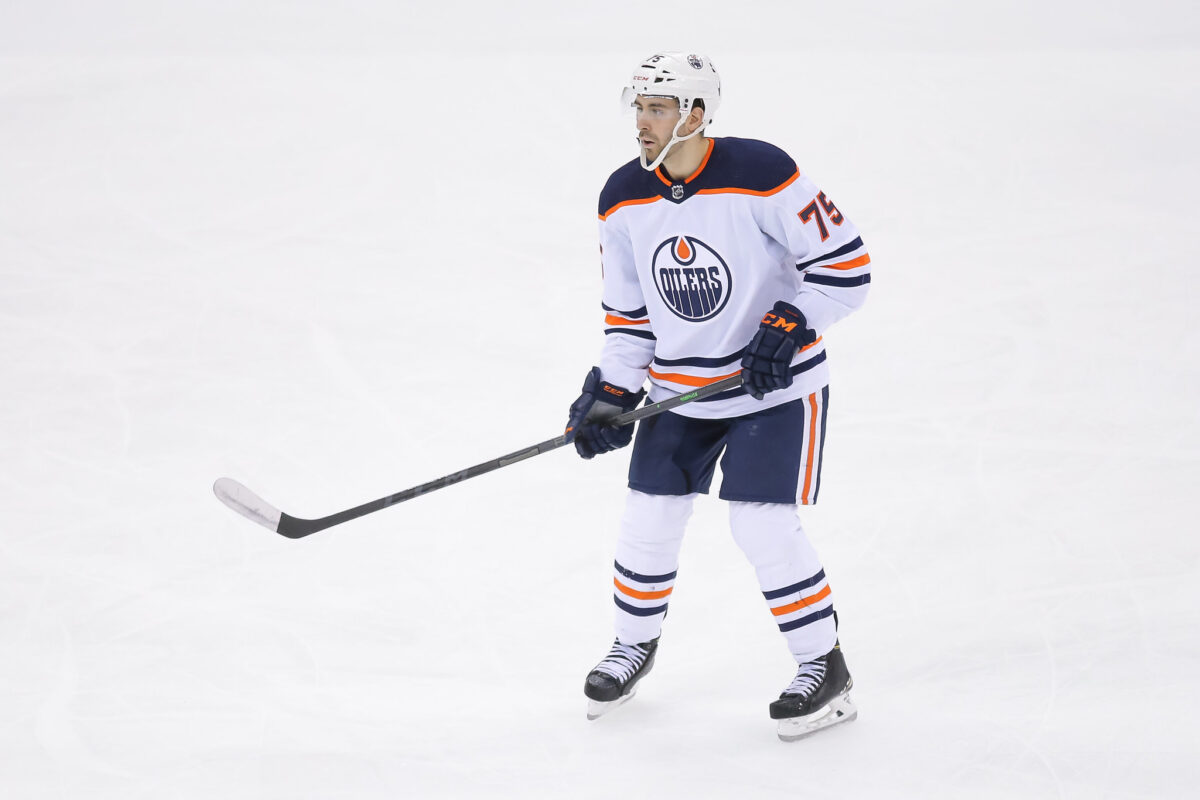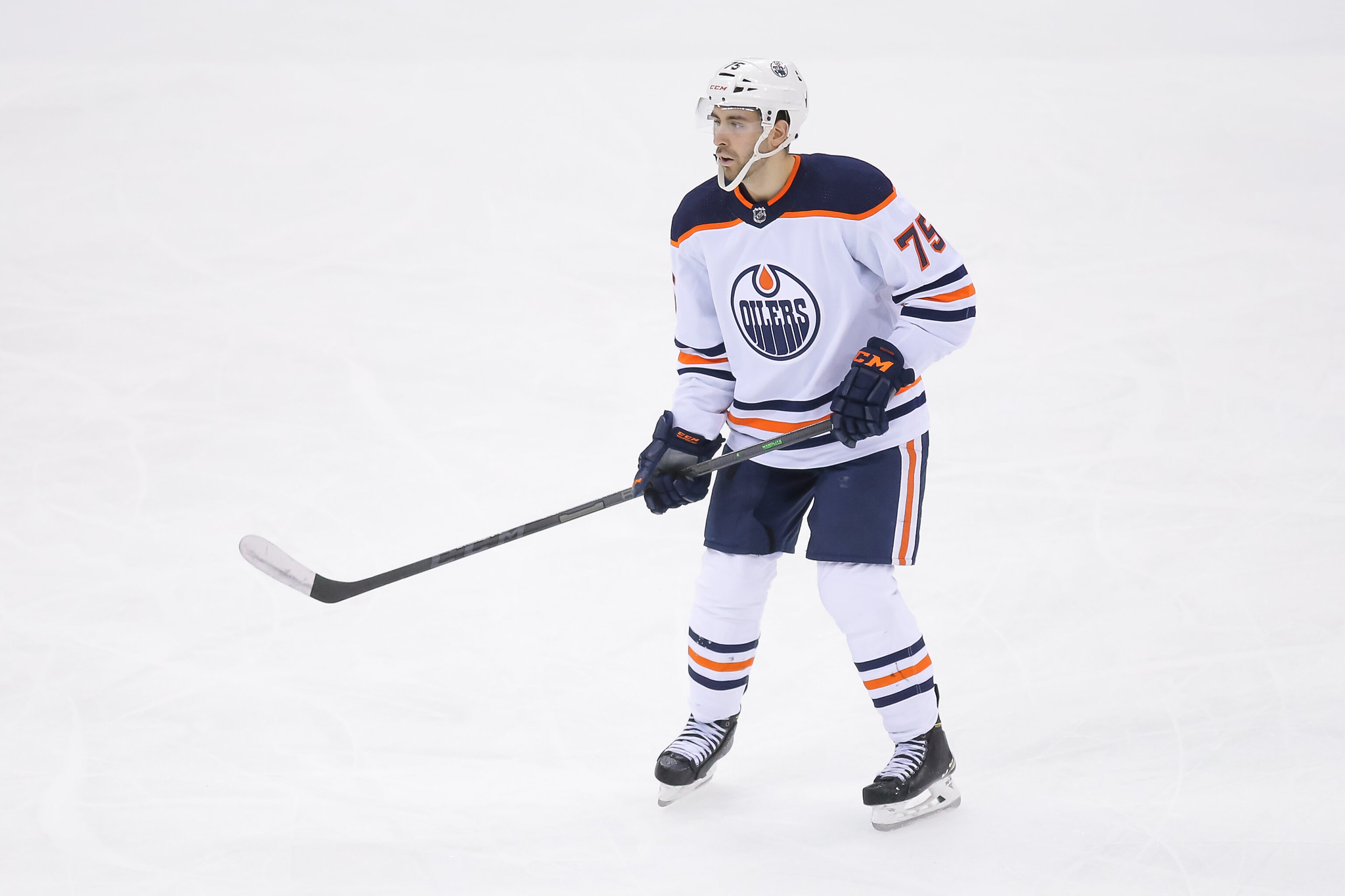 Bouchard played solid in last season's playoffs when paired with veteran Duncan Keith, but he hasn't been able to find his footing with the veteran defenceman no longer on the team. If head coach Jay Woodcroft continues the Bouchard and Ekholm pairing into the postseason, the Swedish defender could provide much-needed support and stability to the young blueliners' game, much like Keith did last season, and it's already showing in the three games they've played together.
Overall, the Oilers' acquisition of Ekholm strengthens the team's defensive depth and provides an excellent opportunity for youngsters Broberg and Bouchard to learn from a seasoned veteran and hopefully develop into top-tier defencemen. At the same time, having lost in the Stanley Cup Final in 2017, Ekholm should be highly motivated for another chance to compete for the Cup.