The Ottawa Senators went on a fantastic run last year, winning their way into the playoffs before their momentum ran out in a first round loss to the Montreal Canadiens. Deservedly so, credit is given to goaltender Andrew Hammond for going 20-1-2 and Mark Stone for being a point-per-game player from January to the end of the year.
As great as Mark Stone was, the Senators don't have an elite top line. First line center Kyle Turris is good but not a star. Clarke MacArthur filled out the top line, but he's not a top line player at this point of his career.
Looking at some of the recent Cup contenders, the Senators can't match a Malkin-Crosby, Getzlaf-Perry, Toews-Kane first line, so to continue building on their surprising year, they will need above average production from their secondary scorers.
The Contenders
The Senators were counting on Bobby Ryan to be a big part of the first line or the centrepiece of a second line, carrying the secondary production. Ryan had another down year, failing to crack the 20-goal mark following a 23-goal campaign in 2013-14. After four straight years of over 30 goals with the Ducks, Ryan hasn't been the same player since coming to the nation's capital.
Mark Hoffman played well during the Senators' hot streak, chipping in with some big goals. The Senators need him to replicate his year and pot 25 goals again. Hoffman has a great shot, good speed, and has put up great numbers in the AHL and junior hockey.
When a player is taken sixth overall, they come with big expectations. It's easy to forget that Mika Zibanejad is only 22 and entering his fourth season in the NHL, but the truth of the matter is that the Senators need him to become the second half of a solid one-two punch with Turris. He hasn't been bad, and he shouldn't be called a disappointment, but they need him to take a step forward.
A Hoffman-Zibanejad-Ryan line could progress to being a top second line, but they will need Ryan to rebound, Zibanejad to take a step forward, and Hoffman to maintain himself and avoid the dreaded sophomore slump.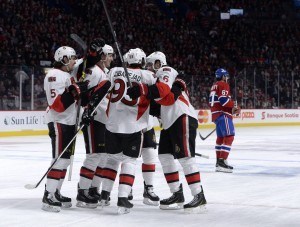 Free Agent Options
The crop of free agents is weak this year, especially at forward. The top two forwards with a scorer's pedigree are Mike Ribeiro and Martin St. Louis, but at 35 and 40 years old respectively, they don't fit in with the youthful Senators. In addition, Ribeiro is probably out of their price range after posting 62 points for Nashville this season and St. Louis just isn't elite anymore.
On a short term deal, St. Louis could be a good veteran presence with experience, but it sounds like he is keen on staying in the Big Apple. The question may come down to whether or not the Rangers would want him back again.
Matt Beleskey has the youth that the Senators would find appealing, but he isn't a notable upgrade on anyone in their top six. He scored 22 goals, but only got 10 assists. For the price he is expected to command, the Senators would be better off spending their money elsewhere. Elliotte Friedman speculates that he could command around $5 million per year.
With a free agent class lacking any star forwards, the Senators would be smart to save their money and avoid getting involved in what is often the day general managers make their biggest mistakes.
The Depth Players
Secondary scoring doesn't need to only come from the second line. The Senators will be counting on depth players to chip in on the third and fourth lines as well.
After captaining Team Canada to gold at the World Juniors in Toronto and Montreal, Curtis Lazar stuck in Ottawa for the rest of the year. He was far from an offensive dynamo in the NHL, but he has the skills to be a two-way force, chipping in with some scoring. He could easily double his point total from 2014-15.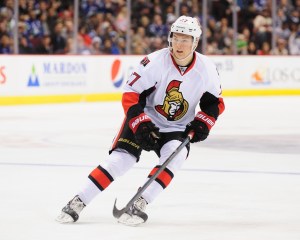 Another former junior star, Jean-Gabriel Pageau has proven he can score at every level except the NHL. The Senators are pleased with how Pageau has progressed. Like Lazar, he has become a good two-way player and the two could see time on the third line together next season. This wouldn't be a traditional grinding line, but rather a responsible trio with scoring upside.
– Happy to call Canada my home, and proud graduate of Wilfrid Laurier University and Conestoga College
– Ottawa Senators writer for The Hockey Writers
– Fantasy sports addict
– World Juniors Hipster (Liked it before it was cool)