If you were to list your top-10 goalies in the NHL today, who would be on that list?
Chances are, the names would start at Carey Price, Pekka Rinne and Henrik Lundqvist, followed closely by Jonathan Quick, Tuukka Rask and Roberto Luongo. The final four names would likely differ between lists, as Ben Bishop, Brian Elliott, Cory Schneider and Semyon Varlamov would all be deserving of the honor.
Corey Crawford may not even crack some peoples' top-15 netminders.
The truth is, though, that he has proved his worthiness over and over again. Already a Stanley Cup champion, Crawford has been a shining reason for multiple victories in his team's quest for a third championship in six seasons.
On Wednesday evening, Crawford was the backbone of a steady defense, which only allowed 25 shots on goal. Crawford allowed just one goal, a beautifully executed play that saw Alex Killorn finish it off while all alone in front of the Chicago Blackhawks net.
The other 24 shots were handled mightily by the Blackhawks netminder, with big stops and tight chances running a muck in the final 90 seconds of the contest.
If Crawford and the Blackhawks can attain two more victories in this year's playoffs, Crawford will possess two Stanley Cup rings before he is 31-years old. Not too shabby for a guy that commentator Mike Milbury condemned "straight to hell."
Yes, Crawford has had his ups and downs, but, with a few exceptions, he has been a capable goaltender since his first-round gaffs — now a distant memory. He was a top pick for the 2013 Conn Smythe Trophy (16-5-2 record, 1.84 GAA and .932 save percentage), but fell just short to teammate Patrick Kane. His 147 regular season wins ranks fourth on Chicago's all-time list, while his career .917 save percentage tops all Blackhawks goalies and his 2.34 GAA makes him the runner-up to only the great Charlie Gardiner from the Great Depression era. Let's not forget the crease-dwelling greats in the Blackhawks' rich history, which includes Ed Belfour, Tony Esposito and Glenn Hall.
What more does he have to do to make it on your list? Will two more wins change your mind?
For Crawford, the lack of appreciation does not seem to matter.
Check out more on Game 4 and the rest of the news around the NHL in today's headlines.
Teammate Brad Richards is impressed by Brandon Saad's play. [Pro Hockey Talk]
Marian Hossa has been a force for the Blackhawks, yet nobody is noticing. [Today's Slapshot]
Jonathan Toews admitted that a loss in Game 4 would have been detrimental to his team's chances. [The Score]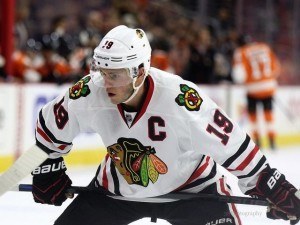 The Coyotes could be shopping the No. 3 pick in the draft. [
Broad Street Hockey
]
The city of Glendale is considering ending the Coyotes' lease agreement. [CBC.ca]
The vote on the Coyotes is being monitored closely by Seattle. [King 5 Western Washington]
The NHL feels that Glendale's treatment of the Coyotes is disappointing. [Toronto Sun]
Check out SBNation's mock draft results. [SB Nation]