The Boston Bruins are facing a tough decision that could have long-term implications on the franchise.
Dougie Hamilton is a restricted free agent. The 21-year-old defenseman is due for a big raise this summer. As NHL insider Darren Dreger reported last week, Hamilton's agents are seeking a contract between $6-7 million per season.
It will be a massive commitment for the Bruins to make given their salary cap situation. The club will have around $7.5 million to work with in the summer to improve their club if the salary cap projection of $71.5 million holds true to form.
Think you'll begin to hear Seidenberg/Chara trade chatter soon. Dougie Hamilton has to be #1 priority for Boston.

— High Wrap Hockey (@HighWrapHockey) June 7, 2015
General manager Don Sweeney is in a very difficult position that old boss Peter Chiarelli put him in with bad contracts and no-movement clauses clogging up precious cap space.
A debate has ensued on whether Hamilton is worth what he wants. One school of thought believes the ninth overall pick in 2012 is the next franchise defenseman and should be paid what he demands. In contrast, others believe it is a big commitment to a player that is not worthy of a contract typically paid out to elite players at the position.
In a debate that has very little common ground, where do you stand?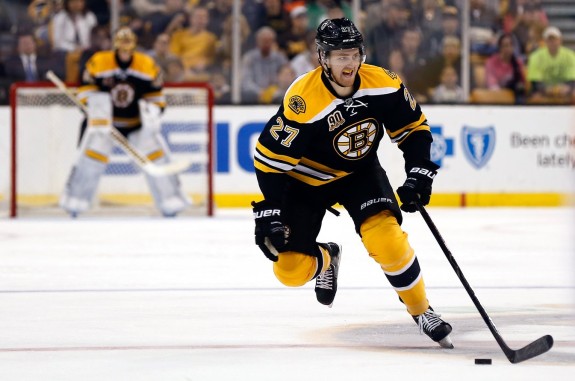 Pay That Man His Money
It is hard to refute the statistics that make Hamilton worthy of a contract. He notched career-highs in goals (10), assists (32), and points (42) this season, leading the Bruins in scoring from the blue line. According to war-on-ice.com, the former Niagara Ice Dog averaged 1.65 points/60 minutes this year, good for 11th among all NHL defensemen who played over 1,500 minutes.
Hamilton has great offensive instincts for a club that is looking to be a more aggressive club on offense next season; at least in Sweeney's eyes.
The Bruins will be an absolute disaster for at least a few years if Dougie Hamilton is in a different uniform this fall. It's pretty simple.

— Pete Blackburn (@PeteBlackburn) June 9, 2015
The young blueliner is thought to be Zdeno Chara's heir apparent as Boston's next franchise defenseman. The Bruins captain is not getting any younger while Dennis Seidenberg is not the same player he was pre-ACL tear in 2013.
Zach Trotman, David Warsofsky, and Joe Morrow are lying in wait to contend for roster spots next season but are not of the same caliber as Hamilton. His camp will have additional leverage knowing how thin the Bruins will be on defense if their client accepts an offer sheet to go elsewhere.
Hamilton is the hottest defensive prospect to stroll through Causeway Street since Ray Bourque in the 1980s. Sweeney and the Bruins would be keen to get the ball rolling on contract negotiations sooner rather than later.
Let Him Go; Take The Picks
There are two major sticking points when it comes to the argument that Hamilton is not worth a big contract.
The first is his defensive zone play. The six-foot-five defenseman is still growing into his frame and can be an adventure in his own end sometimes.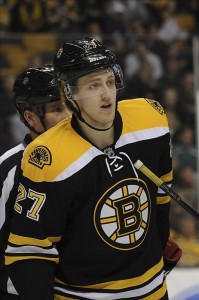 A glaring example is when he was paired alongside Seidenberg earlier this season after Chara went down with an injury. The top defensive pairing looked rather uncomfortable at times and did not mesh well together. In addition, Hamilton is not overly physical and is not known for clearing the crease like a top defenseman should.
If he wants to be paid like a number one, the Toronto native has to show more progress in the defensive zone. As long as coach Claude Julien is behind the bench, defense is priority number one in Boston.
The second is the Bruins cap situation. Sweeney knows he will have to get creative to keep his most prized possession this summer. If Hamilton gets what he wants, that will leave Boston with almost no room to improve their roster.
If the Bruins brass are not wanting to give in to his demands, they could settle for draft pick compensation. According to the collective bargaining agreement, Boston would be entitled to a first, second, and third round pick if another team were to present an offer sheet and sign Hamilton between $6-7 million per year.
Three draft picks are tough to pass up but there could be a tug-of-war at work between Hamilton's camp and Boston's fortress over term and salary. If Hamilton's agents are not willing to budge, settling for the picks may be a necessary evil.
On @DaleHolleyWEEI, Don Sweeney calls Dougie Hamilton "a major building block." "He's an important part of our organization."

— Scott McLaughlin (@smclaughlin9) May 21, 2015
Sweeney and the Bruins have three weeks to decide on what they want to do before other teams can swoop in and starting courting Hamilton's agents with offer sheets; but first, they have to sit down at the negotiating table.
Time is running out for the club to make arguably the biggest offseason decision they have had to make in sometime.
Will Dougie Hamilton stay or go? That is a question that we will know the answer to in due time.
Joe is a writer covering the Boston Bruins. He is a lifelong native of Massachusetts and is currently a content writer/manager for a newsletter at a Human Services Agency. Joe can be found on Twitter: @JoeCherryTHW