The 2020-21 season will mark head coach D.J. Smith's second season at the helm of the Ottawa Senators. Smith signed a three-year contract with the organization on May 23, 2019, after serving as an assistant coach with the Senators' 'Battle of Ontario' rivals Toronto Maple Leafs.
When he was hired, the organization was in year two of its rebuild and was expected to be in the league basement in his first season. Management placed few expectations on Smith and the team's performance in the 2019-20 season. After reviewing his first season at the helm, there's room for improvement.
A Year in Review
Smith's first full season was a losing one, to say the least; the Senators had a 25-34-12 record for 62 points. They finished second-last in the league, only beaten by a terrible Detroit Red Wings team. They were abysmal on the road, going 7-21-6. It's tough to rate Smith's performance this past season, simply because the team he had to work with had few impact players, and some who were only borderline NHL calibre.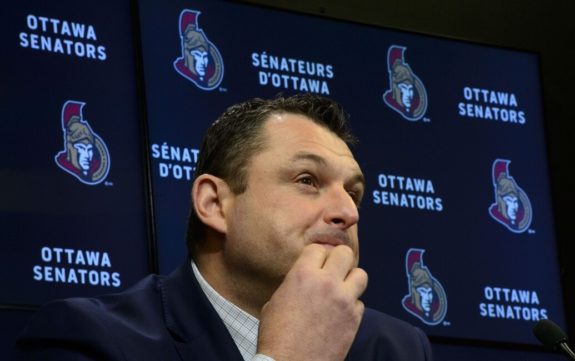 One of the most important things Smith did last season, something that few NHL coaches have the gall to do, was bench players regardless of their experience or contract. Mikkel Boedker brought very little to the lineup (and that's saying something), which is why he only played 20 games in 2019-20. Though Bobby Ryan took a leave of absence for personal reasons, he's another example. He only played in 24 games before they bought out his contract.  
This gave younger, hungrier players like Nick Paul and Anthony Duclair the opportunity to find a place on the roster, and they ran with it. Smith's willingness to let young players make mistakes is crucial for a team that is still looking for its identity. Letting Duclair play to figure out his defensive deficiencies was an excellent teaching opportunity, especially since the season was a lost cause from the start. But it seemed Smith only gave this chance to some players and not all of them.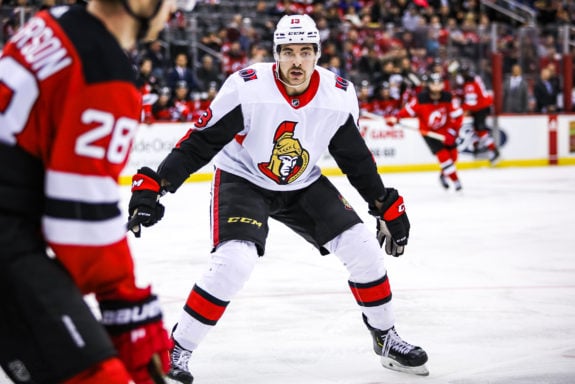 Smith's usage of Ron Hainsey had many fans scratching their heads from the get-go. The same went for Nikita Zaitsev, who was a step up from Cody Ceci, but was still frustrating to watch. Or the Scott Sabourin project, a gritty forward who was given many opportunities in the lineup but never made much of it. All of this was on top of the lack of legitimate opportunities given to high-end prospects like Drake Batherson, Logan Brown, and Josh Norris.  
Let the Kids Play
Norris won Rookie of the Year in the AHL, Batherson averaged 1.23 points per game (P/GP) in the AHL, and Brown was a 1.12 P/GP player. They all have high offensive upside and were given very limited opportunities in offensive roles. Batherson, in 23 games, averaged 15:34 time on ice (TOI), Norris played 3 games and averaged 17:55 TOI, and Brown appeared in 23 games with an 11:45 TOI. At face value, these times are relatively robust, but they were on lines bound for limited success. All were sent down throughout the season.
Even sophomore Colin White had very few chances to play top-six minutes this past season. The list of young players that probably deserved an opportunity but did not get one is endless. Did some of them deserve to play over older players? Maybe not, but it was supposed to be a season of "playing the kids."
On the flip side, however, was Smith's usage of top players Thomas Chabot and Brady Tkachuk. This will hopefully pass on to Tim Stuetzle this coming season (if eligible to play). Chabot was played in every situation and even set an even-strength ice time record of 33 minutes this past season.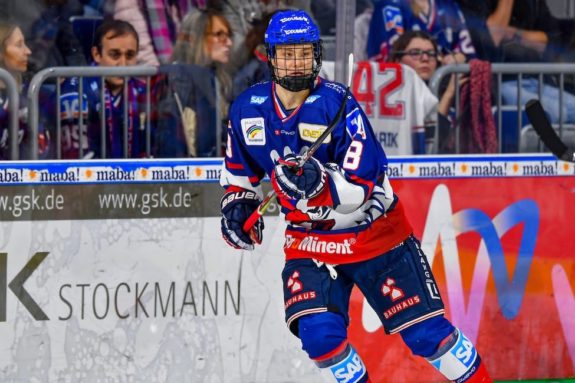 Tkachuk matched his previous season point output (without Mark Stone) of 44 points. Next season, Smith's distribution of the two will assumingly go up as the Senators prepare to take the next step in the rebuild.  
Smith Leaves Room for Improvement
Duclair, Hainsey, and Ryan, to name a few, won't be back with the Sens next season, so spots will be available for prospects hungry to make an impact. That doesn't necessarily mean their position will be guaranteed, especially under Smith. But with a young crop of players available, giving them an opportunity would show his dedication to the "play the kids" mantra. Of course, those who are performing well should get the opportunity to play but giving rookies no room to make mistakes could ruin their confidence.
In his first season, Smith did well to round out Chabot's overall defensive game relied on him heavily and he was able to get the best out of most players. Smith is a "player's coach" which should work well for the young players joining the team. If he can continue to build positive relationships with his players, he might be in Ottawa for the long haul.
Next season, the Senators should be better on paper with some key additions like Evgeni Dadonov, Matt Murray and rookie Stuetzle to the lineup. If Smith builds the lineup around the skilled rookies, he will improve the Senators significantly. With an improved roster, he'll have more versatility in his lineup and that will deliver better results. There are very few expectations on the Senators and Smith heading into 2020-21, but even finishing 3rd to last would technically be an improvement.
---
---