The last time the Ottawa Senators were in a playoff game, they could not beat Matt Murray. The Sens lost Game 7 of the 2017 Eastern Conference Final in double overtime to Murray and the eventual Stanley Cup champion Pittsburgh Penguins.
As the Senators rebuild and stockpile talent and prospects in anticipation of their next playoff run, Murray will be backstopping them rather than stonewalling them.
Related: Rankings the Senators' 1990s 1st-Round Picks
Murray is now at the apex of a goaltending system that has both talent and depth. The Senators have been stockpiling prospects since the beginning of their rebuild two years ago. Murray is the man who will be between the pipes for the near future, and there is a lot of high end talent in the pipeline behind him.
Murray Signs Extension
Murray was acquired by the Senators on Day 2 of the NHL Draft (Oct. 7) for 20-year-old forward Jonathan Gruden and the 52nd-overall pick, which was used by the Penguins to select Finnish goalie Joel Blomqvist. Gruden, a graduate of the U.S. National U17 and U18 teams, spent one year with Miami University (Ohio) before joining the OHL's London Knights last season.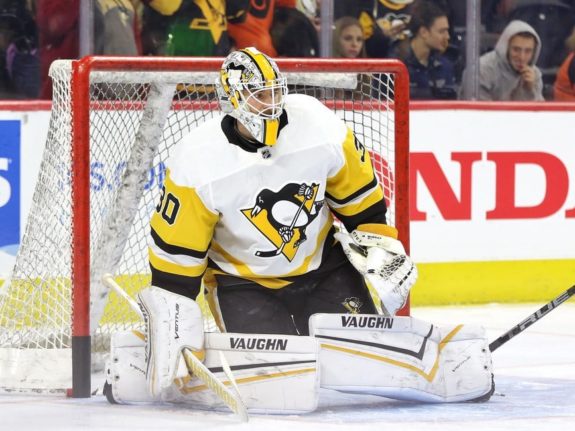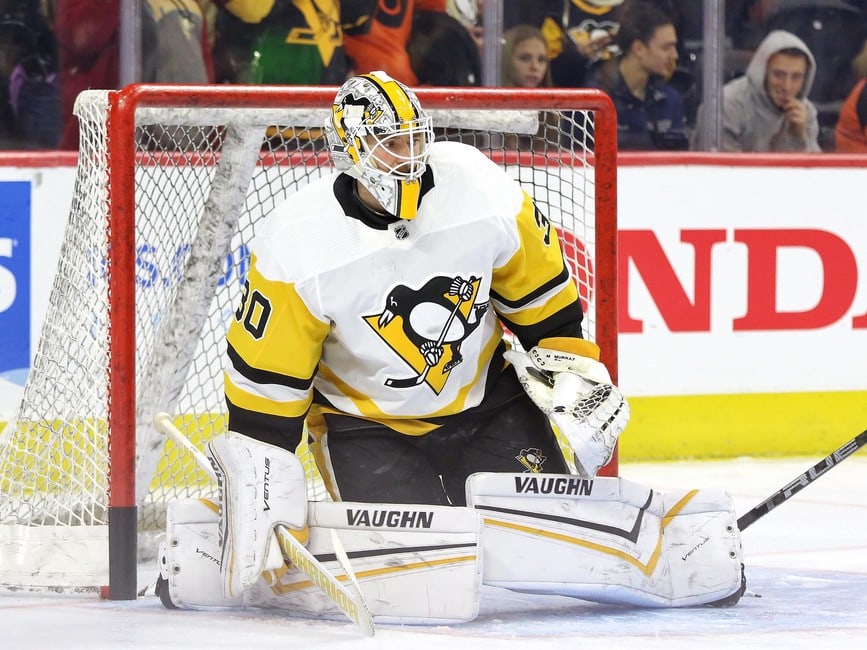 In 59 games with the Knights, Gruden scored 30 goals and 66 points. Blomqvist spent last season with Karpat's Junior team and was the starting goalie for Finland in last year's World U18 Championship. He is expected to be the starting goalie for Finland in the World Junior Championships in Edmonton in December.
On Friday, the Senators signed Murray to a four-year, $25 million contract with an average annual value of $6.25 million; he will receive $4 million in 2020-21, $6 million in 2021-22, $7 million in 2022-23, and $8 million in 2023-24. The two-time Stanley Cup champion is expected to be a cornerstone of the Senators' rebuild.
"The acquisition of Matt Murray represents an important addition to our lineup," said Ottawa Senators general manager Pierre Dorion in a media release. "He's a proven goaltender who has considerable high-pressure experience and someone who we're certain will serve as an exceptional mentor to our young group of upcoming goaltenders."
While the Senators are rich in goaltending prospects, the Murray acquisition addressed their immediate need for a starter after they had moved on from veteran Craig Anderson, opting not to offer the 39-year-old a new contract.
Anders Nilsson played well last season as the backup, going 9-9-2 with a team near the bottom of the standings before a concussion ended his season on Dec. 16. Dorion spoke with the Ottawa media via Zoom last Wednesday and indicated that Nilsson has not been on the ice since his injury, yet he remains hopeful that Nilsson will be ready to start the 2020-21 season.
Rich With Prospects
In their system, the Senators have Filip Gustavsson who was loaned to Södertälje SK in Sweden for this season. He has played two games to date: on Sunday, he earned his first win of the season, shutting out Kristianstads in a 6-0 victory. He was also acquired from the Penguins and spent most of last season with the Belleville Senators (AHL) where he had a 3.23 goals against average (GAA) and a .889 save percentage (SV%) in 24 games. He was called up to Ottawa twice last season but did not see any action.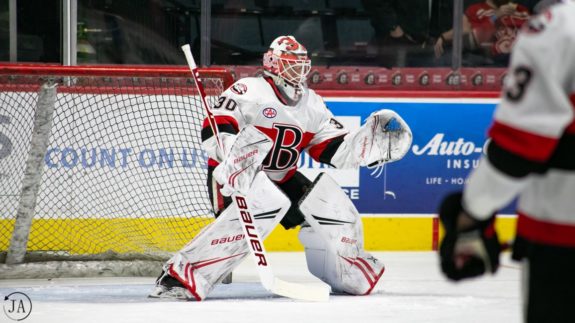 While Gustavsson was considered the most NHL ready among their goaltending prospects last year, he did struggle with consistency in Belleville. His upside is solid, as he is fundamentally sound with a lightning quick glove hand.
Joey Daccord, who played one NHL game with the Senators late in 2018-19 after finishing his collegiate career with Arizona State, played 12 games with the Brampton Beast (ECHL) before joining Belleville for 24 games last season. Daccord was impressive in Belleville, with a 15-6-2 record, a 2.61 GAA and a .915 SV%.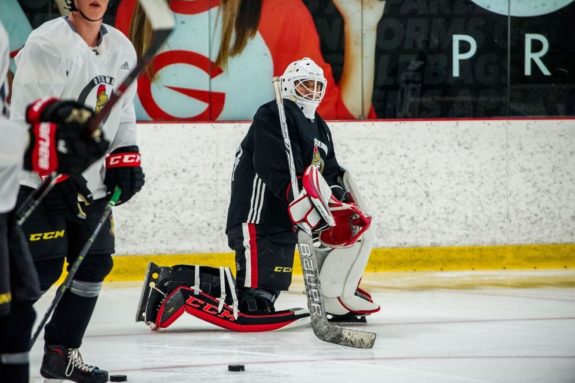 Daccord was a late round draft pick — the Sens selected him 199th overall in 2015 — but he blossomed at Arizona State. He earned NCAA West Second Team Honours in 2018-19. Being drafted 199th overall was special for the Massachusetts native. He is a Patriots fan, and one of his boyhood idols, Tom Brady, was selected 199th overall by the New England Patriots.
Various scouting reports had said Daccord had a tendency to let in soft goals and was untested against higher levels of competition. Once he got to Belleville, he erased many of the those doubts. Daccord's play was one of the main reasons the B-Sens were able to make a second-half run and finish the 2019-20 season in first place in the AHL North Division. In his first full season as a pro, Daccord was arguably the most improved player in the Senators' system.
Another top goaltending prospect is Kevin Mandolese, who won the QMJHL's Goaltender of the Year Award last season. He had a 26-8-1 record with a 2.33 GAA and a .925 SV% with the Cape Breton Eagles last season and he is a tall, athletic goalie who patterns his game after Murray.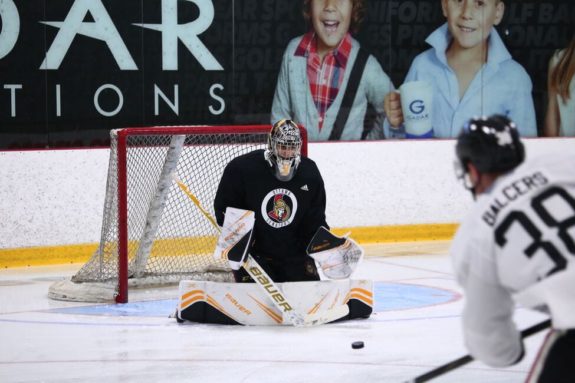 Although Mandolese had a breakout year, a deep run in the QMJHL playoffs would have been beneficial for his development.
The Senators also selected Mads Sogaard 37th overall in 2019. He is a 6-foot-7 goalie from Denmark, spent the last two seasons with the Medicine Hat Tigers (WHL) and had a 21-13-2 record with a 2.53 GAA and a .908 SV% last season. He also played for Denmark at the World Junior Championships.
The other goalie in the mix is Marcus Hogberg. The 25-year-old Swede is another big goalie in the system, at 6-foot-5 and 209 pounds. Hogberg played in 15 games in Belleville before being called up to Ottawa when Nilsson suffered a concussion. He played 24 games for the Senators as Anderson's backup, posting a 5-8-8 record with a 3.12 GAA and a .904 SV%. If Nilsson is not ready to play when the 2020-21 NHL season gets underway, Hogberg is the likely candidate to stay in Ottawa to back up Murray.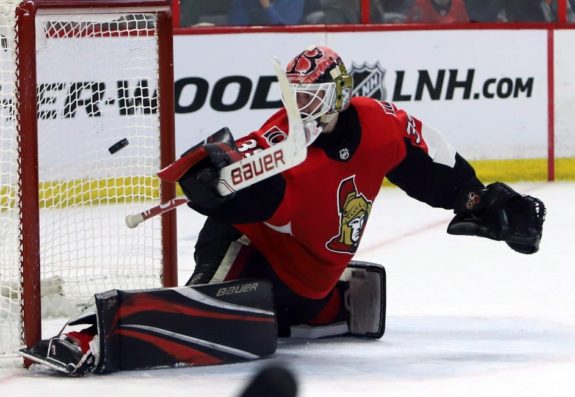 With the second wave of COVID-19 and Nilsson's concussion being the main variables in play this season, the biggest challenge for the Senators will be finding ice time for their goaltending prospects.
Related: Senators Showdown – Patrick Lalime vs. Craig Anderson
If they all continue to develop as planned, the already prospect-rich Senators may also use one or more of these goalies as assets to move in future trades as they continue to build for what looks like a promising future in Ottawa.
---
---