In this edition of Ottawa Senators News & Rumors, I'll share some of the news emerging from the Senators organization since the 2020 NHL Entry Draft this past week. From the outside looking in, it seems as if the Senators are successfully building the pieces, so that the team can emerge quickly from its rebuild.
Item One: Senators Trade for and Sign Goalie Matt Murray
In the biggest move of the week for the Senators, during the second day of the Draft, the Senators traded for goalie Matt Murray from the Pittsburgh Penguins. To get the 26-year-old Murray, the team sent a prospect (forward Jonathan Gruden) and a 2020 draft choice (the second-rounder previously picked up from the Columbus Blue Jackets – 52nd overall) to the Penguins.
Related: Senators Get Bigger, But Not Better, on Draft Day 2
Senators general manager Pierre Dorion noted, "The acquisition of Matt Murray represents an important addition to our lineup. He's a proven goaltender who has considerable high-pressure experience and someone who we're certain will serve as a exceptional mentor to our young group of upcoming goaltenders."
Last season, Murray's record was 20-11-5 record with a goals against average (GAA) of 2.87 and a save percentage (SV%) of .899 in 38 games. In 199 career NHL games (all with the Penguins), his record is 117-53-19, a 2.67 GAA and .914 SV%. He's also suited up for 51 career postseason games, ranking third all-time for the Penguins with a record of 29-21 and tied for second with six shutouts.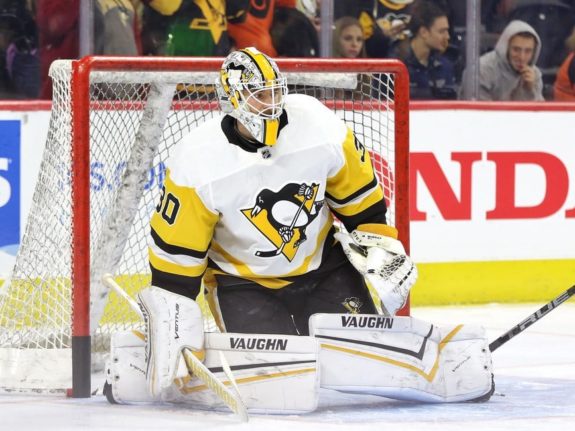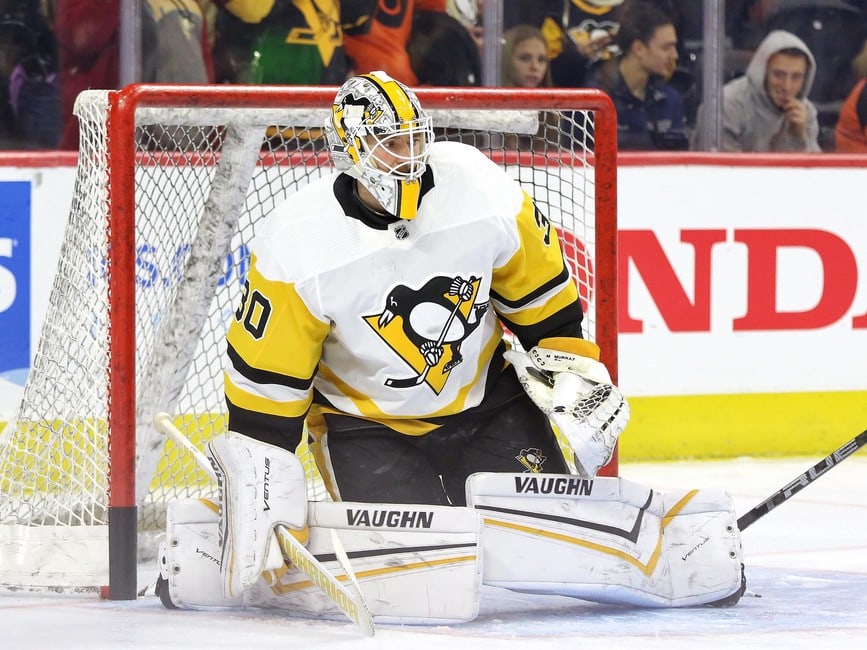 After the Penguins signed Tristan Jarry long-term, it couldn't have been a surprise to Murray, a native of Thunder Bay, Ontario, that he would be traded this offseason. However, I wonder if he thought he would be returning to his home province – especially to Ottawa. There were rumors he was on the Toronto Maple Leafs' radar.
When Murray came to the Senators, he was a restricted free agent with arbitration rights. He had just come off a three-year, $11.25 million contract. Prior to the signing, Murray said, "I definitely hope we can get something done so I can be here for years to come."
It didn't take long for the Senators and Murray's agent to crunch the numbers and come up with a deal. Within two days, he had inked a four-year, $25 million contract with the Senators. It's hard not to think of the departed Craig Anderson – in his eighth NHL season at 29 moved to Ottawa and was recently voted the Senators' best goalie in franchise history.
Murray is moving to Canada's capital in his sixth NHL season at 26, and one wonders if he'll break Anderson's records with the team. There's no doubt the team believes Murray will bring stability to the net. In addition, the Senators are building past the rebuilding team it was during the 2019-20 season. The team's starting to stockpile high-quality prospects and young players who might begin to flesh out the roster as early as next season.
The Senators have their new starting goalie signed through the 2023-24 season. Although he's still young, Murray has the veteran experience of playing almost 200 regular season NHL games. He's also played in pressure postseason games and has collected two Stanley Cups to show for it. His signing should help the team escape the rebuild. From my perspective, Dorion has been masterful with this process.
Murray agrees. Immediately after the trade, he said, "This is a young team stacked with talent and heading in absolutely the right direction."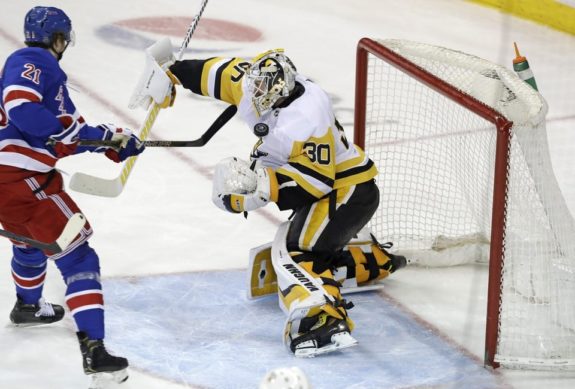 Can he help push in that "right direction?" There's a chance. Although he's suffered injuries – including concussions and lower-body injuries – he's still the seventh-fastest goalie in NHL history to have 100 regular season victories in 166 games.
Related: Ottawa Senators 2019-20 Goalie Review: Nilsson, Hogberg & Anderson
He'll also become one of the "old guys." At the time of his trade, no other player had 300 games of NHL experience. However, shortly after the Murray trade, Dorion traded for Erik Gudbranson who brings over 500 games of NHL experience with him to the Senators.
Item Two: Erik Gudbranson Is Coming Home to Ottawa
On Thursday, as noted above, the Senators traded a fifth-round pick in the 2021 NHL Draft for Erik Gudbranson from the Anaheim Ducks. Gudbranson is happy to be headed home to Ottawa.
After the trade, Dorion noted, "Erik Gudbranson provides another sizable presence to our defense corps. He's a reliable veteran who plays an intimidating style of game and someone who will add a combination of grit, energy and, most importantly, leadership to our lineup."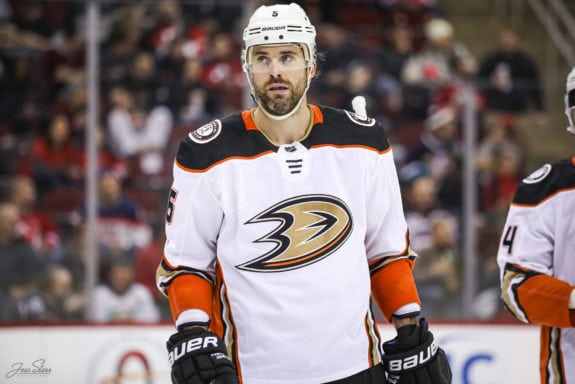 Gudbranson also weighed in on his trade: "It's going to be very exciting. It's one of those things that you think maybe this can happen and how cool it would be after playing in different cities and actually coming back home and getting that opportunity. It happened so quickly. It came right out of left field for me but I couldn't be more ecstatic and more excited to come back home and play."
Related: Kris Versteeg: A Well-Travelled and Successful NHL Career
Gudbranson hit last season's stat sheets for four goals, five assists, 91 penalty minutes, and 76 hits in 44 games with the Ducks. He has a year left on a contract that carries a $4 million salary cap hit. The 28-year-old Gudbranson is an experienced defensive defenseman who'll likely skate on the team's bottom pairing.  
Item Three: Senators Pick Up Austin Watson from the Nashville Predators
On Saturday, the Senators traded another 2021 draft choice (a fourth-rounder) for Austin Watson from the Nashville Predators. Since being chosen 18th overall in the 2010 NHL Entry Draft, he has played more than 308 games with the Predators. Interestingly, he has garnered 358 penalty minutes in those games. Last season, he scored six goals and eight assists (14 points) in 53 games.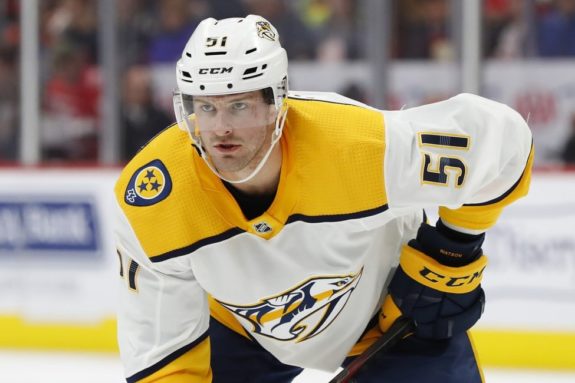 There's a pattern emerging in the trades Dorion's made. Watson is 6-foot-4 and weighs over 200 pounds. He plays with an edge. Gudbranson is 6-foot-5 and plays with an edge. That will take some of the pressure off rising star Brady Tkachuk to be the enforcer on this team.
What's Next for the Senators?
The Senators have some salary cap space left, so Dorion might not be done. I am particularly interested in the fate of Anthony Duclair, who didn't receive a qualifying offer from the team. I still think there's a chance he might circle back to the Senators.
Related: Senators' Duclair: Trade Bait or Extension Candidate?
This situation might be worth watching. I think Duclair has some game and the rumor was that Dorion offered him a raise, but Duclair wanted to test the free-agent market – representing himself.
Senators fans should be pleased with how their team is building.
---
---