The University of North Dakota Fighting Hawks is as close to must-see TV as it gets for Ottawa Senators fans in 2020-21, even after the NHL season begins. Four of UND's key players were drafted by the Senators in one of the first two rounds between 2018-2020, and they all figure to play prominent roles on one of college hockey's best teams.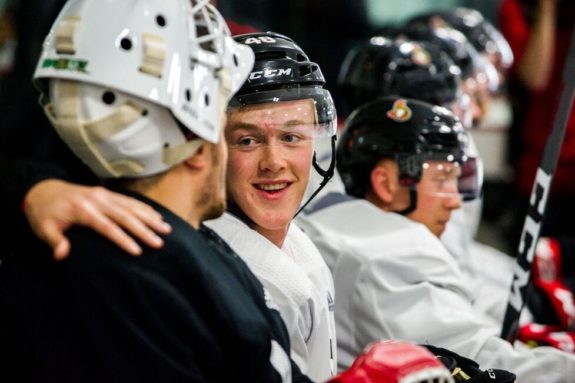 As the Ottawa Senators have toiled at the bottom of the NHL standings for the past three seasons, fans have found solace in the success that their AHL affiliate has had at developing talent. The Belleville Senators improved from the third-worst record in 2017-18 to the sixth-best win percentage (and second-most wins) last season. Many prospects central to their success are now competing for permanent roles in the NHL.
While there is still plenty of talent left on the farm team's roster, Senators' fans might want to keep an even closer eye on the Fighting Hawks this season — UND may be developing some of Ottawa's brightest future stars.
Jake Sanderson, D: Round 1, 5th Overall (2020)
Of the six newcomers at North Dakota this season, none should have a bigger impact than Sanderson. The first defenceman taken in this year's draft was ranked third in The Hockey News' Top 100 NCAA Players to Watch in 2020-21, and frankly, that might be too low.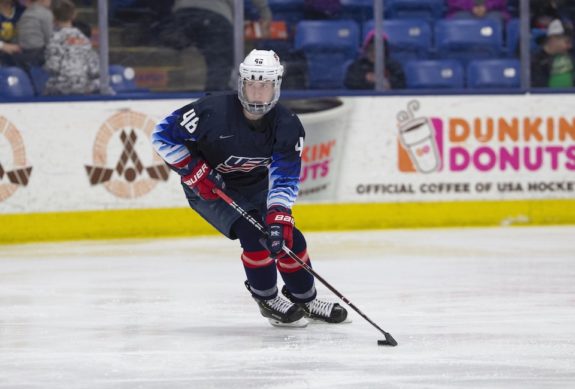 Offensive stars get all the glory and dominate the highlights and headlines, but Sanderson is the rare prospect who's equally exciting to watch on the defensive end. He uses elite edgework and effortless speed to close the gap and take away time and space from his opponents. In the rare instances he finds himself out of position, his dynamic skating acts as a cheat code to shut off open lanes in an instant.
And he might make those highlight reels before long; UND's head coach Brad Berry is bullish on his new defenceman's offensive talent. Sanderson flashed some playmaking prowess with the NTDP (under-18) last season, leading all blueliners with 7 goals and 22 assists in 47 games.
His shot is still developing, but the young defender already uses his long reach to shield the puck and let it rip from unexpected angles. The Fighting Hawks have a highly-regarded development program, and if Sanderson can put it all together and emerge with a polished skill set, his ceiling is ridiculously high; in the meantime, he should be one of college hockey's best defenceman from the instant he steps on the ice.
Jacob Bernard-Docker, D: Round 1, 26th Overall (2018)
The Senators have seen first-hand just how well UND can develop defenceman — Bernard-Docker is a prime example. The Canadian impressed in 36 games as a freshman, scoring the fourth-most points on the team (17), and twice earning NCHC Defenseman of the Week honors.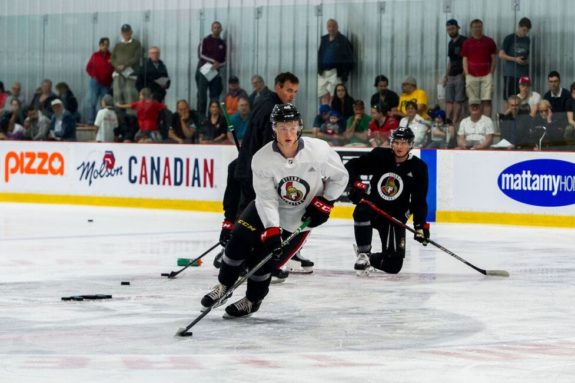 He broke out in his sophomore season, increasing his point total to 25, adding a team-leading 45 blocks, and finishing with the third-best plus/minus (+21) in the NCHC. He also showed promise on the powerplay, scoring the team's second-most PPG (4).
The defense has always been there, but his playmaking abilities were a revelation. Bernard-Docker had four multi-point games, including four assists in an 8-1 win over Canisius in October. (from 'Bernard-Docker has UND's first 4-point game since 2017,' Bismarck Tribune, 10/14/2019) Most importantly, he clearly distinguished himself as a leader.
"His peers voted him as an assistant captain, and I think that [experience] is something you can't replace," Berry told TSN. "… His leadership is going to be counted on."
He was also one of Canada's leaders on and off the ice en route to their gold medal at the 2020 World Junior Championships. His stats don't jump off the page (one goal in seven games), but he led a talented squad in ice time, often shutting down the opposition's most dangerous players.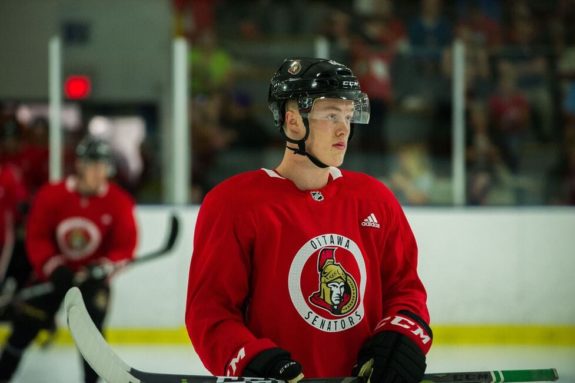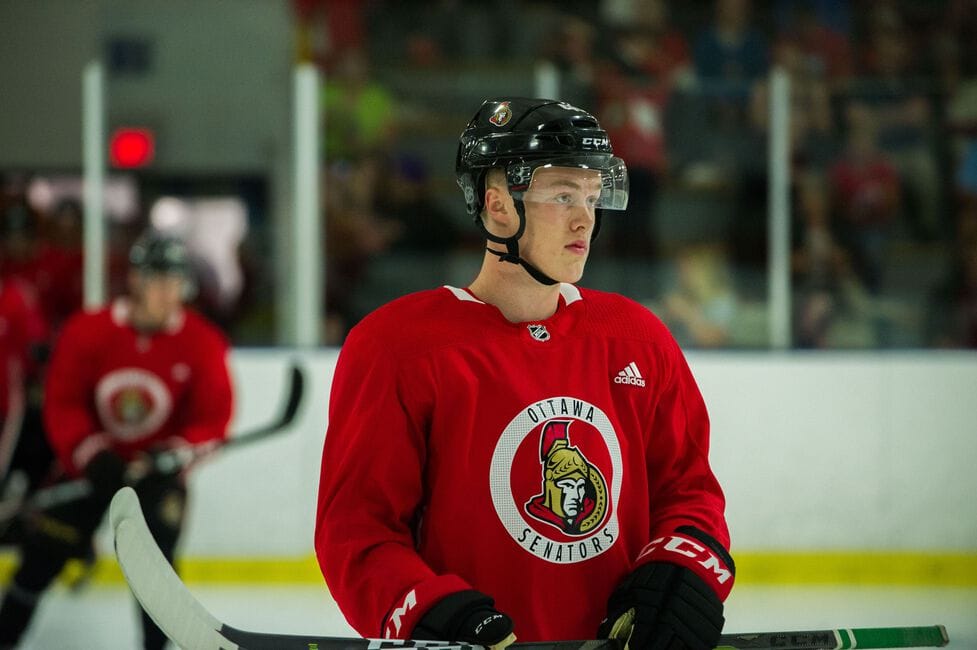 Berry confirmed he plans to pair Bernard-Docker with Sanderson at 5-on-5, on the powerplay and the penalty kill. The opportunity to gain familiarity with each other's game could be hugely beneficial to both D-men and potentially set them up to play together at the next level. You'd be hard-pressed to find a more exciting defensive duo in all of college hockey.
Shane Pinto, C: Round 2, 32nd Overall (2019)
Pinto is exciting enough to demand attention in his own right. The big center was a dynamic scorer in his freshman season at North Dakota, leading the team in goals (16) and PPG (5). He scored four more times and added three assists at last year's World Juniors, proving his production in the NCAA and the USHL (over a point-per-game in both seasons prior to college) was no fluke.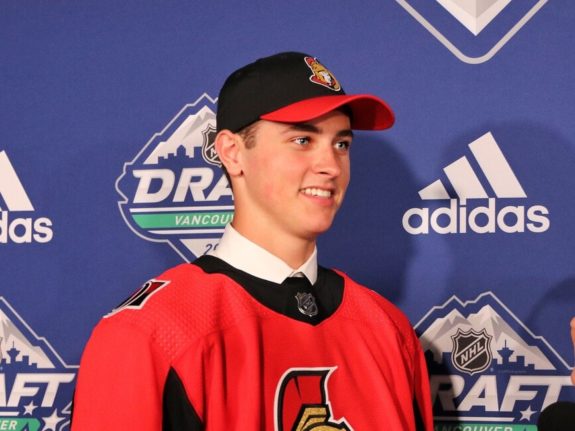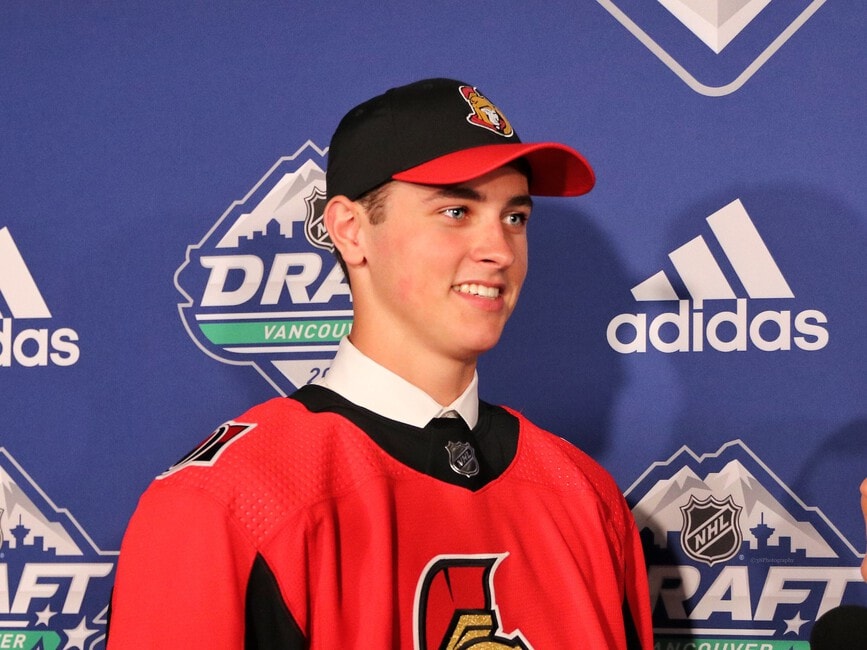 He was named the NCHC Rookie of the Year and to the All-Rookie Team, so it's understandable that expectations for his sophomore season are high. Berry declared him "one of, if not the best forward" on the team, and Pinto will get every opportunity to eclipse his impressive rookie numbers.
While his game has plenty of flash, the intangibles are equally promising. He already holds the best career faceoff win percentage (61.1) in UND history and won more than 64% of his draws in the second half of the season. His faceoff mastery will provide plenty of opportunities for the Fighting Hawks' talented blue line, especially with the man advantage.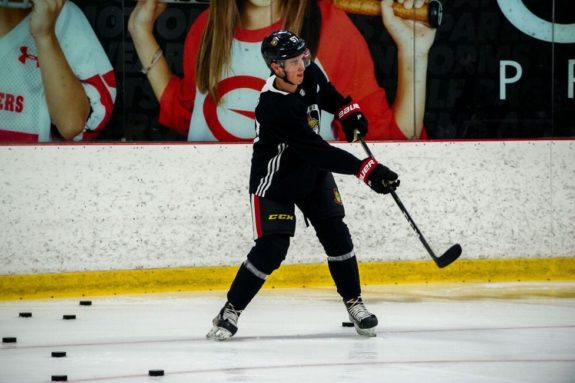 Pinto's drive and love for the game might be his greatest assets. He's gained a reputation as a diligent worker with a competitive fire and consistent presence at the rink. The sudden cancellation of last year's playoffs due to COVID-19 did not sit well with the young forward.
"We have a lot of unfinished business and that's a big reason why I came back," Pinto said. "We want to win and the fact we couldn't have any closure on last season was tough."

Shane Pinto
North Dakota is the odds-on favorite to win a National Championship in 2020-21, providing Pinto with the perfect opportunity to avenge last season's disappointing finish.
Tyler Kleven, D: Round 2, 44th Overall (2020)
With all the two-way talent on UND's blue line, it would be fair to assume Kleven might get lost in the shuffle. But the 6-foot-4, 200-pound defender is hard to miss. He won't rack up nearly as many points as his more highly-touted teammates, but he'll make a big impact nonetheless.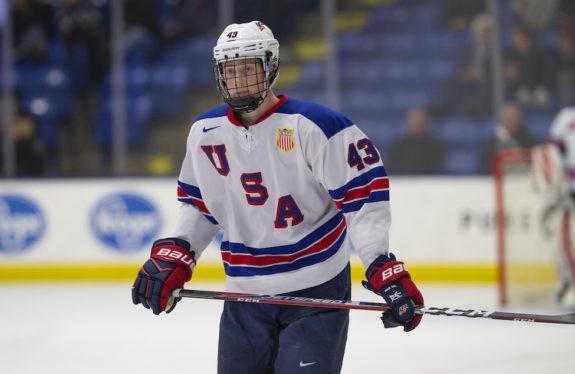 Kleven's skill set hasn't changed much from his pre-draft evaluation, but that's not necessarily a bad thing — the hulking blueliner brings a much different dynamic to a team already full of offensive talent. He knows how to use his big body to separate his man from the puck, block shooting and passing lanes, and provide plenty of physicality.
He led the NTDP's U17 team in PIMs in 2018-19 and finished third on the U18 team last season. With all the skill on UND's roster, Kleven will bring some much-needed grit and intimidation to the ice, providing more space for teammates and nightmares for opponents.
It's important to remember Kleven is still just 18 years old; playing a big role for a team with championship aspirations could provide a huge boost to his development.
The Time is Now
North Dakota is the consensus favorite to be the NCAA's best team this season, ranking first in RPI, USCHO.com's and USA Today's national polls. The Senators' prospects are a big reason for those projections, and all four are likely going to play a big part in UND's quest for a title.
It would not be surprising if they're all on Ottawa's roster in the next few years. The future of the Senators is on display for one of college hockey's best teams; and if North Dakota wins the title, those four players will be a big reason why — and Ottawa sure could use some players with championship experience.
---
---