The Ottawa Senators have one of the deepest and most talented prospect pools in the NHL, thanks to a recent influx of extra draft picks, prime drafting position and a strong development program. Ottawa's top-five farm system is stocked full of players that project to be full-time contributors for the team in the near future.
Ottawa has spent the last few seasons fostering the growth of some elite talent — they had the second-most players (7) appear in THW's Top 100 Prospects list at the end of August — and they just added 10 players in the 2020 NHL Draft, including two of the first five picks and another near the end of the first round.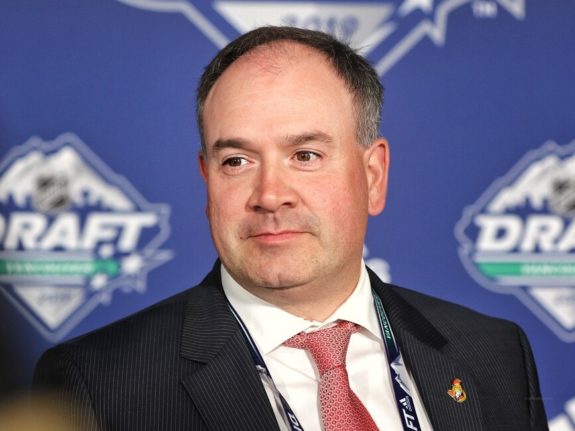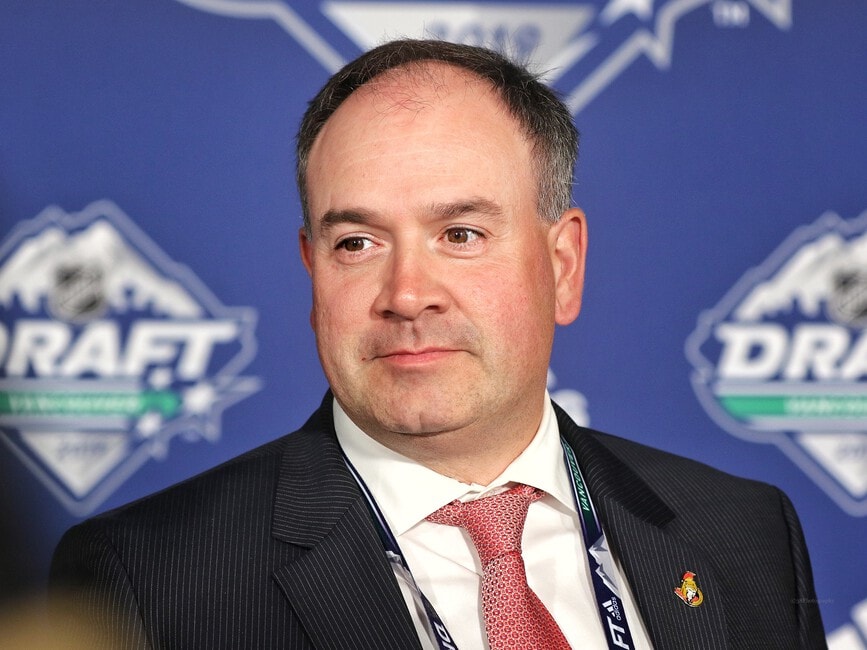 That's before mentioning the young players who have already earned a roster spot in Ottawa. The Senators have added a few veterans in the offseason, but they've also gotten younger; the average age of Ottawa's current roster is 25.6, which would have been by far the youngest group in the league last season.
There are plenty of exciting prospects to choose from, but these five players should form the foundation of Ottawa's future. Only players aged 22 and younger were eligible, so cornerstones such as Thomas Chabot (23) were not considered.
Brady Tkachuk (LW, 2019-20: Ottawa Senators, NHL)
Tkachuk is a rare type of player — a constant physical presence with an underrated scoring touch and burgeoning two-way ability. He's also a leader and agitator who never takes a shift off. He just turned 21 in September, and he already knows how to leverage his 6-foot-4, 200-pound frame to get basically wherever he wants to on the ice.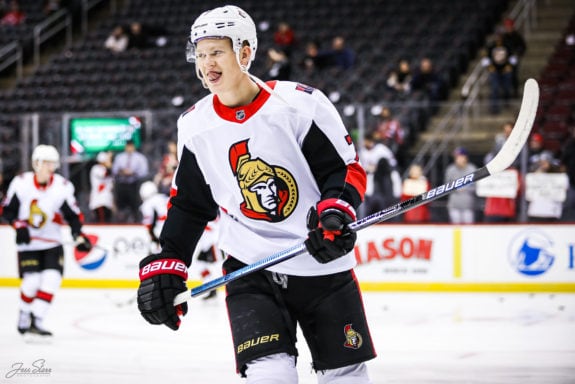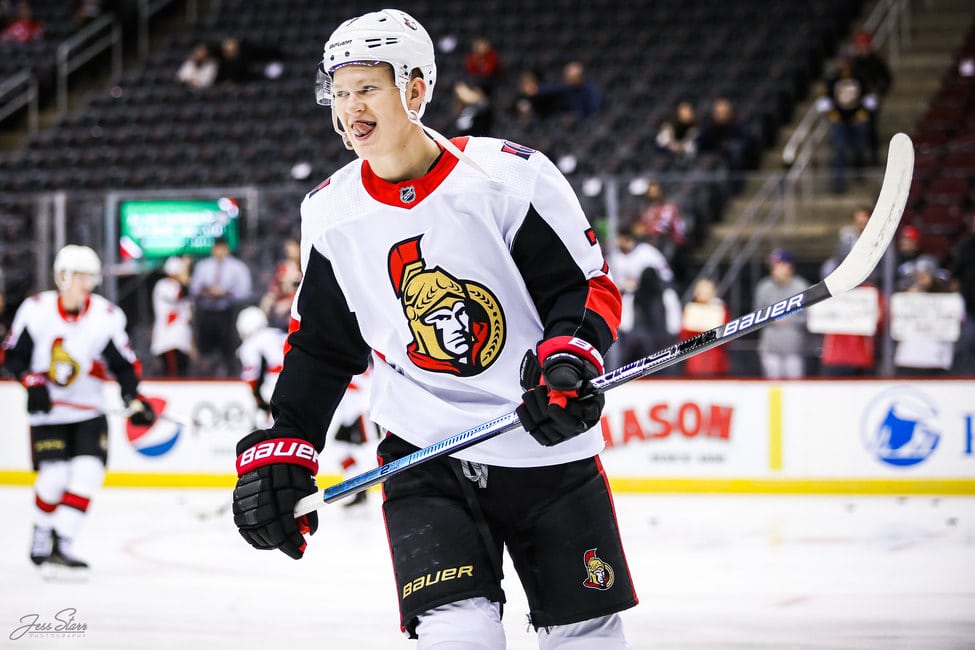 And he usually wants to be in front of the net. Tkachuk scored 22 goals in his rookie season; all but three were scored from below the hashmarks. The fourth-overall pick in 2018 received the fifth-most votes for the Calder Trophy after racking up the second-most goals and points amongst rookies, behind only Calder winner Elias Pettersson.
Tkachuk scored 21 more goals in 2019-20, with just four of those coming from outside his office at the top of the crease. He always has his stick on the ice and bangs away until he finds a hole. His shot and goal charts look like there's a black hole forming at the goal mouth, which is pretty accurate where rebounds are concerned — good luck out-battling him for a loose puck on the doorstep.
In just his second season, Tkachuk was already comparable to Washington Capitals winger Tom Wilson, one of the league's most difficult players to play against.
| | | | | | | | |
| --- | --- | --- | --- | --- | --- | --- | --- |
| 2019-20 Regular Season | Goals | Assists | Points | Shots | Hits | Blocks | Penalty Minutes |
| Brady Tkachuk | 21 | 23 | 44 | 258 | 303 | 43 | 106 |
| Tom Wilson | 21 | 23 | 44 | 154 | 253 | 58 | 93 |
Comparing Brady Tkachuk and Tom Wilson's statistics from the 2019-20 regular season. (Created by David Crosby)
Wilson didn't reach that level until his seventh season with the Capitals; if Tkachuk continues to improve at his current pace, he could become the NHL's premier power forward. He has a significantly higher offensive ceiling than Wilson, and has already displayed the ability to lead the rush. Tkachuk frequently barreled through the neutral zone, dished the puck to a teammate along the boards and drove to the net, wreaking havoc with deflections, screens and and rebounds.
Tkachuk is a leading contender to be Ottawa's next captain in a season or two. He's the type of player who sets the tone in a locker room, leads by example and makes an impact in all facets of the game.
Tim Stuetzle (LW/C, 2019-20: Mannheim Eagles, DEL)
When the Senators made their highest draft pick since Jason Spezza (second overall in 2001), they announced their first selection in the 2020 Draft with the help of Jeopardy host Alex Trebek.
The Senators view Stuetzle (or Stützle) as the potential centerpiece of their rebuild; the only question is whether he'll start next season in Ottawa. The rookie made his intentions known immediately.
"I want to win Cups in Ottawa," Stuetzle declared via Zoom in his draft interview. "And I want to play in the NHL as fast as I can."
Stuetzle will be sidelined for up to two months after suffering a fractured hand that required surgery, but that shouldn't delay his start to next season. The young German has a chance to make his Senators debut immediately after playing (and producing) against men as an 18-year-old in the DEL.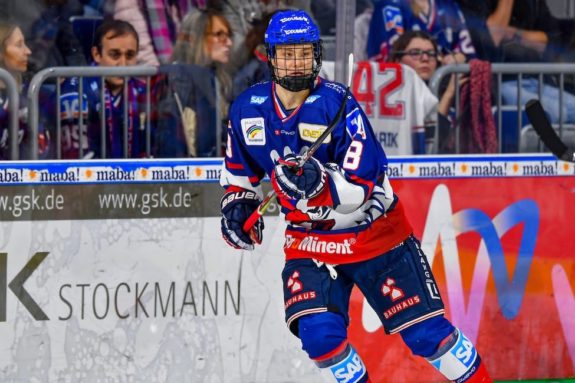 His tantalizing skills and elite vision suggest Stuetzle could develop into an offensive force. He's a fluid skater who passes like he has eyes in the back of his head. On draft night, Craig Button compared him to Patrick Kane with a straight face.
As a bonus, he offers positional flexibility at left wing or center, and has been praised for his strong work ethic and relentless desire to improve. Stuetzle has a great chance to join the Senators in 2020-21, and the potential to be their best player sooner than you might think.
Jake Sanderson (D, 2019-20: USNTDP)
Most teams would be thrilled to acquire one franchise player in any draft; the Senators might have found two in 2020. Sanderson does a lot of things really well, but his skating is a cut above.
Sanderson took a massive leap on both ends of the ice thanks to his elite edge work, effortless stride and deceptive speed. Most young defencemen are revered because of their offensive potential; Sanderson has shown rapid improvement on that end, but his defensive game is flat-out sensational.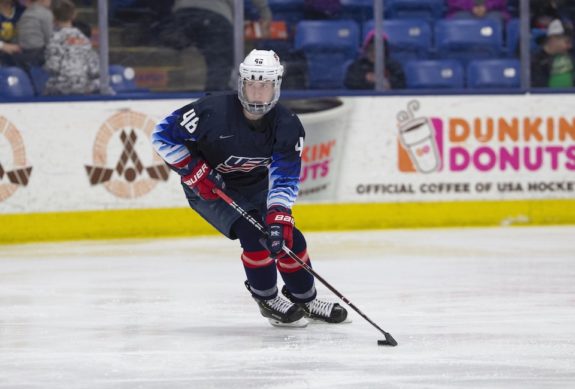 Sanderson can close the distance between himself and an oncoming attacker in an instant. He plays with a physical edge and there's no wasted energy in his movements. His superior positioning and on-ice intelligence is obvious, and he uses his stick effectively to take away passing and shooting lanes. He could play a big role on the top penalty kill unit and turn into a potential top-pairing blueliner who plays in all situations.
Ottawa notably chose Sanderson over Jamie Drysdale, who was the near-consensus top defensive prospect since at least 2018. Sanderson's offensive improvement vaulted him from a projected mid-to-late first-round pick to the first defenseman and top American player drafted in his class.
Once Sanderson gains possession of the puck, he does not give it back. He is shifty, deceptive, and always in control. He uses feints to throw defenders off balance; he pivots without warning, seamlessly altering his stance and surveying his options before taking off or hitting a teammate in stride with a perfect pass.
Sanderson could also bring significant leadership to Ottawa; he captained both the under-17 and under-18 USA Hockey National Team Development Program teams.
Josh Norris (C, 2019-20: Belleville Senators, AHL)
The centerpiece of Ottawa's return from the Erik Karlsson trade to San Jose, Norris exceeded even the most optimistic expectations in his first AHL season with Belleville.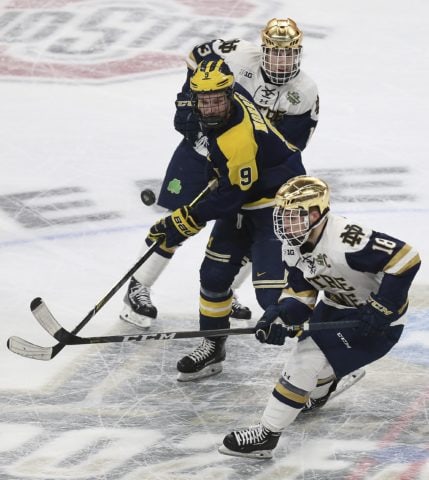 Norris was named the AHL's outstanding rookie in 2019-20 after finishing with the third-most goals (31) and points (61) among all skaters. As the only rookie to average more than a point per game, he made the AHL's First All-Star and All-Rookie teams.
Norris has made huge offensive strides since being acquired by Ottawa. He almost doubled his average points-per-game rate from his rookie (0.62) to sophomore (1.12) NCAA seasons. He nearly matched that output (1.09) in his debut AHL campaign, earning a featured role in Belleville's league-leading offence. Norris was also voted team MVP by Belleville's coaching staff.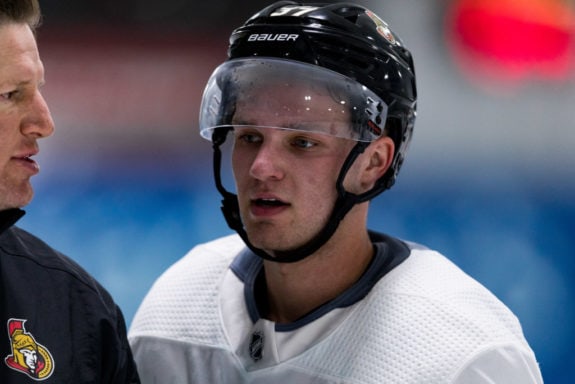 He has deceptive size and the ability to read his teammates and opponents as plays develop and break down. He's just as comfortable leading the rush as he is parking himself in front of the net or trailing the play to find the soft spots in a defence.
Norris is a threat to shoot from anywhere on the ice. He's got a wicked snap shot and effective one-timer. He always seems to be in the right spot and even when he has a defender draped all over him, he finds away to get his stick on the puck, and it usually ends up in the back of the net.
Drake Batherson (C/RW, 2019-20: Belleville Senators, AHL)
You could argue Erik Brannstrom or even Alex Formenton could be bigger contributors for Ottawa in the future, but Drake Batherson has a chance to be special; he should be considered one of Ottawa's most valued prospects.
The Senators drafted Batherson near the end of the fourth round in 2017, and he exploded onto the scene in even more impressive fashion than Norris' remarkable rookie season. Batherson racked up 62 points in 59 games, leading Belleville in scoring by 15 points. He was a one-man offensive machine.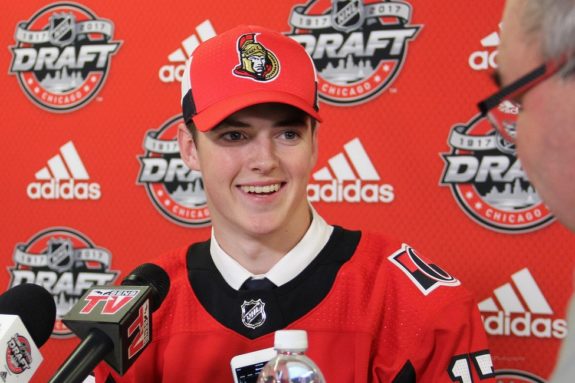 He increased his production from 1.05 to 1.23 points per game in his second AHL season, which once again led the team (minimum five games played). He added 19 points in 43 NHL games across parts of two seasons with Ottawa; that's a 36-point pace in a full 82-game season, and he should only improve as he gains experience.
Batherson still needs to improve in his own zone, but he has the size (6-foot-3, 206 pounds), skating and aggressive mentality to be a capable defender. Whether Batherson eventually moves back to his original center position or makes a permanent transition to the wing, he's going to add significant scoring punch to Ottawa's lineup as early as this season.
"[Batherson] has nothing left to prove, at least at the American league level," Belleville's head coach Troy Mann said weeks before the 2019-20 AHL season came to an abrupt end due to the coronavirus. "From a skill perspective and elite hockey sense at this level, I don't think he has anything else to prove… he's got to become that player in Ottawa that he's been showing here." (from 'GARRIOCH: Not all is lost if the Belleville Senators don't get a chance to finish the season,' Ottawa Sun, 04/21/2020)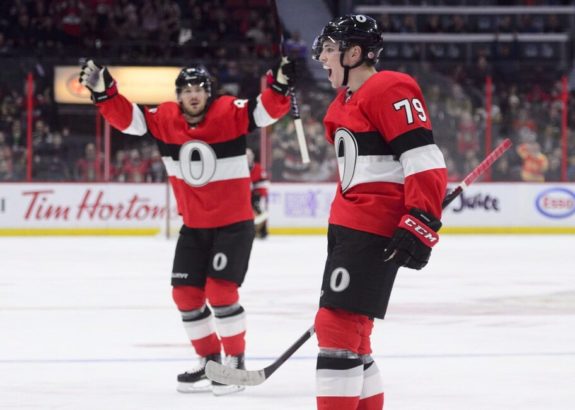 It's crucial for organizations to hit on high picks in rebuilding seasons to build a strong foundation for future success. But often times, it's the late-round steals and unexpected success stories that lift an organization to new heights.
Batherson may not have the same draft pedigree as his fellow untouchable prospects in Ottawa, but his rapid improvement has made him one of the Senators' most indispensable talents.
The Future Is Now
The Senators' untouchable quintet is already one of the most dynamic, skilled and well-rounded young cores in the league. The last three seasons have been a grind for the organization and fan base, but those struggles are about to pay dividends.
With the exception of Sanderson, who has committed to the University of North Dakota in 2020-21, most if not all of the other four prospects should have big roles in Ottawa this season. If the Senators can continue to practice patience with the development of their prospects, there's no limit to how good this team could be.
---
---