In a recent segment of TSN's Insider Trading, Darren Dreger noted that the Ottawa Senators and Edmonton Oilers have shown interest in Minnesota Wild defenseman Matt Dumba. The right-shot defender is in the final year of his contract, with a price tag of $6 million.
The Wild are clearly a playoff team and have Stanley Cup aspirations for this season. Under normal circumstances, it would be ridiculous to make him available. However, they are not in a normal situation. They are still dealing with the repercussions of the Ryan Suter and Zach Parise buyouts, with an extra $12.7 million against the cap this season and $14.7 million for the next two seasons. Regardless, Dumba is a pending unrestricted free agent (UFA), and his money comes off the books after this season.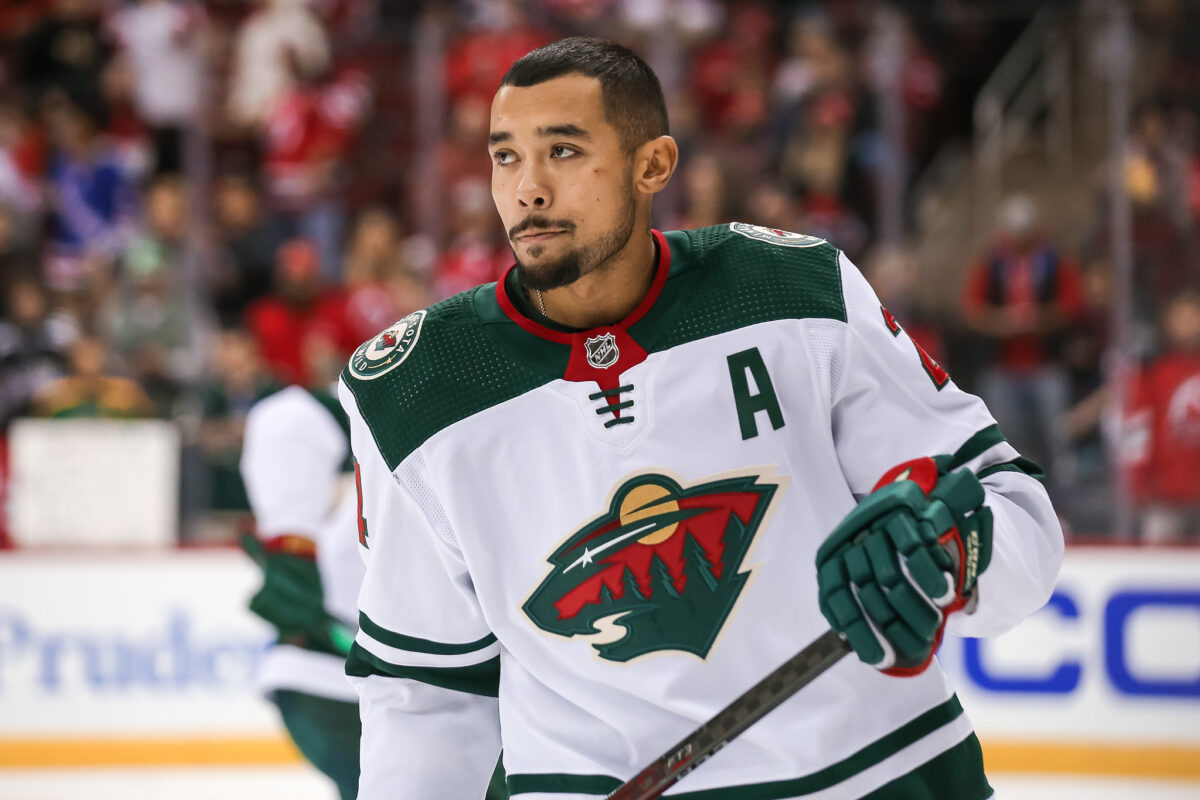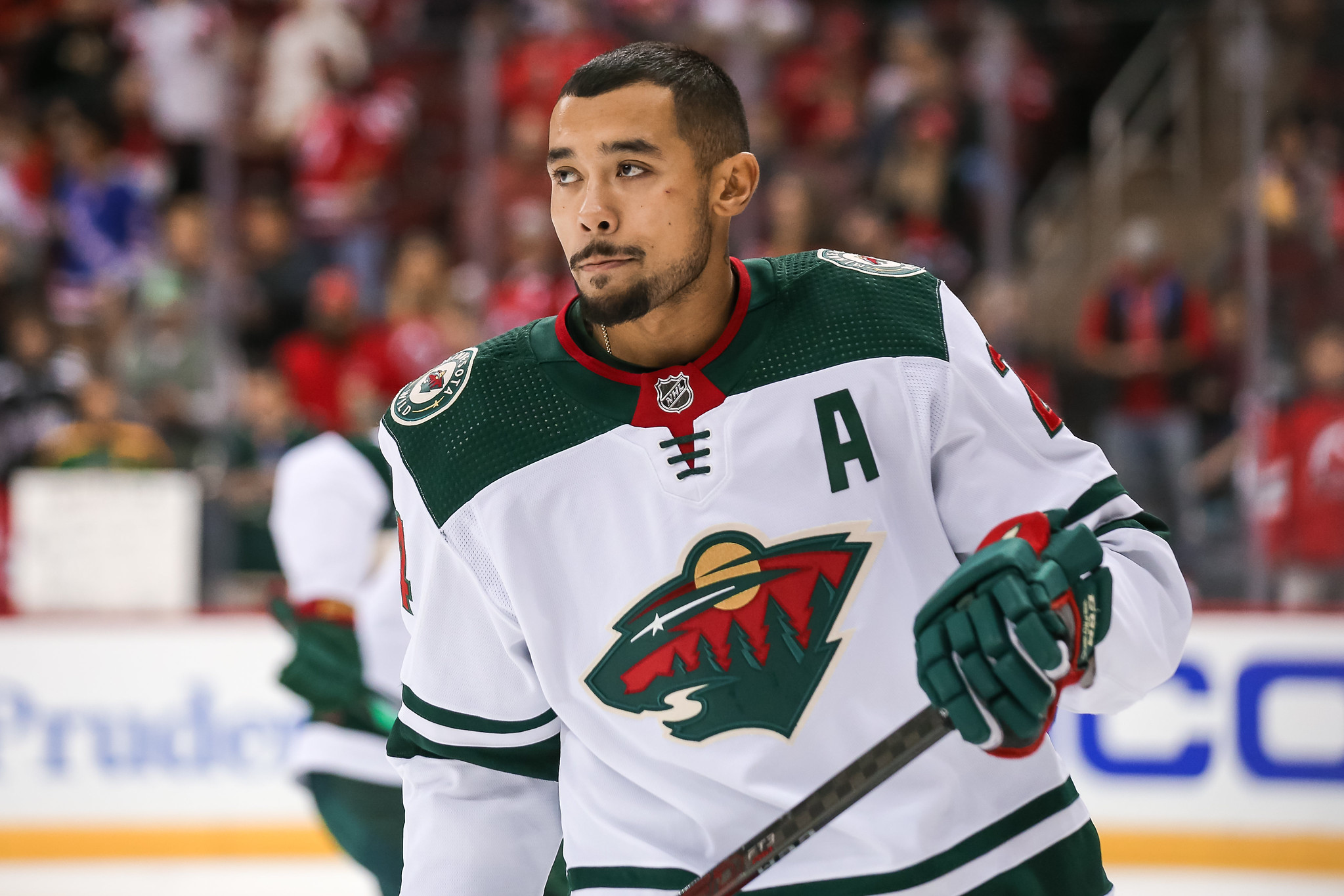 The Senators have a defensive group that includes Artem Zub, Travis Hamonic and Nick Holden along the right side. They are looking to take a step forward and reach the playoffs as soon as possible, and this is not the group to do that with. They need a top-four, right-handed defenseman to push Hamonic or Holden out of the lineup, but I don't think Dumba is the right player for this. If a team gets serious about acquiring Dumba, the Wild would likely be looking for a first-round pick, a serviceable roster player, and a quality prospect.
Dumba Isn't the Long-Term Fit
The Senators need a permanent solution on defense. Coming out of their rebuild, this is the missing piece. Acquiring a player for the last half of a season when they are unlikely to make the playoffs will not help the team moving forward.
---
Latest News & Highlights
---
The team also needs a defensively reliable player, who can make smart decisions and move the puck, and the Senators were linked to a number of players over the offseason, including John Marino and MacKenzie Weegar, among others. After a very successful offseason, many refused to get too excited because general manager Pierre Dorion didn't acquire one of the Senators' biggest needs.
Now halfway through the season, the Sens sit nine points outside of the playoffs. Acquiring Dumba for the remainder of this season doesn't push them over the edge to start a strong playoff push in the last half of the year. The Senators should be looking for a defenseman with a cheaper contract with more term, as they need to keep their sights set on the future, rather than just this season.
Dumba Not What He Used to Be
Dumba has been averaging 21:12 of ice time for the Wild this season, almost tied with Jared Spurgeon for the team lead by a wide margin. While it is clear the Wild have a lot of trust in him, and Dumba is playing top-four minutes, he is not playing his best hockey. The defenseman, who is turning 29 in June, has been struggling defensively, and his skating doesn't seem to be what it once was.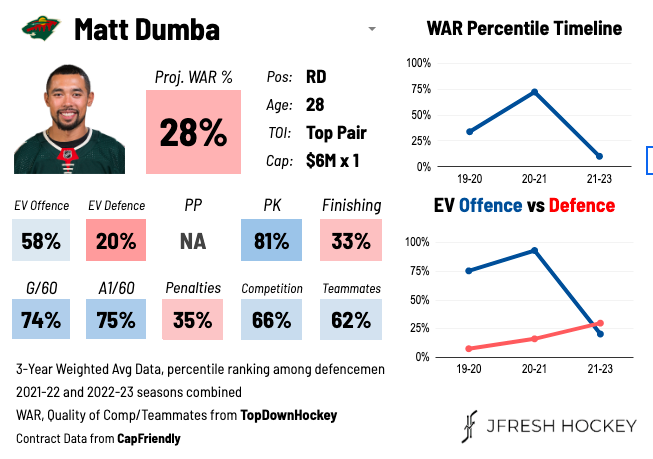 Per Money Puck, Dumba has an on-ice expected goals percentage of 43. Among defensemen with 100 minutes or more, this ranks 185th out of 252. He ranks a bit higher in Fenwick-for percentage (on-ice unblocked shot attempts) at 45 percent, which ranks 168th. Even if you prefer the eye test to advance analytics, a collection of fans on Twitter seem to agree that his speed are awareness are declining, and he takes too many unnecessary penalties.
Senators Can't Afford Him
The trade market for a right-handed defenseman is extremely thin. Teams will likely be willing to pay a lot for this type of player, regardless of the signs of decline Dumba has been showing. Stanley Cup contenders are more eager to get assets they feel they need, so if Dumba is identified as a target for one of those teams, they will typically offer a lot more than a bubble team is willing to match, especially if the goal is to only have him stick around for this season.
Related: Senators' Prospect Report: World Juniors Recap
With their crop of prospects, including Ridly Greig, Egor Sokolov, Zack Ostapchuk, Tyler Boucher and more, the Senators have the assets to acquire Dumba, but unless the price is dirt cheap with no takers, the Senators should not look at making a deal with the Wild.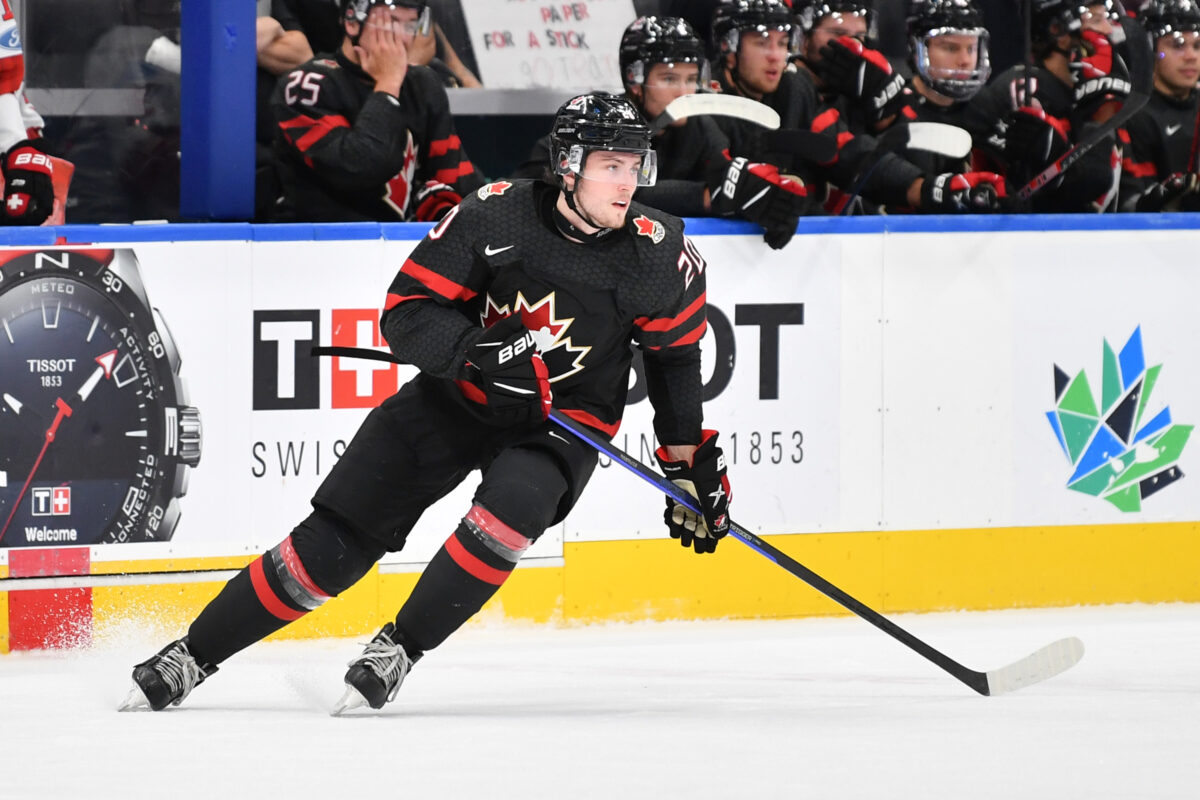 The Senators just don't have the money. This season wouldn't be the issue, but if they were looking at this as a long-term solution, it would cost them the ability to re-sign Alex DeBrincat. With an offseason that will already have the Senators crunching numbers to make the contracts fit, they don't have room to accommodate what Dumba may be looking for. I would expect Dumba is looking for a deal close to the one he already has, around the $6 million price point, or could fetch more in the open market.
Who Would Be the Right Fit?
Considering trade availability, asking price, and contract situation, there are a couple of names the Senators could go after to fit their right-shot defenseman needs.
Matt Roy and/or Sean Walker is likely to be shopped, despite that the Los Angeles Kings are having a great season. They will be looking to make room for Jordan Spence, as he is putting pressure on the club to give him an opportunity. Both Kings' defensemen are signed for this season and next. Roy has a cap hit of $3.15 million, while Walker will be making $2.65 million. Both of these players have lots of upside, reasonable salaries, and fit the Senators' needs.
Roy has been exceptional defensively in terms of advanced metrics, blocked shots and hits, and just watching his game. The Kings value Roy, and likely want to see him traded, but they may be forced to make the move. Walker is a bit different, as he has sufficient defensive numbers but does a better job of moving the puck. Both players would fit very well on the second pair with Jake Sanderson in Ottawa. I don't imagine the cost would be too high, and the Senators could get one of them for a prospect, and the Washington Capitals' second-round draft pick acquired by trading Connor Brown.
Regardless, the Senators shouldn't feel any pressure to add right now. If they go on a hot stretch before the March 3 trade deadline, then maybe the conversation will change a bit, but this situation could be better dealt with in the offseason, whether it be by signing a UFA or by trade, which would be preferable. Once they have some of their upcoming free agents dealt with, most importantly DeBrincat, then they will focus on how to round out the roster.
---
---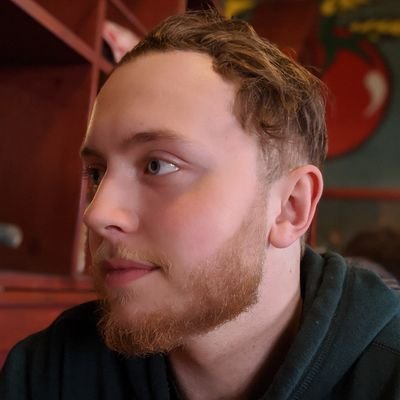 My name is Jacob Billington, and I cover the Carolina Hurricanes here at The Hockey Writers. Born and raised in Nova Scotia, becoming a hockey fan was quite easy. Falling in love with the game in the early 2000's, and taking in as much knowledge as I could since then. I appreciate everybody who reads my content, and I take pride in creating the best experience for readers. Feel free to reach me on Twitter, I am always active and talking about anything hockey related!