The Ottawa Senators have had a very productive offseason, signing big-ticket free agent Evgenii Dadonov, trading for and signing goalie Matt Murray as the heir to Craig Anderson's throne, and they re-signed all their restricted free agents without going to arbitration. Their roster, apart from the minor tweak here and there, is set for the 2020-21 season.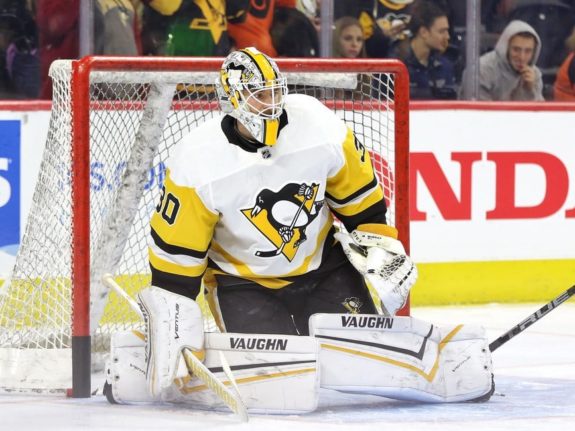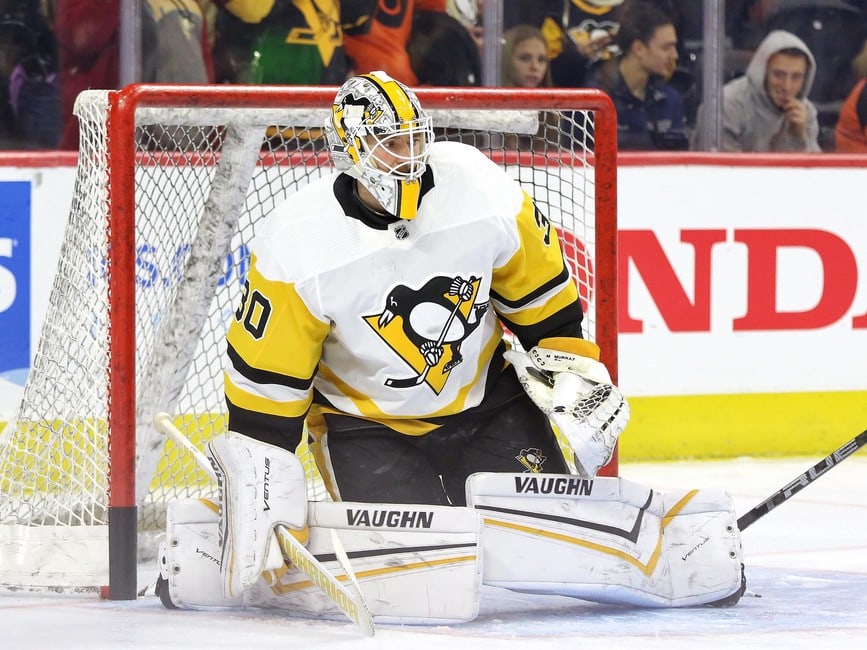 But with the season's start date still up in the air and COVID numbers on the rise in North America, everyone is waiting to see how things will pan out. That means, across the hockey world, very little is happening, and likely will remain as such until an official date is announced. Europe has also seen an increase in cases, resulting in league pauses and the cancellation of games until it is safe to return to hockey.
Related: Senators' Draft Busts – Brian Lee
Thankfully, there are a few leagues still going strong, which gives Senators fans something to keep their spirits high, especially with the University of North Dakota's season now underway. The World Junior Championship is also fast approaching, with the first game less than a month away, and a few Sens' prospects are working hard to make the final roster for their home country.
Here's the rest of the news from the past week.
Item One: Sogaard Wins First Start in Denmark
On Nov 17, Mads Sogaard was loaned to the Esbjerg Energy in Denmark's top league, the team he played for before coming over to North America and joining the NAHL's Austin Bruins in 2017-18. However, unlike other loaned prospects in the Senators' organization, the Danish goaltender has not yet been signed to an entry-level deal, meaning that can't be loaned by Ottawa. Instead, the Medicine Hat Tigers, his team for the past two seasons, decided to send Sogaard to Denmark.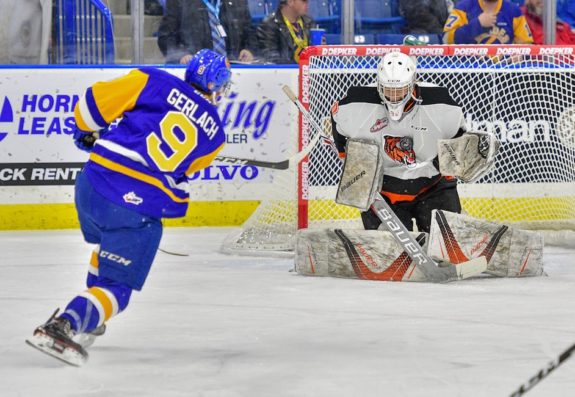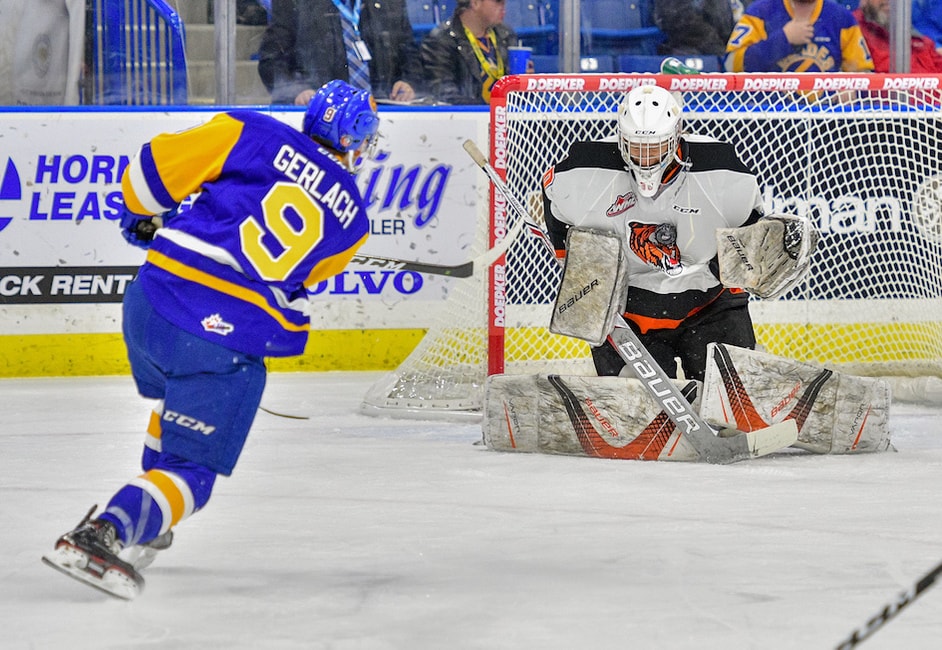 The decision was likely due, in part, to the WHL's overage limit. With Sogaard, the Tigers were one over the four-player limit, but with his departure, they don't have to worry about cutting a 2000-born player later. It also gives Sogaard a chance to re-establish himself as a top prospect; last season, he got off to a rocky start, and rookie Garin Bjorklund came in and briefly stole his job. Coming into this season, they likely would have split duties, which would arguably have hurt both of their development.
Now, in Denmark, Sogaard is facing tougher competition and performing brilliantly. In his first start with the Energy, he made 38 stops to hold on to a 4-3 win, including a big glove save on a penalty shot. He was named Player of the Game and remained the starter in the following match on Nov 27, where he picked up his second win, a 5-3 victory over Sonderjyska Ishockey. No doubt the Senators are watching their 2019 second-round pick very closely.
However, whether they have room for him is another question. With Anders Nilsson still dealing with concussion symptoms, one of Marcus Hogberg or Joey Daccord will become the Senators' backup this season. That leaves the AHL starting job to one of Daccord/Hogberg, Jonas Gustavsson, or Kevin Mandolese.
With only half the teams in the ECHL electing to play the 2020-21 season, the Senators don't have enough spots available for their goalies. Adding Sogaard to the mix would clog things up further, but Ottawa is running out of time to sign him; as a 2019 draft pick, he could re-enter the 2021 Draft if he remains unsigned by June.
Item Two: Brannstrom Could Be Coming Back to North America
As one prospect gets started in Europe, another may be finished. Erik Brannstrom joined the SCL Tigers of Switzerland's National League on Oct. 5 and has since played nine games, putting up an impressive two goals and seven points. However, his strong start came to a screeching halt after members of the team tested positive for COVID. As a result, the next three games were postponed and the team was quarantined. Then, on Dec. 1, just as they were preparing to come out of quarantine, the team found three more positive cases, and the quarantine was reinstituted.
The hiatus means that Brannstrom has likely played his last game in Switzerland, according to Ottawa Sun writer Bruce Garrioch. Although the Senators' training camp has not yet started, the Swedish defenseman will need to quarantine for 14 days before he is allowed to join the team in Canada, as per government policy. NHL teams will be eager to start camp as soon as details are ironed out for the upcoming season, though the Return to Play Committee and Board of Governors still appear to be at odds regarding the start date.
It will also be interesting to see what happens with the Senators' prospects in Finland's Liiga, as the league has just announced they will be postponing games until Dec. 19. Vitali Abramov and Lassi Thomson were both loaned to the league at the beginning of the season and can return to North America if the league remains on hold for an extended period.
Finns Roby Järventie and Leevi Meriläinen, however, likely can't go anywhere else without an entry-level deal and will have to wait until the Liiga returns. An extended pause could be tough for the young prospects, especially after Järventie's hot start.
Item Three: Guenette Heats Up in QMJHL
Back in North America, another Senators prospect is heating up. Maxence Guenette, a seventh-round pick in 2019, has been dominant this past month. In the last four games, he has four goals and seven points, nearly doubling his points for this season. It earned him a spot on the QMJHL's Team of the Week, and an honourable mention as the Defenseman of the Month, just barely behind Calgary Flames' 2020 third-rounder, Jérémie Poirier.
Guenette ranks fifth among defensemen in scoring and 20th in league scoring with five goals and 16 points, and he has many wondering if the Senators found another late-round gem. However, like in Switzerland, the QMJHL has had a recent spike in COVID cases and has decided to pause the season from Dec. 1 to Jan. 3, essentially giving teams a prolonged holiday break.
The league had already paused play in red zones across the province of Quebec where sports were prohibited, and the hope is that a long winter break will help get the coronavirus under control enough for the January restart. Hopefully, Guenette is able to keep his hot streak going when he returns.
Item Four: UND is Back in Action
On Dec. 2, the University of North Dakota Fighting Hawks opened their season against the Miami (Ohio) University Redhawks with a 2-0 shutout win, a great start for the conference's number one seed. Shane Pinto was the star of the evening, winning nearly 68% of his faceoffs and assisting on both goals, as well as playing on both the top penalty kill and power-play units. He was UND's career-leader in faceoff percentage coming into this season and projects to be a top-nine center for the Senators in the future.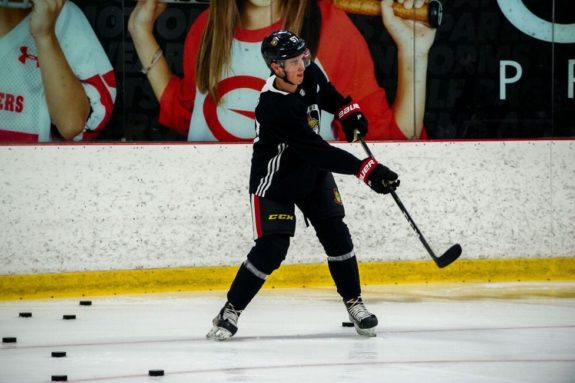 Senators' fans also got to watch the future of the team's defense in action. Jacob Bernard-Docker, Ottawa's 2018 first-rounder – recently named an alternate captain and named to the NCHC's pre-season All-Star Team – manned the second power-play unit along with 2020 first-round pick Jake Sanderson.
Both played well, although Sanderson outshone the third-year veteran in the first game. Tyler Kleven, a second-rounder from 2020, threw several massive hits and made his team very difficult to play against. He may be overshadowed this season, but that may not be for long if this first game was any indication.
Item Five: Bernard-Docker Takes a Knee
Speaking of Bernard-Docker, the defenseman made a powerful statement before the game began by taking a knee along with teammate Jasper Weatherby during the national anthem. Weatherby, also named an alternate captain this season, has been working hard with the school's Inclusion and Diversity group to help build awareness about racism and injustice across North America. Despite being Canadian, Bernard-Docker doesn't believe that matters – everyone should be treated equally, no matter their background.
The statement follows a long line of athletes who have used their platform to promote diversity and education and to stand up for what they feel is right. As the NHL kicked off of the 2020 Stanley Cup Playoffs, Minnesota Wild defenseman Matt Dumba made a speech against racism at center ice before their opening game between the Edmonton Oilers and Chicago Blackhawks.
NHL players later postponed two days of games to protest police brutality. While the statement made by the league and its players pales in comparison to what NBA and NFL players have done, it is a step in the right direction, and Bernard-Docker wants to be part of that change.
The issue, although wide-reaching, is especially relevant for the UND hockey team, who recently cut freshman defender Mitchell Miller after reports that he bullied and assaulted a Black developmentally-challenged classmate years ago surfaced. Bernard-Docker hopes that Miller will see their action and reflect on his.
"Everyone realizes what he did was not right…hopefully, Mitchell can realize what he did was wrong and correct it and move forward," (from 'Jasper Weatherby and Jacob Bernard-Docker explain why they will kneel for the national anthem at UND's season opener', Grand Forks Herald – 01/12/20).
Item Six: Sanderson Makes the First World Junior Cut
When the Senators selected Jake Sanderson from the United States Development Program fifth overall in October, making him the first defenseman off the board, there were some raised eyebrows. All season, Sanderson had competed with Jamie Drysdale for the title of the best defenseman available at the 2020 Draft, and in the end, the advantage seemed to be with Drysdale, who already had a World Junior tournament under his belt.
Related: Jake Sanderson & Jamie Drysdale: A Hockey Rivalry Waiting to Happen
Well, we're getting closer to finding out the difference. On Nov. 30, the USA National Junior Team announced their preliminary 29-man roster, and it included the Senators' defenseman. While it's no guarantee he makes the team – four players will have to be cut by Dec. 13 – he now has an excellent chance of heading to Edmonton to take part in his first World Juniors. It would be surprising to see more than one defenseman cut, and he is one of the brighter stars of the bunch.
If Sanderson makes the final roster, then fans could see a showdown of the two best 2020-drafted defensemen. Drysdale is arguably a lock for the Canadian roster as one of the only defensemen with World Junior experience. However, as USA and Canada are in different pools, they have to wait until the playoffs to see if the two rivals will face off. Canada will be a medal contender again, as will the Americans, so a heated matchup seems to be in the cards. If it happens, it will be a showdown for the ages.
What's Next for the Senators?
As many leagues enter into their winter breaks, most eyes will be on the upcoming roster announcements for the World Juniors. Apart from Sanderson, Ridly Greig is still in the mix for the Canadians and Järventie has a good chance of making the Finnish team. The Germans, one of the first teams to announce their roster, have confirmed that Tim Stuetzle will be on their team, which is a huge boost for the small nation, and even better for the Senators, who will be able to watch what their top prospect can do with a year of experience under his belt.
---
---